Here are seven great Bible verses that you can use for a retirement card.
Proverbs 16:31 "Gray hair is a crown of glory; it is gained in a righteous life."
Today, many seniors try to cover up their gray hair by coloring it but God declares gray hair is a crown of glory as it reveals a lifetime of experience and labor and as such, seniors should be respected. This verse might not seem like a good Bible verse for a retirement card but it actually is very respectful one for those who have labored for most of their lives to reach a point of being able to retire.
Psalm 71:9 "Cast me not off in the time of old age; forsake me not when my strength fails."
Most companies that force people to retire at a certain age are casting off people in their old age but that's a tragic way to end their career. Sadly, many of the companies that do this are losing someone who has years of experience that can't be learned in a textbook at college. God will never forsake us at old age like businesses often do.
Isaiah 46:4 "Even to your old age I am he, and to gray hairs I will carry you. I have made, and I will bear; I will carry and will save."
This Bible verse shows that God had been with them throughout their entire lives and wasn't about to abandon them just because they're old. God promises to never leave us or forsake us (Heb 13:5) and even to the "gray hairs" He says "I will carry you." God will carry us in our later years and has promised to save us so that we might be with Him when death is no more.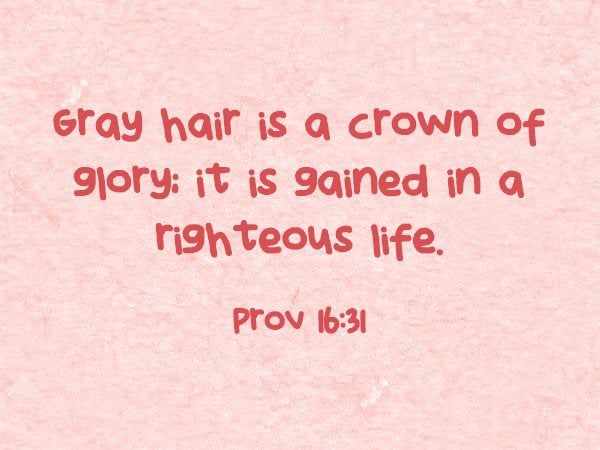 Psalm 37:25 "I have been young, and now am old; yet have I not seen the righteous forsaken, nor his seed begging bread."
This verse is among my favorites but not just for seniors. It is a remarkable promise from God that He will not forsake them and allow them to beg bread for sustenance. God will be with them and us, if we are born again, until the very last break of life and will not forsake His own.
Jeremiah29:11 "For I know the plans I have for you," says the LORD. "They are plans for good and not for disaster, to give you a future and a hope."
This verse is specifically to the nation of Israel yet it can also have meaning for us as God has a sovereign plan for our life and it is not one of disaster but of a future and a hope and that hope is found only in Jesus Christ and the future in indescribable to say the least (Rev 22).
Psalm 92:12-14 "The righteous flourish like the palm tree and grow like a cedar in Lebanon. They are planted in the house of the Lord; they flourish in the courts of our God. They shall still bring forth fruit in old age; they shall be fat and flourishing."
We have three hardwood trees that are over a century old and yet they produce the most delicious pecans and black walnuts. Time and age has not diminished their capacity to produce and in similar fashion, God says that even into old age, the righteous will still "bring forth fruit" and will still be fat and flourishing.
Luke 1:23 "And when his time of service was ended, he went to his home."
When Zechariah, the father of John the Baptist, ended his service in the temple, he simply went home. Zechariah was already at a ripe, old age when Elizabeth conceived John and as Jesus later said of John the Baptist, "Truly, I say to you, among those born of women there has arisen no one greater than John the Baptist. Yet the one who is least in the kingdom of heaven is greater than he" (Matt 11:11).
Conclusion
There is no retirement in the Bible as God is still using us as long as we are drawing breath. No one knows the day of their death; we only know that there is a time for our death and then comes the judgment (Heb 9:27) but if you've repented and trusted in Christ and placed your trust in Him, then your sins have already been judged by Christ on the cross and your retirement home is in the kingdom of heaven but it won't be a retirement home really as we'll be serving God for all eternity. God instructed Moses "saying, "This applies to the Levites: from twenty-five years old and upward they shall come to do duty in the service of the tent of meeting. And from the age of fifty years they shall withdraw from the duty of the service and serve no more. They minister to their brothers in the tent of meeting by keeping guard, but they shall do no service. Thus shall you do to the Levites in assigning their duties" (Num 8:23-26) so there seems to be a time when one must retire but retirement is not the end…it is only the beginning.
Article by Jack Wellman
Jack Wellman is Pastor of the Mulvane Brethren church in Mulvane Kansas. Jack is also the Senior Writer at What Christians Want To Know whose mission is to equip, encourage, and energize Christians and to address questions about the believer's daily walk with God and the Bible. You can follow Jack on Google Plus or check out his book Teaching Children the Gospel available on Amazon.