Here are seven popular and important Bible verses from Paul's Book of Romans.
Romans 1:16 "For I am not ashamed of the gospel, for it is the power of God for salvation to everyone who believes, to the Jew first and also to the Greek."
Why did Paul just say "I am not ashamed of the gospel?" This was because Paul had just said that he was "eager to preach the gospel to you also who are in Rome" because he wasn't ashamed of it. It's nothing to be ashamed of but everything to rejoice about since the gospel itself is the very "power of God" that leads to "salvation to everyone who believes" regardless of national or ethnic origin.
Romans 3:23 "For all have sinned and fall short of the glory of God."
Some people actually believe that they have done enough good to go to heaven on their own merit but salvation cannot be earned any more than a free gift can be (Eph 2:8-9). Paul said in reality "None is righteous, no, not one" and that "no one understands; no one seeks for God [and] All have turned aside; together they have become worthless; no one does good, not even one" (Rom 3:10-12). Thankfully, the power of God unto salvation is the very gospel of Christ (Rom 1:16).
Romans 5:1 "Therefore, since we have been justified by faith, we have peace with God through our Lord Jesus Christ."
The "therefore" is there for this reason; in Romans chapter four Paul had just written that Abraham was justified by faith because He believed God and "'it was counted to him'" but this was "not written for his sake alone, but for ours also. It will be counted to us who believe in him who raised from the dead Jesus our Lord" (Rom 4:23-24), therefore; we have been justified by our faith and just like Abraham, it was counted to us as because we believe in Jesus Christ.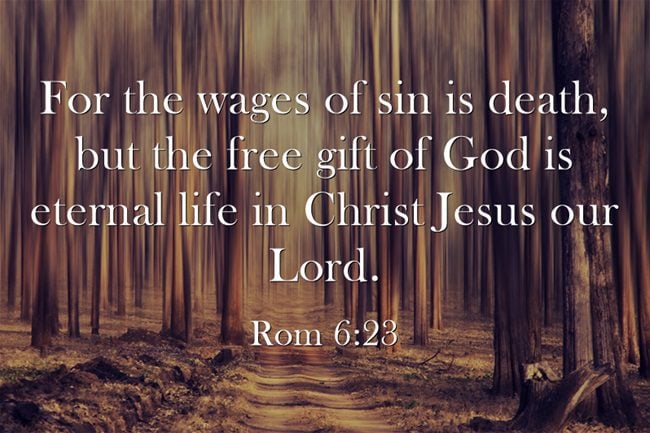 Romans 6:23 "For the wages of sin is death, but the free gift of God is eternal life in Christ Jesus our Lord."
Everyone that works earns wages and in like manner, all of us have earned the death penalty because our sins have cut us off from God (Isaiah 59:2). Thankfully, God offers us eternal life and that is only through Jesus Christ (Acts 4:12). It is a gift that removes our wages of death and freely gives us instead, eternal life.
Romans 8:1 "There is therefore now no condemnation for those who are in Christ Jesus."
We who were once under the condemnation of God have had our condemnation lifted if we are found to be in Christ. The phrase "in Christ" appears dozens of times in the New Testament and this means that we are hidden in Christ (Col 3:3) and now, God sees us as having Jesus' own righteousness (2nd Cor 5:21). Just as the governor of a state might pardon a death row inmate, our God can pardon all who repent and trust in Christ.
Romans 8:28 "And we know that for those who love God all things work together for good, for those who are called according to his purpose."
This verse doesn't say that all things will be good or that all things will appear to work out for the best. It says we know that whatever happens, it all works together like pieces of a puzzle, and it fits the picture God intends for it to fit. This is expressly written "for those who love God" and are the children of God.
Romans 8:38-39 "For I am sure that neither death nor life, nor angels nor rulers, nor things present nor things to come, nor powers, nor height nor depth, nor anything else in all creation, will be able to separate us from the love of God in Christ Jesus our Lord."
Paul tried to help the church at Rome put their suffering into perspective; "For I consider that the sufferings of this present time are not worth comparing with the glory that is to be revealed to us" (Rom 8:18). He used an accounting term ("I consider") as if to say, "If you add up all of your sufferings and then put them on one side of the scale, you can't compare it to the weight of the glory that's coming!" These sufferings might include national and local powers, things to come or things that are present, great heights and deep depths, but none of that will ever "be able to separate us from the love of God in Christ Jesus our Lord."
Conclusion
The Book of Romans may be the greatest of all of Paul's epistles, if not the greatest book in the New Testament. I left out so many great verses like Romans 10:9 which says "if you confess with your mouth that Jesus is Lord and believe in your heart that God raised him from the dead, you will be saved" and Romans 10:10-11 "For with the heart one believes and is justified, and with the mouth one confesses and is saved. For the Scripture says, "Everyone who believes in him will not be put to shame" and "everyone who calls on the name of the Lord will be saved" (Rom 10:13). That is the very gospel of Jesus Christ and it can be found in the Book of Romans.
Article by Jack Wellman
Jack Wellman is Pastor of the Mulvane Brethren Church in Mulvane Kansas. Jack is also the Senior Writer at What Christians Want To Know whose mission is to equip, encourage, and energize Christians and to address questions about the believer's daily walk with God and the Bible. You can follow Jack on Google Plus or check out his book Teaching Children the Gospel available on Amazon.