Here are my top seven Bible verses about overcoming fear.
Psalm 23:4 "Even though I walk through the valley of the shadow of death, I will fear no evil, for you are with me; your rod and your staff, they comfort me."
If the Lord Jesus Christ is your Shepherd, then you have no need to fear any evil. There's no need to fear walking through shadowy valleys of death. That's because His rod for protection is there and His staff will comfort you when you need comforting. Even amidst fearful places like the valleys in our lives, the shadows and realities of death that touch our families and those around you, and the evil that exists out there, you can have comfort because "you are with me." There is a sufficiency in Christ and being with Christ that should cast out all of our fears.
First John 4:18 "There is no fear in love, but perfect love casts out fear. For fear has to do with punishment, and whoever fears has not been perfected in love."
First John chapter 4 is mostly about God's love and knowing God and since God loved us so much that He gave His only Son to die for us (John 3:16), this perfect love, perfectly displayed on the cross, should cast out all of our fears. If we really understood that God's love is not diminished by our behavior, which means that His love is unconditional, then we'd not live in fear anymore so obviously, "whoever fears has not been perfected in love" or they've not been saved.
Proverbs 1:7 "The fear of the Lord is the beginning of knowledge; fools despise wisdom and instruction."
You might think that fear is not a good thing and in some cases, that's true, but think about this; fear of heights keeps us from breaking our necks; fear of death keeps us from intentionally driving at recklessly high speeds; and fear of being thrown in jail keeps most of us honest. Fear can keep us alive but the fear of God is not the same thing as being struck dead by God. Yes, you should fear the judgment of God for those who've not been born again (Rev 20:12-15) but the fear of God means to hold to a deep, holy, reverential fear or respect for God and for His holiness. Think fears not good? Solomon wrote that "The fear of the Lord prolongs life, but the years of the wicked will be short" (Prov 10:27).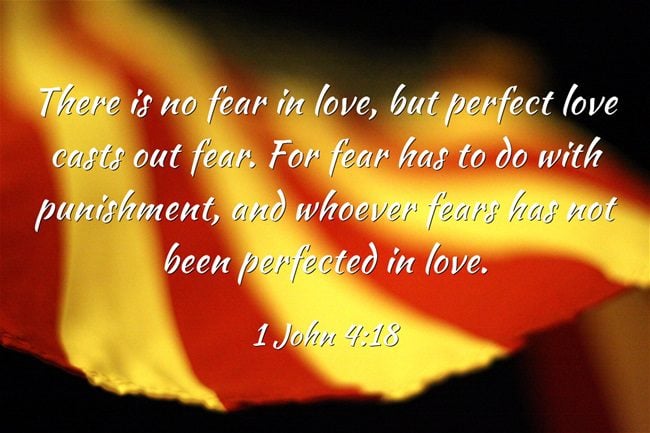 Matthew 10:31 "Fear not, therefore; you are of more value than many sparrows."
When Jesus was speaking to His disciples, He was talking about sending them out as His witnesses but take "no gold or silver or copper for your belts, no bag for your journey" (Matt 10:9-10a) because God will provide for them, just as He does for the birds of the air (Matt 10:29). God knows you so well that "even the hairs of your head are all numbered" (Matt 10:30) and knows your every need so don't fear, "you are of more value than many sparrows" to Him.
Isaiah 41:10 "Fear not, for I am with you; be not dismayed, for I am your God; I will strengthen you, I will help you, I will uphold you with my righteous right hand."
Like many children, my son used to be afraid of the dark and so I kept a nightlight on in his bedroom but sometimes it wasn't quite enough. He would wake up from a bad dream and cry out. I would come to his room and then his anxieties about the darkness of night would disappear. The dark didn't disappear but his fears did. Why? It was because I was with him and he didn't have to be afraid anymore because I was right next to him and I took his right hand in mine and his fear dissipated. In the same way, even in the dark times of our lives, like when we're in the shadowy and dark valley's, the Lord is still with us (Psalm 23). He is not only with us, He will not only help us, He will not only strengthen us, but He's the one who's holding us in in His might right hand.
Genesis 15:1 "After these things the word of the LORD came to Abram in a vision: "Fear not, Abram, I am your shield; your reward shall be very great."
Abram, whose name would later be changed to Abraham, was justified by his faith in God. When God originally called Abram, he had to leave his home, his family, his friends, and everything familiar to him to go to a place he knew little about and had never been. He stepped out on faith, not fearing the unknown, and so he went "not knowing where he was going" (Heb 11:8b) and trusted God.
Psalm 118:6 "The LORD is on my side; I will not fear. What can man do to me?"
If God is for you, then who could ever be against you (Rom 8:31)? The answer is no one because "in God I trust; I shall not be afraid. What can man do to me" (Psalm 56:11)? When our trust is in the Lord, it doesn't matter what we see with our eyes. Compared to God and His being for you, what difference does it what anyone could ever do?
Conclusion
If you've never repented and trusted in Christ then Jesus tells you to "not fear those who kill the body but cannot kill the soul. Rather fear him who can destroy both soul and body in hell" (Matt 10:26) and all they can expect is "a fearful expectation of judgment, and a fury of fire that will consume the adversaries" (Heb 10:27). If you've not ever repented of your sins and trusted in Christ, you will discover, unfortunately too late (Heb 9:27) that "It is a fearful thing to fall into the hands of the living God" (Heb 10:31).
Article by Jack Wellman
Jack Wellman is Pastor of the Mulvane Brethren Church in Mulvane Kansas. Jack is also the Senior Writer at What Christians Want To Know whose mission is to equip, encourage, and energize Christians and to address questions about the believer's daily walk with God and the Bible. You can follow Jack on Google Plus or check out his book Teaching Children the Gospel available on Amazon.