Will there be people who will be left behind in the rapture? Can Christians be left behind?
The Rapture
Not every theologian and Bible scholar believes in the secret rapture because they point to the verse where it says "Behold, he is coming with the clouds, and every eye will see him, even those who pierced him, and all tribes of the earth will wail on account of him. Even so. Amen" (Rev 1:7) so if every eye will see Him, that seems to contradict a so-called secret rapture. Jesus said "I will come again" but never did He say "I will come again secretly" and then come a second time to judge the world. Scripture seems to teach that there is only one coming again of Jesus Christ. He told His disciples before going to the cross to die and return to the Father that "if I go and prepare a place for you, I will come again and will take you to myself, that where I am you may be also" (John 14:3). There isn't even a hint that Jesus would come secretly for them or for believers who would be alive at Christ's second coming.
Scriptures on the Rapture
Some believe that 1st Thessalonians 4:15 talks about a secret rapture where Paul writes "we who are alive, who are left until the coming of the Lord, will not precede those who have fallen asleep" as "the Lord himself will descend from heaven with a cry of command, with the voice of an archangel, and with the sound of the trumpet of God. And the dead in Christ will rise first. Then we who are alive, who are left, will be caught up together with them in the clouds to meet the Lord in the air, and so we will always be with the Lord" (1st Thess 4:16-17). If there is a "sound of the trumpet," are we to believe that this will only be heard by a select few who are the chosen of God? Those who have died in the faith will rise first and then those who remain alive at Christ's coming will be "caught up together with them in the clouds to meet the Lord in the air," after which they "will always be with the Lord." The Greek word that is translated into the English for "caught up" is "harpazō" which means "to seize" and "to carry off by force" but that doesn't mean there are two comings of Jesus Christ. It only says that when Christ returns again Christians "will be caught up together with them in the clouds to meet the Lord in the air, and so we will always be with the Lord" (1st Thess 4: 17). Paul's purpose for writing this wasn't to make sure they didn't miss the rapture but to "encourage one another with these words" (1st Thess 4:18).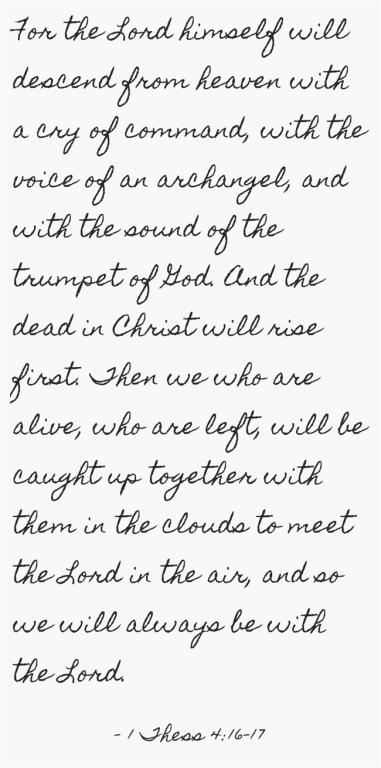 Is First Corinthians 15 and the Rapture?
When Paul wrote to the church at Corinth, he was trying to clear up the misconception that those who died in the faith would miss Christ's return, thereby not be saved but that's not what Paul was saying, so to clear this up, he wrote "We shall not all sleep, but we shall all be changed, in a moment, in the twinkling of an eye, at the last trumpet. For the trumpet will sound, and the dead will be raised imperishable, and we shall be changed" (1st Cor 15:51-52) so here again we hear about the "trumpet sound" where "the dead will be raised" as "imperishable" by their being changed. Again, I ask, is this trumpet sound only heard by a select few? Can some believers miss the trumpet and thus, miss the rapture, if indeed this is what Paul is speaking about?
Left Behind?
If you haven't see the any of the movies referencing being left behind at the rapture then you've probably only heard about the belief that some will be left behind and as a result, have to go through the tribulation. When Job wrote that "I know that my Redeemer lives, and at the last he will stand upon the earth. And after my skin has been thus destroyed, yet in my flesh I shall see God" (Job 25-26) he seems to be talking about his natural body being resurrected and being "yet in my flesh" when he "shall see God." Whether you believe in the rapture or not isn't essential to your salvation and I would hope that we wouldn't get into debates about who is right and who is wrong. I only know that "God has not destined us for wrath, but to obtain salvation through our Lord Jesus Christ" (1st Thess 5:9) so since this is true, why would God leave behind believers to go through the tribulation if they're not "destined [for the] wrath" of God? We were destined "to obtain salvation." All we are told to do is to be ready at any moment and then "wait for his Son from heaven, whom he raised from the dead, Jesus who delivers us from the wrath to come" (1st Thess 1:10).
Conclusion
Whether you believe in the rapture or not, you must be ready because He could return at any given moment. All you need to do is to repent and believe in the gospel (Mark 1:15; John 3:36). When Jesus comes again, every eye shall see Him and the trumpet sound will be heard. This doesn't sound very much like a secret coming (rapture), only to be followed by another coming where all will see Him. Whatever you believe, you must have had a time in your life where you've turned away from and forsaken your sins; that's called repentance. Then you have to put your trust in Christ. These are the two wings that fly us into the kingdom; repentance and faith, for without them, no one will see God.
Article by Jack Wellman
Jack Wellman is Pastor of the Mulvane Brethren Church in Mulvane Kansas. Jack is also the Senior Writer at What Christians Want To Know whose mission is to equip, encourage, and energize Christians and to address questions about the believer's daily walk with God and the Bible. You can follow Jack on Google Plus or check out his book Teaching Children the Gospel available on Amazon.