Does the Bible say anything about euthanasia or assisted suicide or is the Bible silent on this subject?
Suicidal Thoughts
I believe that all of us go through periods of our life when we feel utterly depressed. It is actually normal to pass through these so-called "dark nights of the soul" when we feel so despondent that we might even contemplate suicide. It has at least passed through the minds of many people, even among Christians. Depression and thoughts of suicide is an equal opportunity occurrence. It cuts through the social strata of society and there were even those in the Bible who wanted God to take their life. Elijah once just gave up and sought for God to just kill him but God never did and told him to rest, eat and recuperate. When we get tired, hungry, and stressed, we are more vulnerable to thoughts of harming ourselves and for some, even worse, we contemplate or entertain thoughts about suicide. Even the Apostle Paul despaired of life at times, although I don't believe he meant to end his own life. Paul was not going to ever do that.
Suffering's Never Wasted
Many Christians may not realize that we are actually called to suffer for Jesus' sake. The Holy "Spirit himself bears witness with our spirit that we are children of God, and if children, then heirs—heirs of God and fellow heirs with Christ, provided we suffer with him in order that we may also be glorified with him" (Rom 8:16-17) and few suffered like Paul did but he considered "that the sufferings of this present time are not worth comparing with the glory that is to be revealed to us" (Rom 8:18) so as much as is possible, "rejoice insofar as you share Christ's sufferings, that you may also rejoice and be glad when his glory is revealed" (1st Pet 4:13).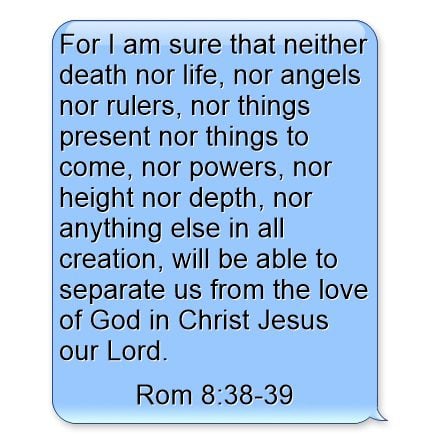 You Shall Not Murder
The Sixth Commandment is "You shall not murder" (Ex 20:13) and this includes what is called mercy-killing or physician assisted-suicide. The person being killed is innocent, thereby making it murder. Yes, it is a mercy killing and in some severe cases, this might be the best, but euthanasia should be absolutely the very last option. Some people are so ravaged by their disease and pain and there is no medical hope at all and all that they face is exceedingly intense suffering for the rest of their life and feel that they just can't take it anymore. For these beleaguered souls who put their faith in Christ, how can we think that they'll be cast into hell if they go through euthanasia? The Bible teaches that "neither death nor life, nor angels nor rulers, nor things present nor things to come, nor powers, nor height nor depth, nor anything else in all creation, will be able to separate us from the love of God in Christ Jesus our Lord" (Rom 8:38-39). The question is; do we believe it?
When you Suffering
I know that the Word of God has real power (Isaiah 55:11; Rom 1:16) so why not use it? The Bible says that we all have an appointed day of death, after which comes the judgment (Heb 9:27), but it should be God's decision and not ours. The psalmist wrote, "Your eyes saw my unformed substance; in your book were written, every one of them, the days that were formed for me, when as yet there was none of them" (Psalm 139:16) so call out to Him and He will deliver you (Psalm 50:15), either in this life or the next. Isaiah the Prophet wrote a prophecy a few thousand years ago about the Messiah or Jesus Christ and wrote "The Spirit of the Lord God is upon me, because the Lord has anointed me to bring good news to the poor; he has sent me to bind up the brokenhearted" (Isaiah 61:1) and "to grant to those who mourn in Zion— to give them a beautiful headdress instead of ashes, the oil of gladness instead of mourning, the garment of praise instead of a faint spirit" (Isaiah 61:3). Does that not sound comforting? Read the Book of Psalms for strength in your time of suffering and just pour your heart out to God and He can help you endure your present circumstance.
Conclusion
The Bible is silent on euthanasia but we can understand how God sees life because we're all made in the image of God (Gen 1:27). There are a few rare examples of people in the Bible wanting to take their own life but they never tried to do it themselves? Judas was the only exception but he was never saved in the first place, so why did everyone else who thought of ending their life never try taking their life? Was this because they knew it was sin? It could be. It is sin to take one's own life, even if it's your own, but thankfully, not anything in life or death can separate the believer from the love of God (Rom 8:38-39), even if it includes euthanasia for those in special circumstances.
Article by Jack Wellman
Jack Wellman is Pastor of the Mulvane Brethren Church in Mulvane Kansas. Jack is also the Senior Writer at What Christians Want To Know whose mission is to equip, encourage, and energize Christians and to address questions about the believer's daily walk with God and the Bible. You can follow Jack on Google Plus or check out his book Teaching Children the Gospel available on Amazon.