Here are seven Bible verses that I hope will help couples deal with infertility.
Psalm 113:9 "He gives the barren woman a home, making her the joyous mother of children. Praise the Lord."
There are many Bible verses that establish the fact that it is God Who opens the womb and causes children to be born, however this is no guarantee that God will bless every childless couple with children. Perhaps God is interested in seeing if the couple will remain faithful and trust God in their barrenness and to wait upon the Lord for His timing.
Psalm 139:13 "For you formed my inward parts; you knitted me together in my mother's womb."
Here is biblical evidence that even before someone's born, they are considered a person and that cutting off the life of the unborn is seen as murder before God's eyes as the psalmist writes, "My frame was not hidden from you, when I was being made in secret, intricately woven in the depths of the earth. Your eyes saw my unformed substance; in your book were written, every one of them, the days that were formed for me, when as yet there was none of them" (Psalm 139:15-16), so the psalmist, as does God, sees life as beginning at conception.
First Samuel 2:21 "Indeed the Lord visited Hannah, and she conceived and bore three sons and two daughters. And the young man Samuel grew in the presence of the Lord."
This Bible verse is as clear as can be that "children are a heritage from the LORD, the fruit of the womb a reward" (Psalm 127:3), just as the verse says, where God tells Israel, "He will love you, bless you, and multiply you. He will also bless the fruit of your womb and the fruit of your ground, your grain and your wine and your oil, the increase of your herds and the young of your flock, in the land that he swore to your fathers to give you" (Duet 7:13).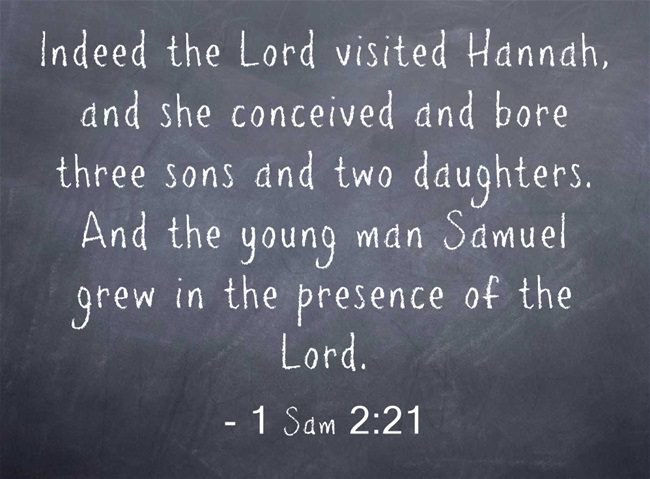 Genesis 25:21 "And Isaac prayed to the Lord for his wife, because she was barren. And the Lord granted his prayer, and Rebekah his wife conceived."
This shows that sometimes God responds by opening the barren womb through the prayers of others but also that children are granted by God Himself and so in Isaac's case, "the Lord granted his prayer, and Rebekah his wife conceived." Infertility may be one of the greatest trials a couple will ever face but they need not face it alone; seek God's will, pray to Him, obey Him, and then leave all of the results up to Him.
Isaiah 54:1- "Sing, O barren one, who did not bear; break forth into singing and cry aloud, you who have not been in labor! For the children of the desolate one will be more than the children of her who is married," says the Lord."
Praying to God is very hard when you are hurting because of childlessness but that's what we are told to do. Job, when he had lost all ten of his children and every possession he had and even his health, was able to say, "Though he slay me, I will hope in him; yet I will argue my ways to his face" (Job 13:15). How hard it is to praise God in the storm but God is most pleased when we do and grants those who do so His divine blessings.
Genesis 15:2-3 "But Abram said, "O Lord God, what will you give me, for I continue childless, and the heir of my house is Eliezer of Damascus?" And Abram said, "Behold, you have given me no offspring, and a member of my household will be my heir."
Abraham and Sarah waited decades before God finally granted Sarah and him a child, even though they were well beyond the child-bearing age, but nothing is too hard for God. They simply trusted God and His promise that by Abraham's seed, the whole world would be blessed, and that meant that Abraham and Sarah would have a child for sure but it just wasn't in the timing that they had expected but when God determined it best.
Exodus 23:26 "None shall miscarry or be barren in your land; I will fulfill the number of your days."
If anyone has ever experienced a miscarriage or has not been able to bear children, they alone (with God) know how much that hurts. I cannot imagine how painful that is nor can anyone else that hasn't gone through it but there is always the option for couples to adopt as the waiting list of children in the states is enormous. That is a matter of prayer, counsel, and sometimes, just sheer determination, as it isn't easy going through an adoption process, from what I know of it, but if God blesses that process, no one can stop it.
Conclusion
There are fewer things more painful for couples to endure than dealing with infertility. Their heart breaks every time the couple sees a family with children and they say that it feels like someone's ripping their heart out. There is nothing I can say or no Bible verse I can provide that can take that pain away. They simply have to rely on God for His intervention and trust Him in the process. Give Him your pain and cry out to Him about your deepest desire to have children and perhaps, in time, God will open the womb like He did with Sarah, Rebekah, Hannah, and so many other women in the Bible.
Article by Jack Wellman
Jack Wellman is Pastor of the Mulvane Brethren Church in Mulvane Kansas. Jack is also the Senior Writer at What Christians Want To Know whose mission is to equip, encourage, and energize Christians and to address questions about the believer's daily walk with God and the Bible. You can follow Jack on Google Plus or check out his book Teaching Children the Gospel available on Amazon.