Here are seven Bible verses that I hope can help you deal with life's disappointments.
First Peter 5:10-11 "And after you have suffered a little while, the God of all grace, who has called you to his eternal glory in Christ, will himself restore, confirm, strengthen, and establish you. To him be the dominion forever and ever. Amen."
The Apostle Peter gives us the proper perspective about suffering or disappointment. We must endure it for the time is coming when God will take us into Him kingdom, but for today, He can restore and strengthen us in our expectation of that great day of His return which is coming. We don't live in the present but we live for the future and what we endure today isn't worth comparing with the glory that's coming (Rom 8:18).
Proverbs 23:17-18 "Let not your heart envy sinners, but continue in the fear of the Lord all the day. Surely there is a future, and your hope will not be cut off."
It's so easy to be jealous or covet those possessions or positions that others have but if they've never repented and trusted in Christ, their future is as bleak as can possibly be (Rom 20:12-15), but for the children of God, we await the coming kingdom, but more so, we look for and place our hope in the coming King of that kingdom, so know this; we have a sure hope that cannot be cut off by anyone or anything.
Titus 2:13-14 "Waiting for our blessed hope, the appearing of the glory of our great God and Savior Jesus Christ, who gave himself for us to redeem us from all lawlessness and to purify for himself a people for his own possession who are zealous for good works."
Just like the patriarchs of old and the New Testament saints, we are all waiting for the blessed hope of ours and that hope is in the appearance of the Lord Jesus Christ. As the Apostle John writes, "Behold, he is coming with the clouds, and every eye will see him, even those who pierced him, and all tribes of the earth will wail on account of him. Even so. Amen" (Rev 1:7). We will rejoice but the lost will wail and weep for their judgment that is surely to come for rejecting their only hope of salvation (Acts 4:12).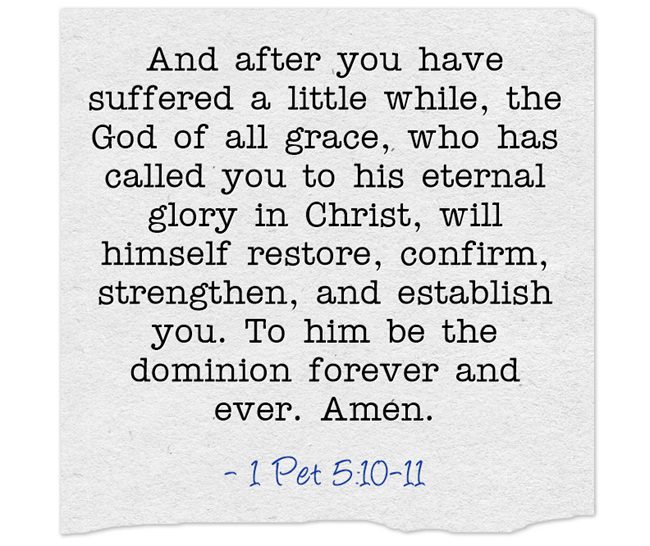 First Peter 5:6-7 "Humble yourselves, therefore, under the mighty hand of God so that at the proper time he may exalt you, casting all your anxieties on him, because he cares for you."
God will resist every person who is full of pride but will give His grace only to the humble of heart (James 4:6) and since pride and sin keeps the lost from coming to Christ, they will be humbled on the day they see Christ, so Peter's point is this; humble yourselves today before God or be humbled at the second coming. If we are humbled, then we can cast every care we have and place it upon His broad shoulders because "he cares for you" and for me.
Psalm 34:17-18 "When the righteous cry for help, the Lord hears and delivers them out of all their troubles. The Lord is near to the brokenhearted and saves the crushed in spirit."
Psalm 34 is full of hope because it shows that "When the righteous cry for help, the Lord hears and delivers them out of all their troubles." It doesn't give a timeline or say exactly when God will deliver them out of their troubles but the deliverance will surely come, especially since God is close to the brokenhearted and the crushed in spirit. When you are broken, God is near you. When you are crushed in spirit, He is close to you and the closer He is too you, the more comfort you should take in that.
Jeremiah 29:11-14 "For I know the plans I have for you, declares the Lord, plans for welfare and not for evil, to give you a future and a hope. Then you will call upon me and come and pray to me, and I will hear you. You will seek me and find me, when you seek me with all your heart. I will be found by you, declares the Lord."
Even though these verses were written to the Jews who were being held in captivity, I believe the same principle applies to believers; God knows our future and has plans for us and His plans for us are for our very best. His plans for us include an awesome future (Rev 22). What Jeremiah wrote should encourage us too since today we can seek God with our whole heart as He promises to be there for us.
Psalm 30:5b "Weeping may tarry for the night, but joy comes with the morning."
Disappointments come and go in life but they rarely stay for a lifetime. As the psalmist wrote, "Weeping may tarry for the night, but joy comes with the morning" so we must see our sorrow, suffering, and disappointments as only temporary and not permanent. The dark night of the soul will give way to the joy that will come "with the morning."
Conclusion
How about seeing life's disappointments as God's appointments and as being according to His purposes? Take the psalmist's advice and "Cast your burden on the Lord, and he will sustain you; he will never permit the righteous to be moved" (Psalm 55:20). If you insist on carrying around your own burdens and disappointments, it will be a heavy load indeed and you'll have to carry around with you the weight of the world and that's going to be difficult since we were never created to carry such loads. This is exactly why Jesus commands us all to "Come to me, all who labor and are heavy laden, and I will give you rest. Take my yoke upon you, and learn from me, for I am gentle and lowly in heart, and you will find rest for your souls. For my yoke is easy, and my burden is light" (Matt 11:28-30).
Article by Jack Wellman
Jack Wellman is Pastor of the Mulvane Brethren Church in Mulvane Kansas. Jack is also the Senior Writer at What Christians Want To Know whose mission is to equip, encourage, and energize Christians and to address questions about the believer's daily walk with God and the Bible. You can follow Jack on Google Plus or check out his book Teaching Children the Gospel available on Amazon.