Here are seven Bible verses that I hope can help those who have to deal with bullies.
Romans 12:18-21 "If possible, so far as it depends on you, live peaceably with all. Beloved, never avenge yourselves, but leave it to the wrath of God, for it is written, "Vengeance is mine, I will repay, says the Lord." To the contrary, "if your enemy is hungry, feed him; if he is thirsty, give him something to drink; for by so doing you will heap burning coals on his head." Do not be overcome by evil, but overcome evil with good."
Many of the Christians in the Apostle's Paul day were being severely persecuted and today, that persecution continues by what I call "cyber bullies" but they think they bring a strong argument but the carry a limp noodle in their reasoning and so no wonder Paul says "they are without excuse" (Rom 1:20) since they know that God exists (Rom 1:19-20) yet rejected Him for the love of swimming in their own sin. If you are being bullied at school, work, or in the Internet, remember to leave vengeance to God. It will be far worse for them on that day than we can even imagine (Rev 21:8).
Matthew 5:43-45 "You have heard that it was said, 'You shall love your neighbor and hate your enemy. But I say to you, Love your enemies and pray for those who persecute you, so that you may be sons of your Father who is in heaven. For he makes his sun rise on the evil and on the good, and sends rain on the just and on the unjust."
If we return hate for hate, then we are no better than the unsaved of the world (Matt 5:47) since it is just as the Apostle John wrote in 1st John 3:15, "Everyone who hates his brother is a murderer, and you know that no murderer has eternal life abiding in him." Think of those who hate you? Read about their godless eternity (Rev 20:12-15, 21:8) and have compassion on them for we too were once separated from God by our sins (Isaiah 59:2). No one would wish that upon anybody, so pray that they might be saved from the coming wrath of God on all unbelievers (Rom 2:5).
Leviticus 19:18 "You shall not take vengeance or bear a grudge against the sons of your own people, but you shall love your neighbor as yourself: I am the Lord."
If someone hates us for our faith, as many certainly do, God doesn't want us to return that hate since that is seen as murder in the heart according to Jesus (Matt 5:21-22). Hating someone is like coveting the idea of their dying or someone murdering them or having wicked thoughts of doing it themselves. In the Old Testament, just as in the New Testament, we are not to hold onto grudges or get revenge but leave justice to God. What God would have us do is to love our neighbors in a similar way that we love ourselves and take care of our own needs.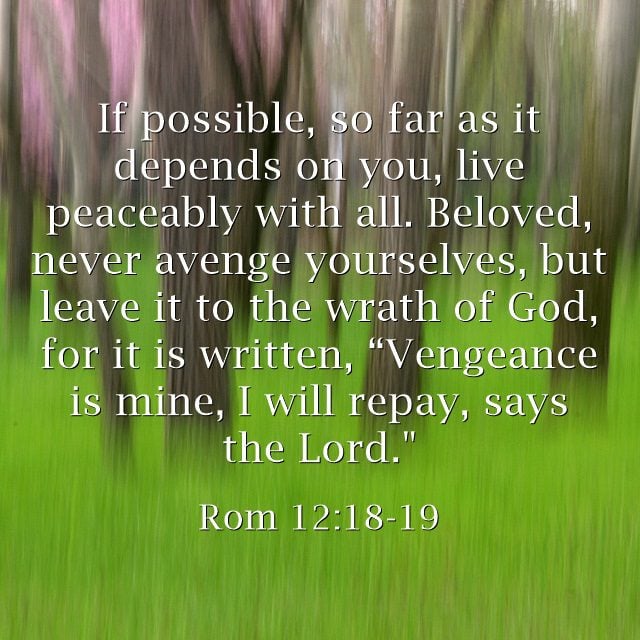 Romans 12:16-17 "Live in harmony with one another. Do not be haughty, but associate with the lowly. Never be wise in your own sight. Repay no one evil for evil, but give thought to do what is honorable in the sight of all."
The Apostle Paul goes on to say "Bless those who persecute you; bless and do not curse them. Rejoice with those who rejoice, weep with those who weep" (Rom 12:14-15a) and "Live in harmony with one another. Do not be haughty, but associate with the lowly. Never be wise in your own sight" (Rom 12:16). Each one of those commands is given as a verb or a verbal command and they are all commands to humble ourselves before others and even esteem them better than ourselves (Phil 2:3). Paul never even hints that it only applies to how we treat one another in the church; rather it seems universal in its application and would extend beyond the reach of the church doors. Who is our neighbor? You won't see anyone today that isn't your neighbor.
Matthew 5:10-12 "Blessed are those who are persecuted for righteousness' sake, for theirs is the kingdom of heaven. Blessed are you when others revile you and persecute you and utter all kinds of evil against you falsely on my account. Rejoice and be glad, for your reward is great in heaven, for so they persecuted the prophets who were before you."
This is such a rich, blessed-filled message that Jesus gives. When others think they've put you down, they've actually lifted you up! It is just as the Apostle Peter wrote that we are to "rejoice insofar as you share Christ's sufferings, that you may also rejoice and be glad when his glory is revealed. If you are insulted for the name of Christ, you are blessed, because the Spirit of glory and of God rests upon you" (1st Pet 5:13-14), so thanks to our persecutors for their blessings upon us, eh?
Matthew 12:36-37 "I tell you, on the day of judgment people will give account for every careless word they speak, for by your words you will be justified, and by your words you will be condemned."
Jesus goes on to say that "it will be more bearable on the day of judgment for the land of Sodom and Gomorrah than for that town" (Matt 10:15) because the Jew had seen Christ in person, seen His miracles, and heard the gospel from Him according to Scripture. They have no excuse, but remember, Jesus is warning everyone that there will be no word that we all will not be held accountable for, even careless or meaningless talk. Gossip will be judged as slander, because that's what it is and hate will be reckoned as murder in God's sight, so everyone of us should remember that we'll either be justified by our words or we'll be condemned by our words, and today and every day, we are accumulating incriminating evidence, either for our good or for our bad on the Day of Judgment.
Romans 12:14 "Bless those who persecute you; bless and do not curse them."
I probably confuse those who hate me by thanking them and praying for them and asking God to bless them for giving me a blessing in return (Matt 5:10-12) so think of it this way; when you are faced with bullies, think of them on Judgment Day. Be moved with compassion for the fate of their souls. Pray that they might be saved. Wish them no harm; love them, pray for them, and bless them. Maybe they were bullied at one time and that's why they ended up being one. They're probably hurting deep inside, and so like a wounded animal, all they know is to strike back at what they don't understand.
Conclusion
The point of these verses are to let God avenge those on our behalf and not we ourselves, for if we do, we try to usurp or take over God's authority as the Righteous Judge and seat ourselves on His throne, however there is great danger in that (Rom 2:1-6), so Paul's admonition for us who are being bullied at work, school, or on the Internet; put it all into the perspective or backdrop of eternity and "wait for his Son from heaven, whom he raised from the dead, Jesus who delivers us from the wrath to come" (1st Thess 1:10) and for know for certain that God "will render to each one according to his works" (Rom 2:6).
Article by Jack Wellman
Jack Wellman is Pastor of the Mulvane Brethren Church in Mulvane Kansas. Jack is also the Senior Writer at What Christians Want To Know whose mission is to equip, encourage, and energize Christians and to address questions about the believer's daily walk with God and the Bible. You can follow Jack on Google Plus or check out his book Teaching Children the Gospel available on Amazon.