Here are seven Bible verses about showing support for missionaries.
Acts 1:8 "But you will receive power when the Holy Spirit has come upon you, and you will be my witnesses in Jerusalem and in all Judea and Samaria, and to the end of the earth."
The church shouldn't feel obligated to be Jesus' witnesses; they should earnestly desire to be His witnesses for what He has done for them. One way to support missionaries is not just financially but prayerfully. We are commanded to pray for one another and missionaries need our prayers perhaps more than others for they are more dependent upon God to provide for them since they are often far from home and civilization. God promises that they "will receive the power" of "the Holy Spirit" in so going into all the world and in fact, there is power in the gospel itself (Rom 1:16).
Luke 10:1-2 "After this the Lord appointed seventy-two others and sent them on ahead of him, two by two, into every town and place where he himself was about to go. And he said to them, "The harvest is plentiful, but the laborers are few. Therefore pray earnestly to the Lord of the harvest to send out laborers into his harvest."
Jesus told those He sent out to not take money bags with them, apparently showing that God would support them, but since there were few laborers in that day, and it appears in our day too, He told them to "pray earnestly to the Lord of the harvest to send out laborers into his harvest" and today, we are still praying for more laborers as there's a shortage of witnesses in the church (only 1 in 10 actively share their faith) and a shortage of missionaries due to a lack of financial support from the church. We can pray for more laborers but we must support the ones we already have!
Acts 13:2-3 "While they were worshiping the Lord and fasting, the Holy Spirit said, "Set apart for me Barnabas and Saul for the work to which I have called them." Then after fasting and praying they laid their hands on them and sent them off."
Obviously, Saul (later called Paul) and Barnabas were "being sent out by the Holy Spirit" (Acts 13:4) and whether this was by an internal voice from God or even an audible one, we don't really know but we do know that the Spirit of God was ultimately sending them out as God's witnesses. It's important to note that they prayed and fasted about this before they sent them out, not leaving it to chance but committing it to prayer and trusting God for His guidance.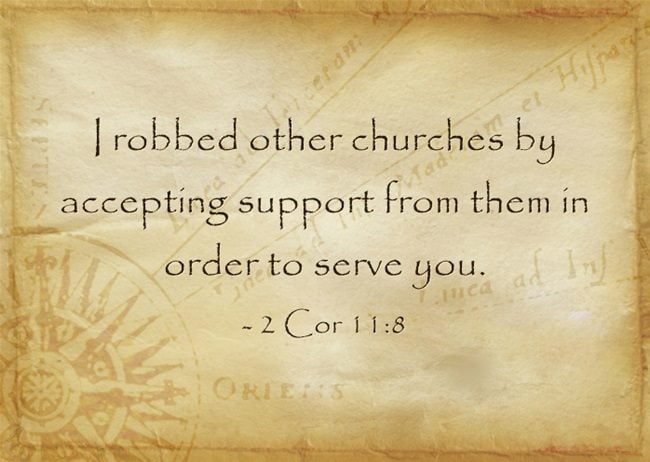 Roman 1:16-17 "For I am not ashamed of the gospel, for it is the power of God for salvation to everyone who believes, to the Jew first and also to the Greek. For in it the righteousness of God is revealed from faith for faith, as it is written, "The righteous shall live by faith."
I have not met a missionary that is ashamed of the gospel because they wouldn't be a missionary if they were. Rather, they know that the power of God for salvation is in the gospel itself and it contains the potent Words of God which can affect the readers and listeners. God's righteousness is often revealed for the very first time by missionaries to those who have not even heard of Jesus Christ, so missionaries are compelled to share their faith through the Word of God since they know that "faith comes from hearing, and hearing through the word of Christ" (Rom 10:17).
Matthew 28:18-20 "And Jesus came and said to them, "All authority in heaven and on earth has been given to me. Go therefore and make disciples of all nations, baptizing them in the name of the Father and of the Son and of the Holy Spirit, teaching them to observe all that I have commanded you. And behold, I am with you always, to the end of the age."
We know for our own experience and the teachings of the Bible that "the word of the cross is folly to those who are perishing, but to us who are being saved it is the power of God" (1st Cor 1:18) but because every believer has been empowered by the Spirit of God and all believers have been authorized to share the gospel by Christ (Acts 1:8), they must do it anyway and for some it will be foolishness but for others, it will make perfect sense.
Second Corinthians 11:8 "I robbed other churches by accepting support from them in order to serve you."
Paul actually robbed other churches, not in the sense of taking their money for his own purposes, but by receiving the support of other churches so that the Corinthians could hear the gospel and be saved. If Paul didn't receive any support, would the churches in Corinth ever have been planted? Would the church at Rome have understood the grace of God? Would there have been even half as many churches in the New Testament era than there were? Probably not.
First Corinthians 16:1-3 "Now concerning the collection for the saints: as I directed the churches of Galatia, so you also are to do. On the first day of every week, each of you is to put something aside and store it up, as he may prosper, so that there will be no collecting when I come. And when I arrive, I will send those whom you accredit by letter to carry your gift to Jerusalem."
Apparently, Paul directed the churches to make a collection for the saints in Jerusalem who were experiencing poverty and many, homelessness due to the severe persecution of the Christians in the city, had lost everything. The Corinthians, as well as a few other churches, helped not only to support Paul and his missionary work, but they also gave so that the Christian Jews in Jerusalem would have something to support themselves and keep themselves from starvation.
Conclusion
One thing that missionaries might tell us is that "we are the aroma of Christ to God among those who are being saved and among those who are perishing, to one a fragrance from death to death, to the other a fragrance from life to life. Who is sufficient for these things" (2nd Cor 2:15-16). They know that and if we know that most people will reject the gospel for an average of seven times before coming to saving faith, they shouldn't give up trying because they can trust the power of God that is in them and the power of God that is found in salvation.
Article by Jack Wellman
Jack Wellman is Pastor of the Mulvane Brethren Church in Mulvane Kansas. Jack is also the Senior Writer at What Christians Want To Know whose mission is to equip, encourage, and energize Christians and to address questions about the believer's daily walk with God and the Bible. You can follow Jack on Google Plus or check out his book Teaching Children the Gospel available on Amazon.