Here are seven Bible verses that are used to say goodbye or farewell.
Acts 20:37-38 "And there was much weeping on the part of all; they embraced Paul and kissed him being sorrowful most of all because of the word he had spoken, that they would not see his face again. And they accompanied him to the ship."
These two verses are such heartbreaking passages because the Ephesian elders seem to sense that "they would not see [Paul's] face again" and so "they accompanied him to the ship" and there were many tears and many hugs as they had time to grow very close together and it broke their heart to see Paul leaving, knowing that the next time they saw him would be in the kingdom. Paul had been warned that suffering awaited him in Jerusalem but still said to the Ephesian church leaders "I do not account my life of any value nor as precious to myself, if only I may finish my course and the ministry that I received from the Lord Jesus, to testify to the gospel of the grace of God" (Acts 20:24).
Second Corinthians 13:11-12 "Finally, brothers, rejoice. Aim for restoration, comfort one another, agree with one another, live in peace; and the God of love and peace will be with you. Greet one another with a holy kiss."
Today, we don't usually greet one another or depart from "one another with a holy kiss" but use a handshake or a hug but some cultures still do this in the Middle East and other parts of the world. Paul's exhortation in his farewell to the Corinthians was that they should live in peace with one another and that they greet one another with a holy kiss, which is symbolic of Christian love and not like a kiss between a husband and a wife.
Ephesians 6:23-24 "Peace be to the brothers, and love with faith, from God the Father and the Lord Jesus Christ. Grace be with all who love our Lord Jesus Christ with love incorruptible."
Peace and grace were Paul's favorite greetings and his favorite words to use in closing his letters or epistles to the churches. The believer in Christ has to first come to be at peace with God through Christ (Rom 5:1) and that lifts the condemnation that was previously over us (Rom 8:1) and now, we have the peace of God because we are at peace with God. This kind of love is incorruptible or imperishable, meaning that it is a love that abides or remains forever.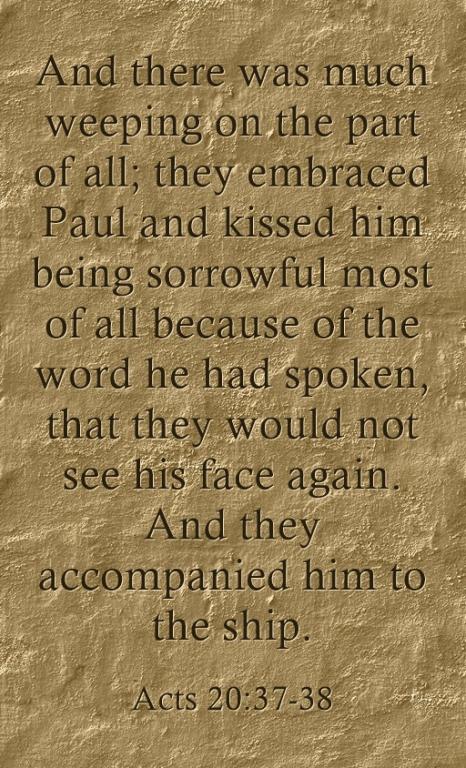 First Thessalonians 5:23 "Now may the God of peace himself sanctify you completely, and may your whole spirit and soul and body be kept blameless at the coming of our Lord Jesus Christ."
Paul's closing remarks were often prayers for those to whom he was writing to and the Thessalonians were no exception. He would often close his letters in the same way that he would say goodbye to those he was leaving and that was with a prayer for their having peace and also with a praise to God through Jesus Christ by Whom we've all been redeemed.
Second Thessalonians 3:16 "Now may the Lord of peace himself give you peace at all times in every way. The Lord be with you all."
The closing of the 2nd Thessalonians was never contrived or just a generic greeting or farewell. It wasn't Paul just filling up space like we do in our letters or emails by saying "God bless you" or something similar to that. Paul often prayed to God for those in the church to have peace and for God to be with them at all times. That is a great farewell or goodbye for those he is leaving, either by letter or in person.
Titus 3:15 "All who are with me send greetings to you. Greet those who love us in the faith. Grace be with you all."
Here we have Paul sending a greeting in his farewell but it was like all who were with him were with him were also sending their greetings. He asked that the church great one another with love and told them again, "grace be with" them all and for all who've repented and trusted in Jesus Christ, they do have peace because they have been saved by grace and now are at peace with God.
Revelation 22:21 "The grace of the Lord Jesus be with all. Amen."
In the last passage in the Bible, the Apostle John writes that "the grace of the Lord Jesus be with" them all and to "let the one who hears say, "Come." And let the one who is thirsty come; let the one who desires take the water of life without price" (Rev 22:17). Today, God is still offering this message of hope for all who will humble themselves and come before Him and receive Him as Savior and as Lord. If not, they will see the Lord in all His glory but there won't be time to repent anymore (Rev 20:12-15).
Conclusion
David and Jonathan were as close as friends as we read about in the Bible and so just before David left Jonathan, "Jonathan said to David, "Go in peace, because we have sworn both of us in the name of the LORD, saying, 'The LORD shall be between me and you, and between my offspring and your offspring, forever.'" And he rose and departed, and Jonathan went into the city" (1st Sam 20:42). Isn't that a similar relationship every brother and sister in Christ has with one another? Even when we say goodbye to the saints on earth by death we are not really saying "Goodbye" but "See you later."
Article by Jack Wellman
Jack Wellman is Pastor of the Mulvane Brethren Church in Mulvane Kansas. Jack is also the Senior Writer at What Christians Want To Know whose mission is to equip, encourage, and energize Christians and to address questions about the believer's daily walk with God and the Bible. You can follow Jack on Google Plus or check out his book Teaching Children the Gospel available on Amazon.