Here are seven Bible verses that I believe will strengthen your faith.
Romans 8:38-39 "For I am sure that neither death nor life, nor angels nor rulers, nor things present nor things to come, nor powers, nor height nor depth, nor anything else in all creation, will be able to separate us from the love of God in Christ Jesus our Lord."
Our faith is no stronger that the object in which we place our faith and if your faith is in Jesus Christ, it is a bedrock faith that no one or nothing can oppose since "without faith it is impossible to please him, for whoever would draw near to God must believe that he exists and that he rewards those who seek him" (Heb 11:6). Since we now that we can't be separated from God, shouldn't that strengthen your faith?
Philippians 1:6 "And I am sure of this, that he who began a good work in you will bring it to completion at the day of Jesus Christ."
Faith is not something like wishful thinking but rather "faith is the assurance of things hoped for, the conviction of things not seen" (Heb 11:1) so it is a tangible reality for the believer, not a hope-so wish that we hope something proves to be true. Paul was certain that God, Who began a good work in us, will complete it "at the day of Jesus Christ" and His return. Do you have the same assurance that Paul wrote about?
Mark 11:22-24 "And Jesus answered them, "Have faith in God. Truly, I say to you, whoever says to this mountain, 'Be taken up and thrown into the sea,' and does not doubt in his heart, but believes that what he says will come to pass, it will be done for him. Therefore I tell you, whatever you ask in prayer, believe that you have received it, and it will be yours."
Jesus speaks of a faith that can move mountains since a God Who created them can do all things. We simply must have faith and believe what God says. For example, if Jesus has said whoever believes in Him already has eternal life (John 3:16), do we really think that He'll change His mind? That would seem typical of human beings but not for God since God cannot lie (Num 23:19).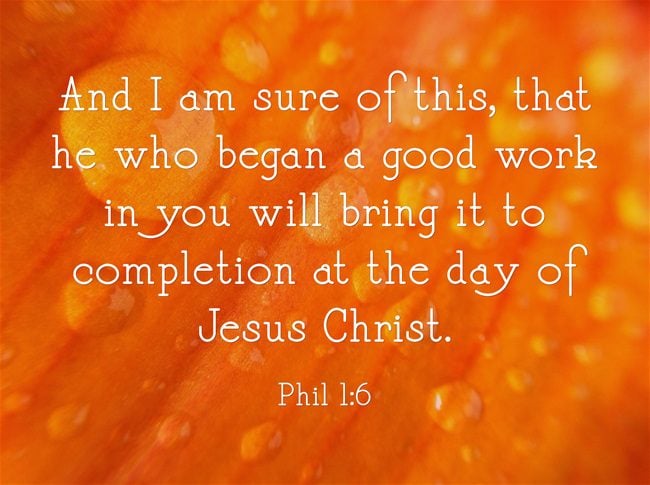 Ephesians 3:20 "Now to him who is able to do far more abundantly than all that we ask or think, according to the power at work within us."
We need God's power to help us overcome in this life but to also help us endure the journey on the way to the Kingdom of God but every child of God has access to the power of God and it is "according to the power at work within us" that enables us to "do far more abundantly than all that we ask or think" so we're not reduced to hoping for or wishing for but expecting.
Romans 8:31 "What then shall we say to these things? If God is for us, who can be against us?"
If God is for you, then who could ever be against you? The answer is no one, just as the Apostle Paul writes, "Who shall bring any charge against God's elect? It is God who justifies" (Rom 8:33) and so "For those whom he foreknew he also predestined to be conformed to the image of his Son, in order that he might be the firstborn among many brothers. And those whom he predestined he also called, and those whom he called he also justified, and those whom he justified he also glorified" (Rom 8:29-30) and so God will complete what He started and since God is for us, why worry about anyone who would ever be against us?
Ephesians 2:8-9 "For by grace you have been saved through faith. And this is not your own doing; it is the gift of God, not a result of works, so that no one may boast."
This verse might not seem much like a faith-builder but think about it; we are saved by grace and not by works because if our salvation depended upon our works, we'd always be worried whether we ever did enough or not. If our faith depended upon us, then it wouldn't be faith but works and we all know, our works are nothing more than filthy rags to God (Isaiah 64:6).
Second Peter 1:3-4 "His divine power has granted to us all things that pertain to life and godliness, through the knowledge of him who called us to his own glory and excellence, by which he has granted to us his precious and very great promises, so that through them you may become partakers of the divine nature, having escaped from the corruption that is in the world because of sinful desire."
What precious promise of God has ever failed? Not one has failed in all of Scripture and so what God promises, He delivers and these "very great promises" are ours to receive and they are for all who have repented and trusted in Christ. We have escaped the world's corruption by becoming a new creation in Christ (2nd Cor 5:17) and now we wait the day of His visitation and the consummation of the kingdom when all of these promises will be received.
Conclusion
Our faith is sometimes challenged by circumstances but life, death, demons, powers…nothing can separate us from God and so Jesus says, "whatever you ask in prayer, you will receive, if you have faith" (Matt 21:22) because "nothing will be impossible with God" (Luke 1:37) but only if it is according to the will of God. Do you lack faith in God? Is your faith wavering? Then get into the Word of God and the Word of God will get into you since "faith comes from hearing, and hearing through the word of Christ" (Rom 10:17).
Article by Jack Wellman
Jack Wellman is Pastor of the Mulvane Brethren Church in Mulvane Kansas. Jack is also the Senior Writer at What Christians Want To Know whose mission is to equip, encourage, and energize Christians and to address questions about the believer's daily walk with God and the Bible. You can follow Jack on Google Plus or check out his book Teaching Children the Gospel available on Amazon.