Here are seven Bible verses that the Devil and his demons hate.
Acts 5:38 "And Peter said to them, "Repent and be baptized every one of you in the name of Jesus Christ for the forgiveness of your sins, and you will receive the gift of the Holy Spirit."
This line must have enraged the enemy because he could no longer condemn those who were following the god of this world, being blinded no more (John 12:40; 2nd Cor 4:4) and the Apostle Peter added that "the promise is for you and for your children and for all who are far off, everyone whom the Lord our God calls to himself." And with many other words he bore witness and continued to exhort them, saying, "Save yourselves from this crooked generation." So those who received his word were baptized, and there were added that day about three thousand souls" (Acts 5:39-41). This was just prior to Peter's convicting them of the murder of Jesus, causing them to cry out "Brothers, what shall we do" (Acts 5:37c)? Peter's obvious answer is just what Jesus said when He began His earthly ministry and that was to repent and believe the gospel (Mark 1:15).
John 14:30 "I will no longer talk much with you, for the ruler of this world is coming. He has no claim on me."
Prior to Jesus' going to the cross to die for our sins and then return to the Father, He reassured them that the world has no claim on Him anymore. He lived a sinless life and one of complete obedience to the will of the Father. He kept the Law as we could never have done, thereby giving His life as a ransom for many. The ruler of the world or the prince of darkness has his hour coming but his claim is voided by the perfect, sinless Lamb of God's sacrifice.
First John 3:8 "Whoever makes a practice of sinning is of the devil, for the devil has been sinning from the beginning. The reason the Son of God appeared was to destroy the works of the devil."
The Apostle John writes in the 3rd chapter of the Book of John perhaps the best chapter in the Bible on how to surmise whether someone's a false convert and one who is genuinely saved. Jesus, as the Son of God, came "to destroy the works of the devil" and after accomplishing this, John wanted the church to know who might appear to be saved but who really isn't. Yes, only God knows the heart (1st Sam 16:7) but John makes it perfectly clear that "No one born of God makes a practice of sinning, for God's seed abides in him, and he cannot keep on sinning because he has been born of God" (1st John 3:9) because "it is evident who are the children of God, and who are the children of the devil: whoever does not practice righteousness is not of God, nor is the one who does not love his brother" (1st John 3:10).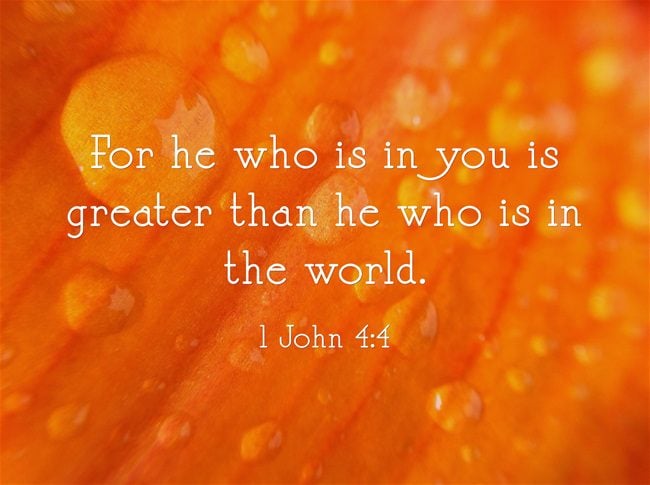 Genesis 3:15 "I will put enmity between you and the woman, and between your offspring and her offspring; he shall bruise your head, and you shall bruise his heel."
This was the first mention of the gospel. It was a prophecy of what was to come thousands of years later and was fulfilled by Christ in the work at Calvary. Satan did bruise His heel at the cross but Jesus death and resurrection crushed Satan's head and he lost his grip of those whom God would redeem. Now they are no longer slaves of sin although they still do sin. They only sin less than they used to. They can sin but not really enjoy it because their conscience troubles them by the conviction of the Holy Spirit. Jesus returned to the Father and sent the Spirit of God to point those who would be saved to Jesus Christ and can calm our fears "for he who is in you is greater than he who is in the world" (1st John 4:4).
First John 3:10 "By this it is evident who are the children of God, and who are the children of the devil: whoever does not practice righteousness is not of God, nor is the one who does not love his brother."
The Apostle John, again in the 3rd chapter of First John, wrote about the confidence that the children of God can have in knowing that they are the children of God. That was a common theme for John as he earlier wrote that all of the things that Jesus did (John 20:30) "are written so that you may believe that Jesus is the Christ, the Son of God, and that by believing you may have life in his name" (John 20:31). John says as much by concluding, "I write these things to you who believe in the name of the Son of God that you may know that you have eternal life. And this is the confidence that we have toward him, that if we ask anything according to his will he hears us" (1st John 5:13-14).
Matthew 4:10 "Then Jesus said to him, "Be gone, Satan! For it is written, 'You shall worship the Lord your God and him only shall you serve.'"
Satan was defeated in his attempt to cause Jesus to sin, despite his use of Scripture but he misquoted Scripture or took them out of context to create a false pretext (as he always does), so we know the Devil knows the Word but it's not enough to know the Word. We must know the Word well enough to obey the Word, which of course Satan certainly doesn't do, so "the devil left him, and behold, angels came and were ministering to him" (Matt 4:11) and from that point forward, Satan's fate was determined. His fate would be sealed at the cross when Jesus said "It is finished" (John 19:30). God one, Satan zero. Game over.
John 1:12 "But to all who did receive him, who believed in his name, he gave the right to become children of God"
The children of God are "born, not of blood nor of the will of the flesh nor of the will of man, but of God" (John 1:13). Jesus had told Nicodemus that "one is born of water and the Spirit, he cannot enter the kingdom of God" (John 3:5) but as the Apostle John wrote, it wasn't of the will of the flesh or our will that decided but it was God's will as Jesus said, "No one can come to me unless the Father who sent me draws him. And I will raise him up on the last day" (John 6:44).
Luke 10:19 "Behold, I have given you authority to tread on serpents and scorpions, and over all the power of the enemy, and nothing shall hurt you."
When Jesus sent out the Seventy to preach the gospel, he gave them His own authority to not be hurt by anyone as He promises "and nothing shall hurt you." Today we have the authority to go into all the world to preach the gospel of repentance and faith and Jesus reminds us that we "will receive power when the Holy Spirit has come upon you, and you will be my witnesses in Jerusalem and in all Judea and Samaria, and to the end of the earth" (Acts 1:8) and that power is by God's Spirit and the gospel, which is the power of salvation (Rom 1:16).
Conclusion
We have no more fear of death (Rom 8:38-39) because our sins were judged at the cross. We who have repented and trusted in Christ have the adoption papers sealed and approved by God (Eph 1). For those who have yet to humble themselves, God is against them (James 4:8). Unless a person humbles themselves, repents of their sins (turns away from and forsakes them), and then puts their trust in Christ, they have the very wrath of God resting upon them (John 3:36b) which is to be revealed either after death (Heb 9:27) or at the judgment if Christ returns before they die (Rev 20:12-15).
Article by Jack Wellman
Jack Wellman is Pastor of the Mulvane Brethren Church in Mulvane Kansas. Jack is also the Senior Writer at What Christians Want To Know whose mission is to equip, encourage, and energize Christians and to address questions about the believer's daily walk with God and the Bible. You can follow Jack on Google Plus or check out his book Teaching Children the Gospel available on Amazon.