What do Calvinists believe?  Is it the same thing that John Calvin did?
Who Was John Calvin?
John Calvin was one of the early Reformers and followed closely in the footsteps of Martin Luther, although never directly working with him as he was considerably younger than Luther, Calvin was still seen as somewhat of the successor to Luther.   And just like Luther, Calvin studied law.  John Calvin was born in 1509, just when the ripples of the Reformation were being felt, thanks in large part to Martin Luther.  Calvin was the leading French Protestant during his day and wrote one of the finest theological books of all time and the book, "Institutes of the Christian Religion," intending it to be the French Protestant statement of beliefs but the king rejected it and for his own personal safety, he fled the country and ended up in Geneva but an anti-Protestant movement forced Calvin to leave there too.   John Calvin's "Institute of the Christian Religion" was the most comprehensive explanation of the Biblical doctrines concerning grace, works, salvation, and the much controversial "predestination."
Predestination
Calvinism is a misnomer.  In other words, it's not so much what Calvin taught but what he brought out of the Bible.  His teachings were not primarily about predestination but about grace alone, by faith alone, in Christ alone; the foundational principles of saving faith.  Calvin believed that some people are saved ahead of time, at least in the mind of God, and much of his set of beliefs was based upon the Book of Ephesians where it says about Christ, "In him we have obtained an inheritance, having been predestined according to the purpose of him who works all things according to the counsel of his will" (Eph 1:11) and "even as he chose us in him before the foundation of the world, that we should be holy and blameless before him. In love he predestined us for adoption as sons through Jesus Christ, according to the purpose of his will" (Eph 1:4-5). Calvin believed what the Bible teaches about those who are saved and it is summed up by Jesus statement to His disciples, "You did not choose me, but I chose you and appointed you that you should go and bear fruit and that your fruit should abide" (John 15:16) and had earlier said, "No one can come to me unless the Father who sent me draws him. And I will raise him up on the last day" (John 6:44).  In the Parable of the Prodigal Son, it is written that the prodigal father said, "this my son was dead, and is alive again; he was lost, and is found.' And they began to celebrate" (Luke 15:24).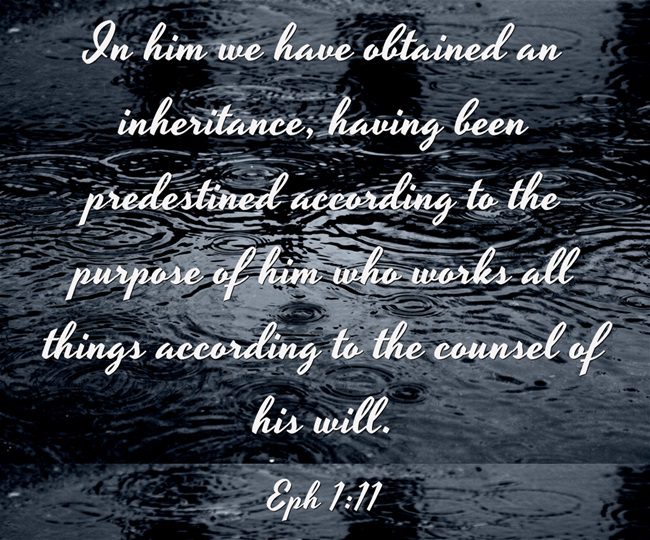 Calvinism
There has been a great deal of misunderstanding about Calvinism.  For example, some believe that Calvinism teaches that God predestines some to go to hell while He predestines others to be saved.  I think this does Calvin injustice. The idea that God sends people to hell against their will is not easily resolved with Bible verses like "Whosoever believes" or "Whosoever will come to Me" but the Bible says that "the wrath of God is revealed from heaven against all ungodliness and unrighteousness of men, who by their unrighteousness suppress the truth" (Rom 1:18) "what can be known about God is plain to them, because God has shown it to them" (Rom 1:19) and "So they are without excuse" (Rom 1:20b).  God never violates the human will but He does enable us, by His Spirit, to know Christ.  How freewill and predestination work together for God's purposes can only be fully known by God.  I am just glad that the main things are the plain things and not major on the minors.
Hyper-Calvinism
So called Hyper-Calvinism is the belief that God sends people to hell against their freewill.  How human freewill and the sovereignty of God interacts, I cannot precisely say.   Imagine two linear lines extending in a straight line into eternity.  They are parallel to one another and nearly touch but both headed in the same direction.  They don't necessarily have to cross paths in order to reach the same point.   When reading William Stacy Johnson's book "John Calvin; Reformer for the 21st Century," I couldn't find a place where Calvin states that God casts people into hell but doesn't violate their freewill.  The expression Hyper-Calvinism was not accepted by any of the churches and in the 19th century it became known as "False Calvinism." Since God is going to save anyone He purposes to save, the Hyper-Calvinist sees no reason for evangelism, preaching, or praying for family and the lost.  It's almost like a defeatist attitude. Why pray. God will do what He chooses to do. That is true but God may use our prayers as a means to the end which He purposes.
Conclusion
The doctrine of Calvinists should not trouble us.  Debating over something that is not essential to salvation leads to the ruin of the hearers.  The Apostle Paul, in writing to Timothy, said "charge them before God not to quarrel about words, which does no good, but only ruins the hearers" (2nd Tim 2:14). Cling steadfastly to those things we know to be true (John 3:16; Acts 4:12) and avoid those things where the Bible is not absolutely, 100% clear.   Especially those things that have nothing to do with the fact that we are saved by grace alone, by faith alone, in Christ alone because that is the foundational principles of saving faith.
Article by Jack Wellman 
Jack Wellman is Pastor of the Mulvane Brethren Church in Mulvane Kansas. Jack is also the Senior Writer at What Christians Want To Know whose mission is to equip, encourage, and energize Christians and to address questions about the believer's daily walk with God and the Bible. You can follow Jack on Google Plus or check out his book Teaching Children the Gospel available on Amazon.