Here are seven great Bible verses about the season of life.
Job 14:5 "Since his days are determined, and the number of his months is with you, and you have appointed his limits that he cannot pass."
This reminds me very much of Hebrews 9:27 which says, "And just as it is appointed for man to die once, and after that comes judgment," and since we don't know when that day of our appointed death will be, we need to repent and trust in Christ today, while it is still called "today" (2nd Cor 6:2) because tomorrow may be too late (Rev 21:8). God has determined our days and if you haven't repented and trusted in Christ, Hebrews 9:27 will come before you know it.
Deuteronomy 31:2 "And he said to them, 'I am 120 years old today. I am no longer able to go out and come in. The LORD has said to me, 'You shall not go over this Jordan.'"
Even as Moses was 120 years old, he still was not weak or unable to serve God. It was only because Moses disobeyed God by striking the rock twice instead of speaking to it so that the Israelites could have water. Of course, Moses will be in the kingdom just as the other Old Testament saints will be, along with the saints since the time of Christ. Moses finally did "go over" to Jordan, or the Promised Land, but it's so much better than a land flowing with milk and honey.
Psalm 139:16 "Your eyes saw my unformed substance; in your book were written, every one of them, the days that were formed for me, when as yet there was none of them."
As the psalmist says elsewhere, "My times are in Your hand" (Psalm 31:15), and it was God Who determined the day of our birth as well as the day of our death, so even before we were born, amazingly, God has already decided how long we will live and when the judgment comes (Heb 9:27). The above verse (Psalm 139:16) shows that God knew us before we were even born and called us from the womb, like he did Jeremiah, who wrote "Before I formed you in the womb I knew you, and before you were born I consecrated you; I appointed you a prophet to the nations" (Jer 1:5).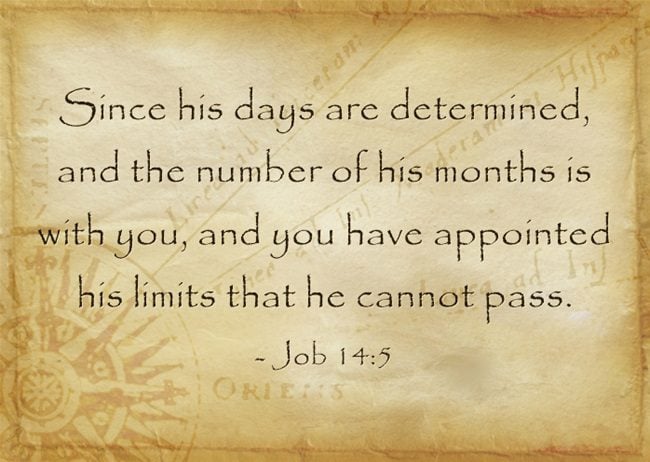 Psalm 104:19 "He appointed the moon for seasons: the sun knows his going down."
God has appointed everything under the sun to be as He has determined and nothing can change it. It would be like humans trying to change summer to winter or make north be south, we just can't do it, so what God has ordained must come to pass, and this includes whatever happens, good or bad. We know that whatever comes to pass is part of God's will and always works out for our ultimate best (Rom 8:28). Whatever happens in the seasons of our lives, the glory that's going to be revealed to us someday will overshadow today's sorrows, as if they never happened (Rom 8:18).
Ecclesiastes 3:2 There is "a time to be born, and a time to die."
Solomon understood that time is in God's hands, meaning He "has made everything beautiful in its time. Also, he has put eternity into man's heart, yet so that he cannot find out what God has done from the beginning to the end" (Eccl 3:11), but we can at least know something, like God determined the day of our birth and the day of our death. We don't know about things like this. Extremely rare is a baby born on their due date (save for a C-section).
Genesis 25:7-8 "These are the days of the years of Abraham's life, 175 years. Abraham breathed his last and died in a good old age, an old man and full of years, and was gathered to his people."
If you read enough of the Old Testament, you'll hear that phrase, "gathered to his people," meaning that they have passed from this life to the next because, as Jesus said, "I am the God of Abraham, and the God of Isaac, and the God of Jacob'? He is not God of the dead, but of the living" (Matt 22:32), meaning that Moses is no gone but just not here anymore. We know this from the time when Jesus took Peter, James, and John with Him up to the Mount of Transfiguration where Moses and Elijah both appeared (Luke 9:30).
Galatians 6:9 "And let us not grow weary of doing good, for in due season we will reap, if we do not give up."
It's so easy to become discouraged in doing what God has told us to do. Few may even notice that you feed and clothe the poor, welcome strangers, and visit the sick and those in prison (Matt 25:35-36), including the shut-ins, those in orphanages and in nursing homes (James 1:27), but think about this; someday Jesus will say to you "Well done, good and faithful servant. You have been faithful over a little; I will set you over much. Enter into the joy of your master" (Matt 25:23) because as He sees it, "as you did it to one of the least of these my brothers, you did it to me" (Matt 25:40). Moses grew old but not weary, as it says in Deuteronomy 34:7 "Moses was 120 years old when he died. His eye was undimmed, and his vigor unabated." The season for reaping is coming (Rev 1:7).
Conclusion
I find solace or comfort in the Scriptures, especially the older I get, because I realize that today and this life is a microscopic speck of dust compared to the eternity that's incomparable, and that consoles my soul. What about you? Have you thought about what happens after death? Are you certain where you will go after you die? Today is the day to settle that question, because you can know. If you have repented and trusted in Christ, Jesus reassures you that, "Whoever believes in me, though he die, yet shall he live" (John 11:25), so whether you're about to be "gathered to your people" or to be judged for rejecting Christ (Rev 20:12-15), you will end in only one of two places; heaven or hell. Where you go is up to you.
Article by Jack Wellman
Jack Wellman is Pastor of the Mulvane Brethren Church in Mulvane Kansas. Jack is also the Senior Writer at What Christians Want To Know whose mission is to equip, encourage, and energize Christians and to address questions about the believer's daily walk with God and the Bible. You can follow Jack on Google Plus or check out his book Teaching Children the Gospel available on Amazon.