Here are seven Bible verses about doing the wrong thing.
James 4:17 "So whoever knows the right thing to do and fails to do it, for him it is sin."
Clearly, James, the half-brother of Jesus, said that if we know someone who is in need and we turn a blind eye to that person, we sin, because if we know the right thing to do but fail to do it, it is sin for us. James gives us an example where he says, "If a brother or sister is poorly clothed and lacking in daily food, and one of you says to them, "Go in peace, be warmed and filled," without giving them the things needed for the body, what good is that" (James 2:15-16)? People who don't help those in need show that their faith may be dead, as James again writes that "faith by itself, if it does not have works, is dead" (James 2:17).
Leviticus 19:35 "You shall do no wrong in judgment, in measures of length or weight or quantity."
Have you noticed that the boxes of cereal, cracker, potato chips, and other such boxes or bags of food are growing smaller, yet they have the same price? We had a box of cereal the other day and when I opened it, it was half empty, so apparently, food manufacturers are now charging us for air! Even today, there are companies who are charging a certain price for a certain amount of goods and services, only to find out that they had been cheating the customer by shorting them on their product. God detests such greed.
Romans 13:4 "For he is God's servant for your good. But if you do wrong, be afraid, for he does not bear the sword in vain. For he is the servant of God, an avenger who carries out God's wrath on the wrongdoer."
We have a prison ministry where men come out of prison and we try to help them start a new life and have a new beginning, but on one occasion, a former prisoner failed to follow his parole conditions and he ended up back in jail. I tried to warn him that we must obey the laws of the land and this could land him back in jail, but he refused to listen. It is only when a manmade law conflicts with the law of God can we break them because we must "We must obey God rather than men" (Acts 5:29), but where there is no conflict, we must obey man's laws because whoever is in authority "is the servant of God," and we are compelled to obey them.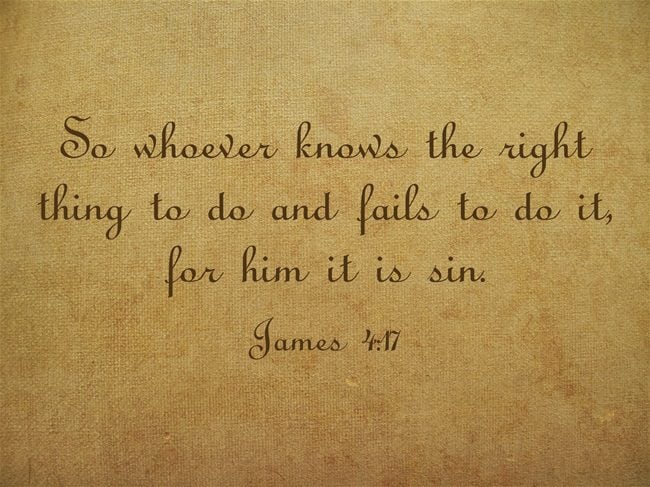 Colossians 3:25 "For the wrongdoer will be paid back for the wrong he has done, and there is no partiality."
Just as the former prisoner who I mentioned above didn't obey the law that had been laid out for him after release, "the wrongdoer will be paid back for the wrong he had done" and this is exactly what happened as he ended up back in jail. God shows no partiality at all, just like law enforcement is to do, but of course humanly speaking, showing ho partiality is about the most impossible thing for us to do.
Second Corinthians 13:7 "But we pray to God that you may not do wrong—not that we may appear to have met the test, but that you may do what is right, though we may seem to have failed."
When the Apostle Paul was giving his final exhortations to the church at Corinth, he told them to "Examine yourselves, to see whether you are in the faith. Test yourselves. Or do you not realize this about yourselves, that Jesus Christ is in you?—unless indeed you fail to meet the test" (2nd Cor 13:5). Anyone who claims to be a Christian but still insists on breaking the law had better do self-examination to see if they truly are in the faith or if they've failed this test.
First Corinthians 13:6 "It does not rejoice at wrongdoing, but rejoices with the truth."
When I was young and in trouble with the law, my friends and I delighted in breaking the law, but later, the law broke me and a few of my friends too. We rejoiced that we thought we had "gotten away" with our crimes, but later, we found we were wrong about that and ended up in jail. Of course my friends and I had never read Romans 13:1-5 where we're told to obey those in authority over us. Even if we had gotten away with it, we didn't realize at the time that "we must all appear before the judgment seat of Christ, so that each one may receive what is due for what he has done in the body, whether good or evil" (2nd Cor 5:10).
Rom 13:10 "Love does no wrong to a neighbor; therefore love is the fulfilling of the law."
We can see we love our neighbor, but if our hearts betray us and we do them wrong, we're just flapping our gums because love doesn't wrong our neighbor, but who exactly is our neighbor? Is it the person next door? Yes, but our neighbor is anyone that we encounter in life, regardless of whether we know them or not. The point is, we're not to do anyone harm…period! Our neighbor is really "The one who had mercy on him" so Jesus says, "Go and do likewise" (Luke 10:37).
Conclusion
The thief on the cross told the other thief that "we indeed justly, for we are receiving the due reward of our deeds; but this man has done nothing wrong" (Luke 23:41), and even Pontius Pilate himself declared, "I find no fault in the Man" (Luke 23:4), and that's just the point; Jesus was totally innocent and we were totally guilty (Rom 3:10-12), and that's why He made the perfect, once-and-for-all supreme and sufficient sacrifice. We too were doing wrong until the Son of God came to save us and we repented of our wrong doing and trusted in Him. Now all of our wrong doing has been placed on Him, so it was "For our sake he made him to be sin who knew no sin, so that in him we might become the righteousness of God" (2nd Cor 5:21).
Article by Jack Wellman
Jack Wellman is Pastor of the Mulvane Brethren Church in Mulvane Kansas. Jack is also the Senior Writer at What Christians Want To Know whose mission is to equip, encourage, and energize Christians and to address questions about the believer's daily walk with God and the Bible. You can follow Jack on Google Plus or check out his book Teaching Children the Gospel available on Amazon.