Who exactly goes to heaven? Do only good people go to heaven and only bad people to hell?
Who is Good?
Another member of our church and I once talked to a young man about the gospel and so we asked him, "Do you think you're a good person?" to which he replied, "I'm not good person…I'm great!" That's when I told him, "Wow, you're the very first person we've ever met that is good because the Bible says only God is good" (Mark 10:18), and not even one of us is good. In fact, none of us even seeks after God because we're all lost like sheep, we've all gone astray. The Apostle Paul says "None is righteous, no, not one" (Rom 3:10), and "no one understands; no one seeks for God" (Rom 3:11), because "All have turned aside; together they have become worthless; no one does good, not even one" (Rom 3:12). Even more, "all have sinned and fall short of the glory of God" (Rom3:23), so the Bible says not one of us is good; none of us really seeks after God; and all of us have sinned and fallen infinitely short of God's glory, so the young man was wrong. None of us are good, including me. A human standard of good is not good enough! I told this young man, "Either you are right and the Bible is wrong, or you are wrong and the Bible is right, so I believe you have the wrath of God abiding on you right now because you don't believe Jesus is the Son of God and Savior (John 3:18, 36b). The truth that none of us are good didn't originate with Paul, but it's found in the Old Testament. Paul quoted David who wrote, "They have all turned aside; together they have become corrupt; there is none who does good, not even one" (Psalm 14:3). Paul was only quoting Psalm 14:1-3 when he wrote Romans 3:10-12, so the knowledge that there is no good in us is not new knowledge, so it isn't a question of "Are you a good person," but "Are there any good people at all?" We know that none are good enough to go to heaven on their own merit (Eph 2:8-9), so how can we be good enough to go to heaven?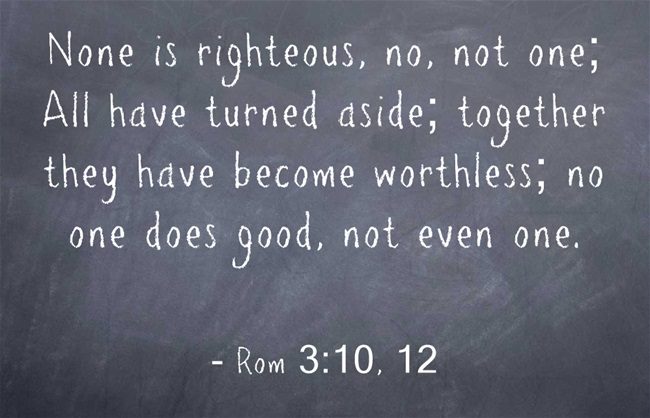 Not Good Enough
Jesus once said "your righteousness must exceed that of the Pharisees" or you won't enter the kingdom of heaven (Matt 5:20), but how is that humanly possible? Did the Pharisees have the righteousness that God demands to enter the kingdom of heaven? No, because the Bible teaches none are good or righteous. They only had their self-righteousness, which is nothing to God. Jesus said these were they "who trusted in themselves that they were righteous, and treated others with contempt" (Luke 18:9), so He told the Pharisees, "You are those who justify yourselves before men, but God knows your hearts. For what is exalted among men is an abomination in the sight of God" (Luke 16:15). They trusted in their own righteousness and exalted themselves above others, but only those who trust in Christ can be saved because everyone needs the righteousness of Christ (2nd Cor 5:21). Because they thought they were righteous, they "treated others with contempt," however, their own works, just like ours, are nothing more than filthy rags to God (Isaiah 64:6), and He will not accept them. Nowhere in the Bible does it teach people are good enough to go to heaven or can do enough good works to get there. Another problem is that our sins have cut us off from God (Isaiah 59:2). We are altogether hopeless because our works cannot ever be enough to save us, but that doesn't exclude the need for works, as we shall read.
Jesus' Righteousness
There is a place for works, but of course we cannot be saved by works, however, this doesn't mean we don't do good works. It is because we are saved that we do good works. God has appointed good works for us to do long before we existed (Eph 2:10), so the question is, will we do them? These works didn't save us; they are the effects of our being saved, but certainly not the cause it. To clarify works that point, we turn to James, who wrote, "What good is it, my brothers, if someone says he has faith but does not have works? Can that faith save him? If a brother or sister is poorly clothed and lacking in daily food, and one of you says to them, "Go in peace, be warmed and filled," without giving them the things needed for the body, what good is that" (James 2:14-16), which makes the point that, "faith by itself, if it does not have works, is dead" (James 2:17). This is the only works that we should be concerned about regarding salvation. Jesus says, "This is the work of God, that you believe in him whom he has sent" (John 6:29). Still, it is our nature to seek after works for assurance or to make us feel good about ourselves, however the righteousness that God demands is also the righteousness that God provides in Jesus Christ. The Apostle Paul writes that it was "For our sake he made him to be sin who knew no sin, so that in him we might become the righteousness of God" (2nd Cor 5:21). It's the very righteousness of Christ that God will accept and nothing less. We who knew much about sin had Jesus' righteousness imputed on our behalf so that when the judgment comes, God will only see Jesus' righteousness. That's what's required to enter the kingdom of heaven. Nothing else can usher us into the New Jerusalem, and there is nothing you or I can do to add to what Jesus has already done on our behalf.
Conclusion
If we have been brought to a place of repentance and have trusted in Christ, we need do nothing more to complete our salvation. Now, after the Holy Spirit resides in the believer, the Spirit of God will induce us to do good things for God, but only for His glory and not ours, so the idea that good people go to heaven is not biblical. In fact, it's not even true that we are good (Psalm 14:1-3; Rom 3:10-12). It is only that we have been saved by a very good God through Jesus Christ Who is the one and only way to the Father (John 6:44). There is simply no other way we can be saved but through trusting in Jesus Christ.
Article by Jack Wellman
Jack Wellman is Pastor of the Mulvane Brethren Church in Mulvane Kansas. Jack is also the Senior Writer at What Christians Want To Know whose mission is to equip, encourage, and energize Christians and to address questions about the believer's daily walk with God and the Bible. You can follow Jack on Google Plus or check out his book Teaching Children the Gospel available on Amazon.