Why do most people have an aversion to persecution? If they only knew how God uses it, they would more easily accept it.
It Spreads the Faith
Perhaps the greatest enemy of the church during the first century was the church's greatest cause for growth. He was Saul, a Pharisee, who was given authority to seek out and destroy the church, but while Saul was trying to destroy the church, he was actually helping to spread it. We read where there was "a great persecution against the church in Jerusalem, and they were all scattered throughout the regions of Judea and Samaria, except the apostles" (Acts 8:1), so this "church growth" was caused by Saul's persecution. Saul, as he was "still breathing threats and murder against the disciples of the Lord, went to the high priest and asked him for letters to the synagogues at Damascus, so that if he found any belonging to the Way, men or women, he might bring them bound to Jerusalem" (Acts 9:1-2). By his persecuting the church, he was inadvertently spreading the church. It was like trying to put out a grass fire but only managing to spread it. Besides, Jesus promised that the gates of hell would not stop his church (Matt 16:18), and Saul nor any of the Jews could stop it. When Saul was struck down on the Damascus Road by Jesus Christ, He asked Saul why he was persecuting Him, because by persecuting the church, he was actually persecuting Jesus (Acts 9:4-5), but the more persecution that came, the more the church spread, so persecution can never destroy the church, but persecution can certainly grow the church.
The Spirit of Glory
Many of the Jews in the first century had been forced from their home and their beloved Jerusalem, so the Apostle Peter tries to comfort these dispersed Jews, who had faced the most severe persecution among the early Christians. Peter wanted them to "not be surprised at the fiery trial when it comes upon you to test you, as though something strange were happening to you" (1st Pet 4:12), but instead, he wanted them to "rejoice insofar as you share Christ's sufferings, that you may also rejoice and be glad when his glory is revealed" (1st Pet 4:13), so "If you are insulted for the name of Christ, you are blessed, because the Spirit of glory and of God rests upon you" (1st Pet 4:14). Our natural human nature doesn't want to suffer. We'd prefer to remain in our comfort zone and no-pain place. Pain might be gain in physical exercise, but it's not what we normally want, however if you are persecuted for Jesus' sake, you've been blessed by God, and you're in very good company. Just before Stephen was stoned, he asked the Jewish religious leaders, "Which of the prophets did your fathers not persecute? And they killed those who announced beforehand the coming of the Righteous One, whom you have now betrayed and murdered, you who received the law as delivered by angels and did not keep it" (Acts 7:52-53). Obviously, the answer is they persecuted them all, some even to the point of death.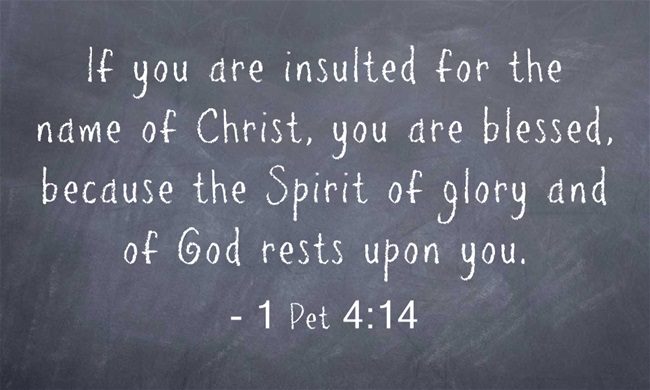 Expect It
When people revile you, call you names, use swear words at you, and blaspheme God's holy name, don't be surprised (1st Pet 4:12), because it's to be expected. Paul wrote that "all who desire to live a godly life in Christ Jesus will be persecuted" (2nd Tim 3:12). And all means, all, and there are no exceptions. If you've never, ever been persecuted, then you may not be part of that "all." You might ask yourself if you've never publically professed Christ or you've never personally received Christ. The New Testament church knows of no silent witnesses for Christ. Every believer is an evangelist. All have been commissioned by God (Matt 28:18-20; Acts 1:8). God uses weak, broken, empty vessels to proclaim His Word and the power that comes with the gospel (Rom 1:16; 1st Cor 1:18), and it doesn't depend upon us, but upon the God Who commissions us. He is pleased to use us as a means to save some, although clearly, God always does the saving (John 6:44, 70, 15:16), so if the world hates you, then God must love you, for if the world loves you, you (and I) are an enemy of God. Jesus said, "If you were of the world, the world would love you as its own; but because you are not of the world, but I chose you out of the world, therefore the world hates you" (John 15:19).
Blessed by our Enemies
We know we're not to respond in kind to people when they treat us badly. Instead, we trust God to take care of that in His own good time and way (Rom 12:19), so for now, we accept these blessings from God when we are cursed, hated, abused, and called names. We don't get mad or get even, instead we're commanded, "Love your enemies, do good to those who hate you, bless those who curse you, pray for those who abuse you" (Luke 6:27-28), and "Blessed are you when others revile you and persecute you and utter all kinds of evil against you falsely on my account" (Matt 5:11). When people insult me or use derogatory remarks, I simply accept that as a blessing, because it is. If they insult you because you trust in Jesus, guess what we are to do? Our response should be to "Rejoice and be glad, for your reward is great in heaven, for so they persecuted the prophets who were before you" (Matt 5:11). Want to be Christ-like? Then, "Love your enemies and pray for those who persecute you, so that you may be sons of your Father who is in heaven. For he makes his sun rise on the evil and on the good, and sends rain on the just and on the unjust" (Matt 5:44-45). That's what God does; forgives sinner who were once His own enemies (Rom 5:10), dying for the ungodly and wicked like us (Rom 5:6-8).
Conclusion
Most missionaries I know that request prayer don't pray for the persecution to end. They simply ask that God be glorified in their persecution. They understand that persecution is a good thing. It shows whose side they're on. If you've never suffered for your faith, it may be time to examine yourselves to see if you actually are in the faith or not. If no one in the world knows you're a Christian, then that's an anomaly to the Christian faith. If we can see persecution, which should come to all believers, is a good thing, and that we should expect it; then we can endure it better. Let's remember that we too were at one time an enemy of God and dead in our sins (Eph 2:1), so pray for those still dead in their sins to be made alive in Christ by the Spirit of God. That's the best thing you can do for your enemies; pray that they might be saved.
Article by Jack Wellman
Jack Wellman is Pastor of the Mulvane Brethren Church in Mulvane Kansas. Jack is host of Spiritual Fitness and also the Senior Writer at What Christians Want To Know whose mission is to equip, encourage, and energize Christians and to address questions about the believer's daily walk with God and the Bible. You can follow Jack on Google Plus or check out his book Teaching Children the Gospel available on Amazon.