Does it seem that violent conflicts are on the rise today? Has there been an escalation of violence?
In Our Nature
From our very beginning, it was in our nature to be violent, and it all began with Able, who "was a keeper of sheep, and Cain a worker of the ground. In the course of time Cain brought to the Lord an offering of the fruit of the ground, and Abel also brought of the firstborn of his flock and of their fat portions. And the Lord had regard for Abel and his offering, but for Cain and his offering he had no regard. So Cain was very angry, and his face fell. The Lord said to Cain, "Why are you angry, and why has your face fallen? If you do well, will you not be accepted? And if you do not do well, sin is crouching at the door. Its desire is contrary to you, but you must rule over it" (Gen 4:2b-7). In fact, Cain didn't rule over it; it ruled over him, and so "Cain rose up against his brother Abel and killed him" (Gen 4:8b). Things didn't change much by Noah's day, except that the violence grew worse, as it says, "The Lord saw that the wickedness of man was great in the earth, and that every intention of the thoughts of his heart was only evil continually. And the Lord regretted that he had made man on the earth, and it grieved him to his heart" (Gen 6:5-6), so by Noah's time, "the earth was corrupt in God's sight, and the earth was filled with violence. And God saw the earth, and behold, it was corrupt, for all flesh had corrupted their way on the earth" (Gen 4:11-12). Today, it seems as if history is repeating itself, so is escalating violence a sign of God's coming judgment, like the flood was to all who refused to repent?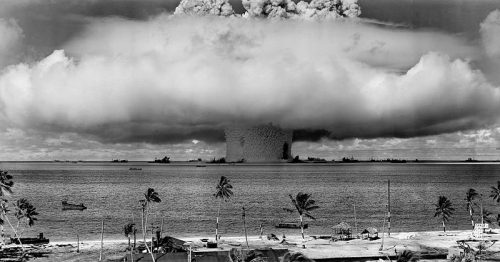 Growing Discontent
To begin with, if a person has not been born from above, they cannot "rule over" themselves, much like Cain couldn't rule over his sin, and he murdered his brother Abel. It is only through Christ that we can do anything (Phil 4:13), and without Him, we can do nothing at all with eternal implications (John 15:5), so a person must repent and believe or trust in Christ before they have access to the power of God through the Spirit of God. It is by His Spirit that we grow in holiness, never being sinless of course, but thanks be to God, we have His righteousness imputed to us (2nd Cor 5:21). Only in Christ can we stand. History has proven that human philosophies and practices have utterly and miserably failed, and today, we're equipped to wipeout every person on the planet, 10 times over! And now we have consistent and sometimes almost daily confrontations between groups opposing one other's social and political agendas. Recently, masked anarchists attacked right-wing demonstrators, and even the police were overwhelmed and unable to separate them. After several arrests, police confiscated clubs, knives, guns, pepper spray, stun guns, and all other sorts of make-shift weapons. Even bottled water became a weapon, causing one man to suffer a concussion, but you can't confiscate fists, and hatred, and the spontaneous violence that comes from it. It almost seems there is no contentment anymore. Cain could have tried to learn to be content, but he never even tried. The Apostle Paul wrote, "I have learned in whatever situation I am to be content. I know how to be brought low, and I know how to abound. In any and every circumstance, I have learned the secret of facing plenty and hunger, abundance and need" (Phil 4:11-12), so how did Paul remain content throughout all these hardships? He had lots of practice to learn contentment through many trials and tribulations, but He could still say, "I can do all things through him who strengthens me" (Phil 4:13). Really, his contentment was in Christ, not in circumstances.
Hate and Murder
Most believers know that Jesus equates hate with murder, although certainly the physical act is far worse, but murder is birthed in hatred and hatched in violence. When we are raised with our parent's prejudices and bias, we almost unknowingly start thinking the same way. It's as if we are doing what is "normal," but normal it's not. It might be typical, but hatred is not of God. The Apostle John writes, "Whoever says he is in the light and hates his brother is still in darkness" (1st John 2:9), and "whoever hates his brother is in the darkness and walks in the darkness, and does not know where he is going, because the darkness has blinded his eyes" (1st John 2:11). We will never be known as Jesus' disciples by protests, hatred, or violence. In fact, we may prove we are not His disciples by our hatred of others! Jesus tells us how we can know who His disciples are, but also how others can t3ell who are Jesus' disciples. Jesus commands His followers to "love one another: just as I have loved you, you also are to love one another. By this all people will know that you are my disciples, if you have love for one another" (John 13:34b-35). Jesus takes it even further, telling us, "Love your enemies, do good to those who hate you, bless those who curse you, pray for those who abuse you" (Luke 6:27-28). We respond to hate with love; cursing with blessings; persecution with prayer. The way you beat hate is with love.
Conclusion
If you are concerned with an increasingly violent world, then think about the Prince of Peace Who can deliver you from the wrath of God. Don't believe me, but believe what Jesus says: "Whoever believes in the Son has eternal life; whoever does not obey the Son shall not see life, but the wrath of God remains on him" (John 3:36). You are either for Christ or against Christ (Matt 12:30; Luke 11:23), and to defer to make a decision is to intentionally reject Him. Those who are on the fence will be cast into hell along with everyone else who rejects the only name given to mankind by which they can be saved, and that is Jesus Christ (Act 4:12). There is simply no other way (John 14:6). No, it's not politically correct, but it is correct, or does society prefer the political over the correct anyway?
Article by Jack Wellman
Jack Wellman is Pastor of the Mulvane Brethren Church in Mulvane Kansas.  Jack is a writer at Christian Quotes and also the Senior Writer at What Christians Want To Know whose mission is to equip, encourage, and energize Christians and to address questions about the believer's daily walk with God and the Bible. You can follow Jack on Google Plus or check out his book Teaching Children the Gospel available on Amazon.