If there is someone you know who is addicted to drugs or alcohol, you may be the person God intends to help them.
The False Hope of Human Might – John 15
A good place for many alcoholics to start to overcome their addiction is to admit that they are an alcoholic, and the same applies to those addicted to drugs. That is usually step one in many recovery programs, and it is a step in the right direction in trying to overcome an addiction. To admit defeat is to be honest enough to acknowledge your need for help. There is certainly no shame in asking for it. Sometimes, they admit what everyone else already knows about them, but the humility that it takes to admit to a drug or alcohol addiction is also opening the door for God's grace to come in. God says He resists the proud, but gives His grace to the humble (James 4:6). The Apostle John reminds us that we have no hope outside of Christ. Jesus said, "I am the vine; you are the branches. Whoever abides in me and I in him, he it is that bears much fruit, for apart from me you can do nothing" (John 15:5). A branch that is severed from the vine can do absolutely no good except to make for a good burn pile (John 15:6), so we can do nothing of significance without Christ…and nothing is not even a little "something."
Hope in God – Psalm 42
Even in all of the turmoil of our lives, we who have hope in God can praise Him even when things around us are falling apart because we know that God can even use evil for good (Gen 50:20; John 3:16). We might reach a point where we ask ourselves, "Why are you cast down, O my soul, and why are you in turmoil within me" (Psalm 42:5a), but the psalmist already knows the answer. He says it is "Hope in God; for I shall again praise him, my salvation and my God" (Psalm 42:5b). He says, when my "soul is cast down within me," are the times when "I remember you" (Psalm 42:6a). That's great advice. The psalmist knows from experience that "By day the Lord commands his steadfast love, and at night his song is with me, a prayer to the God of my life" (Psalm 42:8), so even though things might not look hopeful at the time, it doesn't matter because our hope is not in circumstances…our hope is in God.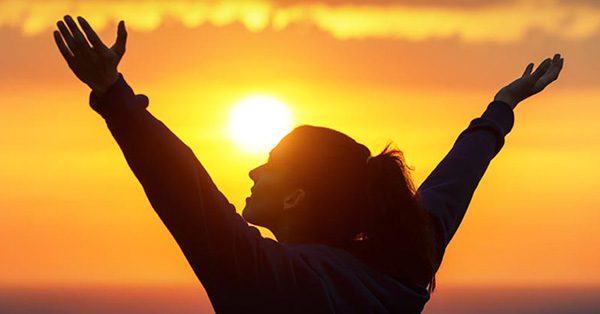 The Hope of Grace – 1st Peter 1
In 1 Peter chapter one, you can read how Peter's encouraging words remind us that we have hope through this life and beyond the grave. We can rest assured that it's not we who have to hold onto God's hand, but the Father and Jesus who are holding onto us (John 10:28-29), and talk about a rock-solid promise…Jesus says, "I am the resurrection and the life. Whoever believes in me, though he die, yet shall he live, and everyone who lives and believes in me shall never die. Do you believe this" (John 11:25-26)? With no separation from God, even by death (Rom 8:38-39), the Apostle Peter can write with assurance that it is not by our power, but God Who "has caused us to be born again to a living hope through the resurrection of Jesus Christ from the dead, to an inheritance that is imperishable, undefiled, and unfading, kept in heaven for you" (1 Peter 1:3b-4), and who, "by God's power are being guarded through faith for a salvation ready to be revealed in the last time." What hope that is!
Hope is our Anchor – Hebrews 6
The author of Hebrews shows us that our hope is not a hope-so but a know-so hope, because we have assurance in the God Who saved us. The author of Hebrews writes, "when God made a promise to Abraham" (Heb 6:13), "he guaranteed it with an oath, so that by two unchangeable things, in which it is impossible for God to lie, we who have fled for refuge might have strong encouragement to hold fast to the hope set before us. We have this as a sure and steadfast anchor of the soul, a hope that enters into the inner place behind the curtain, where Jesus has gone as a forerunner on our behalf, having become a high priest forever after the order of Melchizedek" (Heb 6:17c-20). It's not like a promise from one person to another because that promise might be broken by circumstances or a change of mind. Not so with God. We know His promises are "sure and steadfast," like an "anchor of the soul."
No Shame in Hope – Romans 5
If you seek to have hope, camp out in Romans 5, because the Apostle Paul tells us that suffering produces endurance, and endurance produces character, and this character produces a hope that never puts us to shame, but it all begins with being at peace with God. You cannot have the peace of God until you're first at peace with God, but that peace comes like a river through the blood of the Lamb of God. That's why Paul can so boldly say, that since "we have been justified by faith, we have peace with God through our Lord Jesus Christ" (Rom 5:1), so it is "into this grace in which we stand, and we rejoice in hope of the glory of God" (Rom 5:2). People can try to put you to shame for what you've done or are still doing, but they are not the ones you have to worry about. Don't think, "What will people think of me," but rather, "What does God know about me?" He's the most important audience of all.
Conclusion
If you know of someone who is battling an addition, the last thing they need is more shame. They have enough of that already. What they don't have, and what they've probably have not received from others, is someone who won't judge them but help them. We can offer them help and our prayers, but also help with their physical needs. Jesus' step-brother asks us all, "What good is it, my brothers, if someone says he has faith but does not have works? Can that faith save him" (James 2:14)? For example, "If a brother or sister is poorly clothed and lacking in daily food, and one of you says to them, "Go in peace, be warmed and filled," without giving them the things needed for the body, what good is that" (James 2:15-16)? A good example is a friend or acquaintance who needs help, but the person says, "I'm so sorry, I will pray for you," and then closes the door to help. What good is that? I know. It's good for nothing, because what we do for the least of these, we actually do to Christ Himself (Matt 25:40), or nothing, and that's worthless to Christ, and to others (Matt 25:41-46). I've been an accountability partner for a few men. Was I busy at the time? Oh yeah, but…I thought about Jesus, and thought, if someone came up to Jesus to ask for help, would He be too busy? No, I don't think so. Truly, we all need one another, and even more so as the Day of Jesus' coming nears (Heb 10:24-25).
Article by Jack Wellman
Jack Wellman is Pastor of the Mulvane Brethren Church in Mulvane Kansas. Jack is a writer at Christian Quotes and also the Senior Writer at What Christians Want To Know whose mission is to equip, encourage, and energize Christians and to address questions about the believer's daily walk with God and the Bible. You can follow Jack on Google Plus or check out his book Teaching Children the Gospel available on Amazon.