There is a spiritual war going on and with an invisible enemy, so how do you resist these attacks and what's the enemy's tactics?
Family Relationships
In this final installment about spiritual warfare, I wanted to discuss some things that people have experienced in the flesh. Several people talked to me about their experiences with demonic attacks. Several of their accounts shared similar experiences, but some were unique to the individual, but for the most part, it seems there is a spiritual war going on, and the prime target is the family. Satan or his demons have no problems with unbelievers because they're already headed down the broad path of destruction. Remember they are still unaware that they're dead in their sins (Eph 2:1-2), because they cannot understand the gospel, not being able to see "the gospel of the glory of Christ" behind the veil (2 Cor 4:3-4), so the enemy will focus on Christian families. If he and his minions can destroy family relationships, they can undermine what is the bedrock of society…the family. If tempers flare, then relationships can be hurt, so families must understand that, even "though we walk in the flesh, we are not waging war according to the flesh" (2nd Cor 10:3). That's because our enemy is invisible to the human eye (Eph 6:12), so when tempers begin to flare, remember the admonition to be patient with one another because God is with us and in us.
Prayer Life
If you're not on your knees, you're standing on your own, so one way the enemy can hurt us is to try to keep us off our knees. If they can keep us busy with all the distractions of life, then they are helping us to cut off our only true source of help and hope. In this way, we won't have time for God. Being too busy for God is Being Under Satan's Yoke (BUSY). Experience has taught many, and I include myself, that when prayer seems the most difficult, and there is little time to do it, it is the very time we need it the most. Otherwise, we become self-focused. Many years ago, I counseled a young man about some major difficulties in his life. He told me his story, but I think there must have been thirty "I's" and "me" in his conversation. And, I only noticed one mention of God. Any of us are susceptible to getting a severe case of "Me-it is," or navel gazing, so once again, I was reminded that "we do not wrestle against flesh and blood, but against the rulers, against the authorities, against the cosmic powers over this present darkness, against the spiritual forces of evil in the heavenly places" (Eph 6:12). The only way the Apostle Paul learned contentment (Phil 4:11) was to go through suffering. Contentment is a choice; it is what we choose, even in less than contenting circumstances.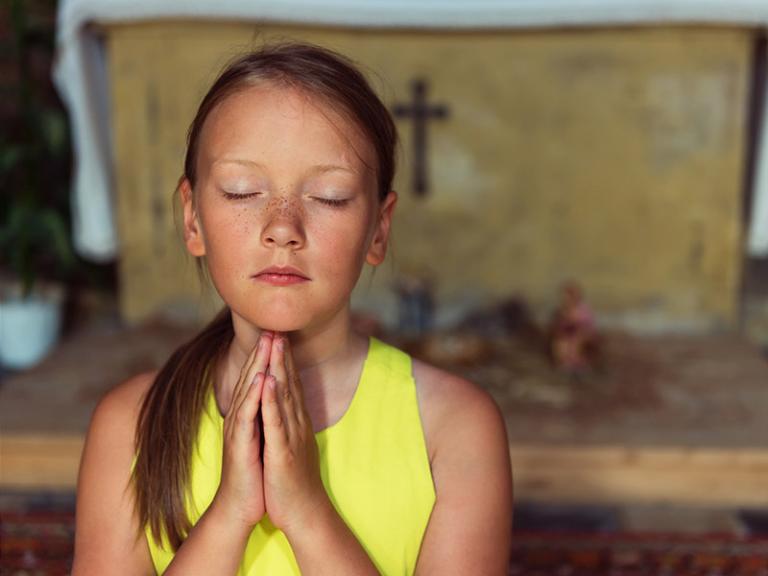 Feelings
Some the most frequent causes of spiritual attacks come when you have overcome a major sin, you've just had a huge success, you've just been generous to someone, and you are consistently sharing the gospel. This brings to mind the Prophet Elijah. Immediately after a huge success over the false prophets, there he was…running for his life from one person, Jezebel, and so he prayed, "Lord, it is enough…take my life" (1 Kings 19:4). What is noticeable is that there can be feelings of defeat, right after a great victory…but, that could be the enemy. The enemy hates to lose and will come after someone who's yielding to God's Holy Spirit, so when you're experience feelings of worthlessness, the slanderer might be trying to make you feel worthy, but who is? The point is, there is no more condemnation for those who are in Christ (Rom 8:1). He is our worthiness. Feeling unworthy? Ask yourself these questions: "What then shall we say to these things? If God is for us, who can be against us? He who did not spare his own Son but gave him up for us all, how will he not also with him graciously give us all things?  Who shall bring any charge against God's elect? It is God who justifies. Who is to condemn? Christ Jesus is the one who died—more than that, who was raised—who is at the right hand of God, who indeed is interceding for us. Who shall separate us from the love of Christ? Shall tribulation, or distress, or persecution, or famine, or nakedness, or danger, or sword" (Rom 8:31-38).
Hypocrite
Have you ever thought of yourself as a hypocrite?   The demons would love you to question your own sincerity, asking, "Who do you think you are? How can you share the gospel with someone when you're such a wretch? How dare you pray to God!" The truth is, we're no better than the lost; only positionally and relationally are we better off, but not because we're better people (Rom 3:10-12), but because of Christ (Rom 5:6-10) and a good God. The problem with guilt is it's not necessary; confess it and move on (1 John 1:9). When we feel we've said or done something wrong, confess it immediately. Don't let unconfessed sin linger because the longer you put off that prayer of confession, the harder it will get, and the harder it will get to pray, and when we experience times of prayerlessness, we are losing our most important means of help. For me, it seems that when I try to pray, the phone rings, someone knocks on the door, the washing machine decides to do its dance, and all kinds of things start to come into my mind. I had thoughts that were anything but godly, so that's likely the enemy. Maybe it's because the only time that Satan and the demons really fear is when we are praying in Jesus' name. Prayer is not easy…it's hard work, at least for me. For some, prayer seems to come easy, but not when you're under spiritual attack. When you're under attack, and with feelings of guilt, the last thing you want to do is to pray…but, in reality, the believer can only move forward in life on their knees.
Facts
This might be the hardest thing to do when you are under spiritual attack or feeling unworthy: Read your Bible. If it's hard, try praying back the Word of God like Psalm 103, 51, and 34. We put far too much stock in feelings and not enough in facts. Don't believe your feelings….believe what God's Word says. Feelings are overrated, so tap the power of God's Word, and stay in the Word.   Make a daily Bible reading plan and stick to it. Listen to an audio Bible in the car or while you're exercising.   It's a great weapon to use in spiritual warfare, but also in putting facts over feelings. Feelings are highly subjective, while facts are objective. One is believable (the Bible) while the other can be wrong (feelings). God, in His wisdom, left us with about 365 mentions of "fear not," or something very similar, in the New Testament alone. That means that we have at least one "fear not" for every day of the year, but again, you might be under spiritual attack when you feel unworthy. The way to deflect these finery darts is to get into the Word of God, armor up (Eph 6), and fall on your knees.   Believe God's Word and don't trust your feelings. Human feelings are highly unreliable, but God's Word is always true.
Isolation
Many that I counsel feel that God has let them down and they fall away from church or their belief in God. They also stop reading their Bible. They might even pull away from their Christian friends, but that is just what Satan has been hoping for because that's where Satan is most dangerous. He would love nothing more than to try and isolate you. He's described as a roaring lion who is roaming about, seeking whom he might devour (1 Pet 5:8), and just like in the wild, a lion will attack the straggler, the one who becomes separated from the herd. If you feel like separating from other believers, take warning.   You are more vulnerable when you are walking the Christian life as a solo act than when you're with the Body of Christ.
Conclusion
Paul commands us to "Put on the whole armor of God, that you may be able to stand against the schemes of the devil" (Eph 6:11), and this includes the belt of truth, the breastplate of righteousness, the shoes of the readiness of the gospel, the shield of faith, the helmet of salvation, and sword of the Spirit (Eph 6:14-17). In this way, "you may be able to withstand in the evil day, and having done all, to stand firm" (Eph 6:13b). Isaiah the Prophet was inspired to write; "no weapon forged against you will prevail, and you will refute every tongue that accuses you" (54:17a). Even though this was written to Israel, there are still applications for the believer because there is no weapon that the enemy can forge against you that will prevail against you, for God is for you and will never leave you (Rom 8:31) or forsake you (Heb 13:5b). Remember Job's spiritual warfare, but as for his life, the enemy couldn't touch it (Job 1:11-12). His life was safe.
Article by Jack Wellman
Jack Wellman is Pastor of the Mulvane Brethren Church in Mulvane Kansas. Jack is a writer at Christian Quotes and also the Senior Writer at What Christians Want To Know whose mission is to equip, encourage, and energize Christians and to address questions about the believer's daily walk with God and the Bible. You can follow Jack on Google Plus or check out his book Teaching Children the Gospel available on Amazon.