There is hope for the homeless, for the jobless, the hungry, and the hopeless: hope of breaking the poverty cycle. Here's how to break that cycle.
Loss of Hope
There is hope for the homeless. There is also hope for the jobless, the hungry, the destitute, and the hopeless. There is hope of breaking the poverty cycle. Poverty strips human dignity and hope and does not seem to discriminate. Being hungry, homeless, and helpless is a fertile breeding ground for hopelessness. Many people agonize over the plight of the poor, but their heart is usually bigger than their wallet, so there are limitations to what any one of us can do. We should grieve their estate as God does. I would pray that the things that break the heart of God will break our own hearts. This is not trying to teaching a man to fish so he can feed himself, which is good and proper, but more than anything, it is offering them hope. It's not a matter of quoting, "If anyone is not willing to work, let him not eat," (2 Thess 3:1) in every situation, but rather, are they able to work.
Hope Defined
Most people use the word hope in an entirely different context, like "I hope I can win the lottery" or "I hope they win the game." That is radically different than what the Bible describes as hope. The Greek word for hope (elpizein) in the New Testament reflects a sense of confidence. It is literally, "a confidence and an expectation," and not a "hope and wish this happens." One of the two Hebrew words for hope is "kiwah" which means "to trust" and "batah" which refers to being "full of confidence, to trust," so our hope is not a hope-so, but a know-so.
Hope for the Hungry
One thing that goes unnoticed during Jesus' ministry is that no one ever went hungry when they were present with Him. The stories of the fish and loaves, the water to wine, the manna and meat from Heaven, are one of many instances when Jesus (God Himself) fed the people. Jesus told Peter to cast his net one more time, even after countless attempts were fruitless. When they brought up the net this time is was a miracle it didn't tear open under the weight of the catch, not to mention the number of fish they caught. These disciples didn't feed the hungry from their own effort; neither were those who received the fish and loaves or the wine able to feed the masses. The point is, God is the provider of all things. We simply need to distribute what we've been blessed with to those who haven't been as blessed, for whatever reason they find themselves in. They don't need a lecture but a meal. We see so many hungry that we feel we can't do anything about it, so that's just what many of us do… we do nothing about it.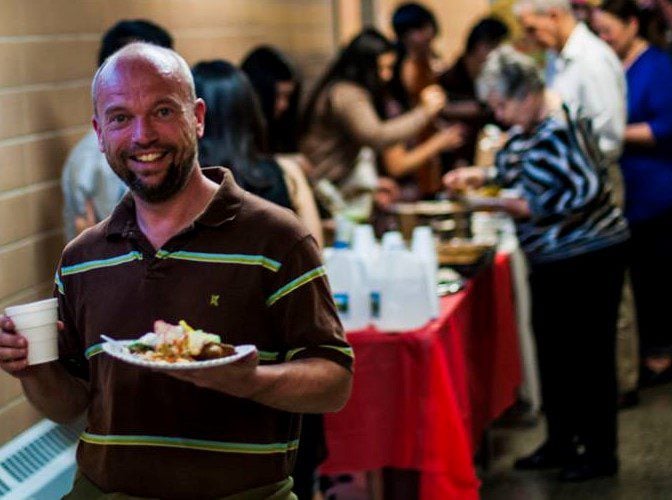 Forsaken
The SRS, your friends, and your family may try to help, but many are forsaken when they fall on hard times, either from their own doing, or from things beyond their control, but God always delivers what He promises, and one of His greatest promises is that he will not allow His own children to starve to death, or as David said, "I have not seen the righteous forsaken, nor His seed begging bread" (Psalm 37:25b), so here is a promise from the God of the universe Who has all the resources in the world at His disposal. Try Him at His word. Trust Him to deliver. I've worked with the homeless and seen it many, many times. It works! A full stomach does a lot for a person's disposition. Jesus said that the Living Water in His well would quench thirst forever and would never run dry, that Living Water He. In countless verses, God says "He will not suffer His own to beg bread" and Jesus said, "I will not leave you as orphans; I will come to you" (John 14:18). What father do you personally know that would allow his children to go hungry? Jesus asked, "What father among you, if his son asks for a fish, will instead of a fish give him a serpent" (Luke 11:12) so, "If you then, who are evil, know how to give good gifts to your children, how much more will the heavenly Father give the Holy Spirit to those who ask him" (Luke 11:13)! Will God, being far greater, not do the same for His own children? You have these same rights of the Father's benevolence if you have repented and put your trust in Christ.
Hope for the Homeless
Like an eagle shades or covers their offspring, so does God (even more completely) spread His wings and cover us. God as described as an eagle in His providential care is a great analogy for us. God has gone so far as to have allowed His own Son's fleshed to ripped for us in order to bring us into the eternal kingdom. But this also describes Him as a shelter. Many former homeless people have received miracle after miracle after being born again by the Spirit of God. Many have received houses, cars, jobs, clothing, and food. Christian magazines and articles are flooded with these stories. God has a "Daddy" relationship with us (Rom 8:15), which is a translation of Abba. God knows that we're fragile and only mere dust (Psalm 103:13-14; Isaiah 63:16), and like any good father, He can provide us with shelter. He is described as a shelter and refuge for humanity (psalm. 7:1, 11:1, 46:1, 2 Sam. 22:3, Isa. 25:4).
Broken Before God
God calls the "weak and base things," of the earth, and there are "not many mighty," (1 Cor 1:26), as I myself am a great example of that. God cannot deal with the proud and lofty (James 4:6). Ironically, those saved in jail are set free, while those who are free in the world are actually held captive (2 Cor 4:3-4). Those would don't know Jesus are really the ones without hope (1 Thess 4:13), and if we lack hope, He can give us hope that abounds. He can and does heal the broken and weak in spirit, but God cannot fix us until we are first broken. Those who are "good to go" are those who are truly hopeless. When you are broken, you are actually nearer to God (Psalm 34:18). God speaks through Isaiah the Prophet, and though this was written to Israel, it can apply to us as well. Jeremiah wrote, "For I know the plans I have for you, declares the Lord, plans for welfare and not for evil, to give you a future and a hope" (Jer 29:11).
Conclusion
If we ever have contact with people, what great news we have for them. These are the very ones God is calling. The ones that society has pushed to the fringe are the ones that have been pushed closest to God by circumstances. If you trusted in Jesus, you have received God's inheritance rights. That means, you've got a home in heaven that can never be taken away (John 6:37-39, 10:28-29; Rom 8:37-39). You are a rich person and can now live forever with Him. Now, why not share with the hunger, the homeless, and the hopeless? Just because you can't help them all doesn't mean you can't help at least one. Jesus sees you feeding a hungry person (Matt 25:35-36) as doing it unto Him (Matt 25:40).
Article by Jack Wellman
Jack Wellman is Pastor of the Mulvane Brethren Church in Mulvane Kansas. Jack is a writer at Christian Quotes and also the Senior Writer at What Christians Want To Know whose mission is to equip, encourage, and energize Christians and to address questions about the believer's daily walk with God and the Bible. You can follow Jack on Google Plus or check out his book Teaching Children the Gospel available on Amazon.