God gives us the ability to have wealth, so the question is, "What will we do with it?" Here is what the Bible says about wealth in order to make us think about what we should do with what God has given us.
True Treasures
With those who have trusted in Christ, they look at life from a different perspective…an eternal perspective. Christ followers shouldn't live with their eyes focused on this world, but on the world to come. With this same foresight, Jesus said, "Do not lay up for yourselves treasures on earth, where moth and rust destroy and where thieves break in and steal, but lay up for yourselves treasures in heaven, where neither moth nor rust destroys and where thieves do not break in and steal. For where your treasure is, there your heart will be also" (Matt 6:19-21). Besides, "what can a man give in return for his soul" (Mark 8:37). All the wealth is the world will be worthless on the Day of Judgment if one is found outside of Christ. Contrary to the way the Jews associated wealth with righteousness, the Bible teaches that "godliness with contentment is great gain, for we brought nothing into the world, and we cannot take anything out of the world. But if we have food and clothing, with these we will be content" (1 Tim 6:7-8). This is why were admonished, "Keep your life free from love of money, and be content with what you have, for he has said, I will never leave you nor forsake you" (Heb 13:5). For many of us, contentment in life is based upon money, rather than on the Lord our God Who has promised to never leave us or forsake us. The late Dr. Adrian Rogers once said, "Money talks…to me it mostly says, "Goodbye," but the Lord is with us forever.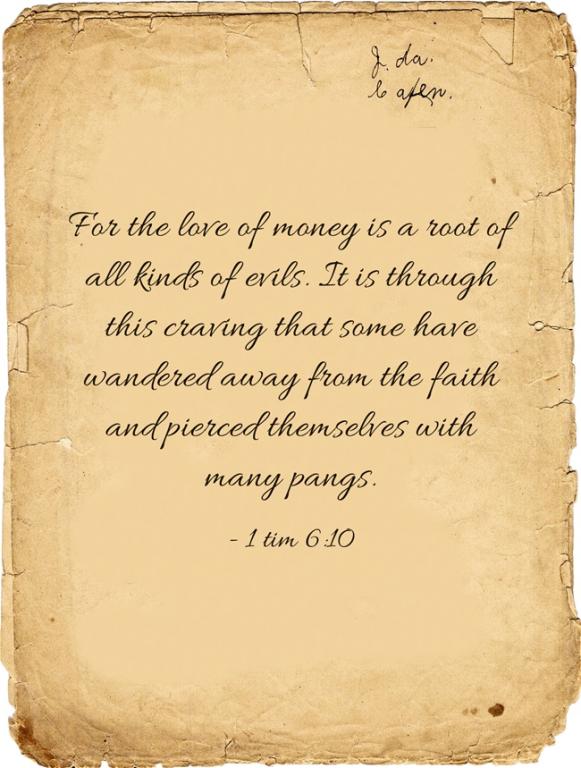 Helping the Helpless
Our church has an outreach to the homeless. We work through the local Salvation Army, and they distribute blankets, coats, toiletries, and other basic necessities for those who have become homeless, for one reason or another. A few people I know have remarked, "They've made their own bed, so let them sleep in it," but homelessness is not always the person's fault. We give special attention to the homeless mothers who sometimes have to get out of a home because there's been domestic or sexual violence. Of course there are more people there than we can help, but just because we can't help everyone doesn't mean we can't help someone. We know that "Whoever oppresses a poor man insults his Maker, but he who is generous to the needy honors him" (Prov 14:31), and many of these single mothers have been oppressed by their husband or live-in boyfriend. In speaking of the great need to help those who can't help themselves, Jesus, in speaking in hyperbole, said, "Sell your possessions, and give to the needy. Provide yourselves with moneybags that do not grow old, with a treasure in the heavens that does not fail, where no thief approaches and no moth destroys" (Luke 12:33), so His word is to "Give, and it will be given to you. Good measure, pressed down, shaken together, running over, will be put into your lap. For with the measure you use it will be measured back to you" (Luke 6:38).
Who's Your Master?
In speaking of how money can control our hearts, Jesus said, "No one can serve two masters, for either he will hate the one and love the other, or he will be devoted to the one and despise the other. You cannot serve God and money" (Matt 6:24), so how can you tell who has your heart? For one thing, look at your checkbook ledger or credit card statements. The Apostle Paul reminds us that, "In all things I have shown you that by working hard in this way we must help the weak and remember the words of the Lord Jesus, how he himself said, It is more blessed to give than to receive" (Acts 20:35). The danger of riches or wealth is that instead of owning them, they can end up owning you…or at least, your heart. What might happen is instead of having great possessions, possessions will have us! Truly, "He who loves money will not be satisfied with money, nor he who loves wealth with his income; this also is vanity" (Eccl 5:10). Instead of trusting in God, we can trust in money, but "Whoever trusts in his riches will fall, but the righteous will flourish like a green leaf" (Prov 11:28). That's why we must "Take care, and be on your guard against all covetousness, for one's life does not consist in the abundance of his possessions" (Luke 23:15).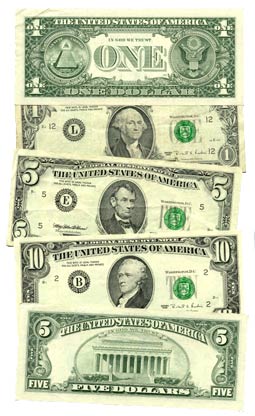 Deceitfulness of Riches
Those with clinched fists cannot receive back from God because they don't have open hands. It is as Solomon wrote, "One gives freely, yet grows all the richer; another withholds what he should give, and only suffers want. Whoever brings blessing will be enriched, and one who waters will himself be watered" (Prov 11:24-25), so there is a danger for "those who desire to be rich fall into temptation, into a snare, into many senseless and harmful desires that plunge people into ruin and destruction. For the love of money is a root of all kinds of evils. It is through this craving that some have wandered away from the faith and pierced themselves with many pangs" (1 Tim 6:9-10). Small wonder that Jesus said, "How difficult it will be for those who have wealth to enter the kingdom of God" (Mark 10:23), so the best biblical advice I can give you to prevent that from happening is to "Honor the Lord with your wealth and with the firstfruits of all your produce; then your barns will be filled with plenty, and your vats will be bursting with wine" (Prov 3:9-10).
Conclusion
I believe a lot of our financial anxieties would be solved if we would earnestly "seek first the kingdom of God and his righteousness [because then] all these things will be added to you" (Matt 6:33). Even John the Baptist had enough wisdom to tell the Roman soldiers what they must do, and that is to "not extort money from anyone by threats or by false accusation, and be content with your wages" (Luke 3:14). That is still sterling advice today. Those who treasure tomorrow will be laying up treasures in heaven, however, they look forward not to their treasures in heaven, but look forward to seeing the Son of God, Jesus Christ, the God-Man from heaven. That is their greatest treasure.
Article by Jack Wellman
Jack Wellman is Pastor of the Mulvane Brethren Church in Mulvane Kansas. Jack is a writer at Christian Quotes and also the Senior Writer at What Christians Want To Know whose mission is to equip, encourage, and energize Christians and to address questions about the believer's daily walk with God and the Bible. You can follow Jack on Google Plus or check out his book Teaching Children the Gospel available on Amazon.