Have you or someone you know had time where God seems silent, and so much so that you begin to doubt Him? If so, here are four great Bible verses to read when you doubt God.
Joshua 1:9 Have I not commanded you? Be strong and courageous. Do not be frightened, and do not be dismayed, for the LORD your God is with you wherever you go.
If God had not encouraged Joshua after Moses' death, then Joshua may not have had the courage to take over the leadership of Israel, especially following what is considered the greatest leader of the Jews (save, Jesus Christ of course). If you know someone who is experiencing a time of doubt in the goodness of God, please share some of these Bible quotes with them, because they're not just the Word of God, they are the truth, and what is true never changes, just like the promises of God which included His never leaving us or forsaking us (Heb 13:5), even when we do for a season. It might give them some reassurance, and perhaps the peace of God which only He can give. It should give you some peace of mind.
John 16:22 So also you have sorrow now, but I will see you again, and your hearts will rejoice, and no one will take your joy from you.
Only later would the disciples see that this came true. On the day Jesus died, they had lost all hope for like the Jews, they had thought the Messiah would come to rule, not live and be crucified. That would be the last thing they expected, but if not for Jesus sinless life, death, and resurrection, we wouldn't have the gospel (2 Cor 15:1-3) or the opportunity for eternal life (John 3:16), so we can't always trust what we see, but we can always trust what God says. For example, Solomon wrote, "Trust in the LORD with all your heart, and do not lean on your own understanding. In all your ways acknowledge him, and he will make straight your paths. Be not wise in your own eyes; fear the LORD, and turn away from evil. It will be healing to your flesh and refreshment to your bones" (Prov 3:5-6).
Psalm 50:15 "Call upon me in the day of trouble; I will deliver you, and you shall glorify me."
In the economy of God, nothing goes to waste, and even Joseph understood that, tell his brothers "you meant evil against me, but God meant it for good, to bring it about that many people should be kept alive, as they are today" (Gen 50:20). The Apostle Paul would suggest that we can "know that for those who love God all things work together for good for those who are called according to his purpose" (Rom 8:28), and it's nothing to compare with the glory that's coming with Christ (Rom 8:18). Do you want to have God more clearly manifest Himself to you? I do. Jesus says that it is a cause and effect, saying, "Whoever has my commandments and keeps them, he it is who loves me. And he who loves me will be loved by my Father, and I will love him and manifest myself to him" (John 14:21). For Thomas, seeing was believing, but it should not be so with us. Jesus, in rebuking Thomas's lack of faith told him, "Have you believed because you have seen me? Blessed are those who have not seen and yet have believed" (John 20:29). This is all the more reason to "not your hearts be troubled. Believe in God; believe also in me" (John 14:1).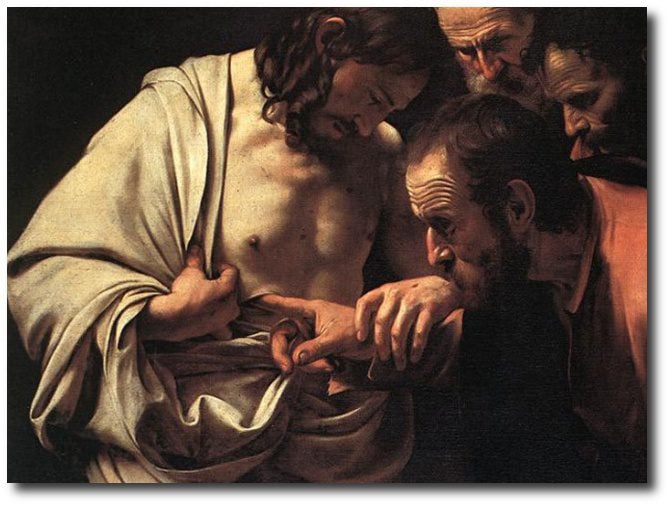 Romans 8:38-39 For I am sure that neither death nor life, nor angels nor rulers, nor things present nor things to come, nor powers, nor height nor depth, nor anything else in all creation, will be able to separate us from the love of God in Christ Jesus our Lord.
The promise of no more separation from God and no more separation being possible because of God, so we are to "be content with what you have, for he has said, "I will never leave you nor forsake you." So we can confidently say, The Lord is my helper; I will not fear; what can man do to me" (Heb 13:5b-6)? Why fear when we have God's Word on it that someday, God "will wipe away every tear from their eyes, and death shall be no more, neither shall there be mourning, nor crying, nor pain anymore, for the former things have passed away" (Rev 21:4). The disciples were troubled by Jesus' leaving and feeling a sense of loss, so Jesus reminded them that it was only temporary, saying, "Yet a little while and the world will see me no more, but you will see me. Because I live, you also will live" (John 14:19), so "Peace I leave with you; my peace I give to you. Not as the world gives do I give to you. Let not your hearts be troubled, neither let them be afraid" (John 14:27). And the peace of God "surpasses all understanding, will guard your hearts and your minds in Christ Jesus" (Phil 4:7). It is as the Apostle Peter wrote: "For it stands in Scripture: Behold, I am laying in Zion a stone, a cornerstone chosen and precious, and whoever believes in him will not be put to shame" (1 Pet 2:6). The last time I checked, that cornerstone was still standing, and like the Word of God, He abides forever.
Conclusion
What Bible verse might you add to someone who is having a season of doubt? What verses help you in times where it seems God is silent? Are there some chapters you automatically turn to when you feel like you beginning to have doubts? Jude comes to my mind he wrote about those who may have been experiencing a time of doubt. He wrote, "And have mercy on those who doubt; save others by snatching them out of the fire; to others show mercy with fear, hating even the garment stained by the flesh" (Jude 1:22-23).
Article by Jack Wellman
Jack Wellman is Pastor of the Mulvane Brethren Church in Mulvane Kansas. Jack is a writer at Christian Quotes and also the Senior Writer at What Christians Want To Know whose mission is to equip, encourage, and energize Christians and to address questions about the believer's daily walk with God and the Bible. You can follow Jack on Google Plus or check out his book Teaching Children the Gospel available on Amazon.