We are not saved by works but saved to do works, so here's what the Bible says about works.
Not by Works
Jesus said that the kingdom of God is about repentance and faith or belief (Mark 1:14-15), but it is only through Jesus Christ that we can be saved. The Bible teaches that it is "by grace are you saved through faith; and that not of yourselves: it is the gift of God. Not of works, lest any man should boast" (Eph 2:8-9). Eternal life is not received by, or attained by, or kept by a person's conduct or behavior (works), and if we try to add works to our salvation, we have rejected grace. Jesus warned about those who thought they were righteous because of what they did, saying, "You are those who justify yourselves before men, but God knows your hearts. For what is exalted among men is an abomination in the sight of God" (Luke 16:15). It is never about religion. It's about a relationship with God through Jesus Christ. It is not by grace plus stop smoking or grace plus weekly church attendance or grace plus baptism or grace plus stop drinking (or just fill in the blank). We are saved by grace alone, period.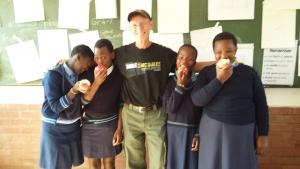 Danger of Works
Who could imagine that doing good works could turn against them someday? If we believe our works contribute to our salvation, instead of being a byproduct of our salvation, then our trust is not fully on Christ. For example, a person who believes we should obey the Ten Commandments or be lost doesn't understand grace. The Apostle Paul would tell them, "You are severed from Christ, you who would be justified by the law; you have fallen away from grace" (Gal 5:4). If that is the case, "Let me ask you only this: Did you receive the Spirit by works of the law or by hearing with faith? Are you so foolish? Having begun by the Spirit, are you now being perfected by the flesh" (Gal 3:2-3)? The truth is "all who rely on works of the law are under a curse; for it is written, "Cursed be everyone who does not abide by all things written in the Book of the Law, and do them" (Gal 3:10), so "it is evident that no one is justified before God by the law, for "The righteous shall live by faith" (Gal 3:11).
Works for Christ
Jesus indicated that our works must be done in secret, just as our giving should be, but when our works are done to be seen by others, and the person receives the glory, their works are worthless to God. Jesus said of the Day of Judgment, "that day many will say to me, 'Lord, Lord, did we not prophesy in your name, and cast out demons in your name, and do many mighty works in your name," but what does Jesus tell them? He says, "I declare to them, 'I never knew you; depart from me, you workers of lawlessness'" (Math. 7:22-23). Once a person trusts in Jesus Christ, there isn't anything else they can do to improve on it. How can you improve on Christ's perfection; in His perfecting gift of His own life? It is all sufficient in His propitiation. Certainly our works will naturally become better by the new nature in us, but we are not saved by those works. Jesus warned that "many" will say to Him, "Lord, Lord," we did such and such, but these same many will be turned away…forever. Perhaps they were thinking their works would be enough so save them. Wrong.
Fellowship and Relationships
If I fast twice a week, read the Bible daily for one hour, never miss church, God loves me exactly the same as if I did none of those things this week. Our fellowship will be hurt, but our relationship will not change. When my son was young, he got in trouble for breaking house rules, and our fellowship as father and son was strained, but our relationship never changed! It will always be the same. Nothing he could do would ever stop me from loving him, and he will always be my son, no matter what he does. It's the same with our heavenly Father. You know you are preaching the works-plus-nothing-gospel if it is salvation through grace alone, by Christ alone. Any other form of salvation than by grace alone is man's own fabrication, and it's nothing you can hang your hat on. It is [solely] "the gift of God" (Ephesians 2:8), and not the effort by man. We're not saved by works, but we're saved to do works that God has ordained that we should walk in (Eph 2:10). To attempt to make the believer's response part of their own salvation, and to look upon grace as "a help," is to flatly deny the gospel, since if it is "by grace, then is it no more of works: otherwise grace is no more grace…" (Romans 11:6). The simple Biblical message is that we are saved only by the free gift of graces, "For if by one man's offense death reigned by one; much more they which receive abundance of grace and of the gift of righteousness shall reign in life by one, Jesus Christ" (Romans 5:17). The thief on the cross had no chance of doing any good works before death, and even if he could have, they wouldn't have helped him get saved.
Shed Blood
Jesus came to give His life as a ransom for many (Mark 10:45), and when He introduced the New Covenant, He said, "for this is my blood of the covenant, which is poured out for many for the forgiveness of sins" (Matthew 26:28). The Apostle Peter proclaimed that "Christ also suffered once for sins, the righteous for the unrighteous, that he might bring us to God, being put to death in the flesh but made alive in the spirit" (1 Peter 3:18). Paul's preaching is summarized at the end of 2 Corinthians 5:21, writing that it was "For our sake he made him to be sin who knew no sin, so that in him we might become the righteousness of God." The righteousness needed to enter the kingdom is only found outside of ourselves, since we have no righteousness within us. Sadly, there are far too many who, "being ignorant of the righteousness of God, and seeking to establish their own, they did not submit to God's righteousness" (Romans 10:3).
Conclusion
Aren't you glad that we don't have to do good works to save ourselves? If that were the case, who would ever know when enough good works would be enough? Jesus only mentioned works one time in regards to what we could do, saying, "This is the work of God, that you believe in him whom he has sent" (John 6:29), and just who can believe on Him? Anyone who repents and puts their trust in Christ can be saved (John 3:16). Today is the day of salvation (2 Cor 6:2). Today, Jesus beckons, "Come to me, all who labor and are heavy laden, and I will give you rest. Take my yoke upon you, and learn from me, for I am gentle and lowly in heart, and you will find rest for your souls. For my yoke is easy, and my burden is light" (Matt 11:28-30). Trying to work your way into heaven will wear you out! Come to Christ today and rest in Him, because His "yoke is easy" and His "burden is light." A lot easier and lighter than yours and mine is.
Article by Jack Wellman
Jack Wellman is Pastor of the Mulvane Brethren Church in Mulvane Kansas. Jack is a writer at Christian Quotes and also the Senior Writer at What Christians Want To Know whose mission is to equip, encourage, and energize Christians and to address questions about the believer's daily walk with God and the Bible. You can follow Jack on Google Plus or check out his book Teaching Children the Gospel available on Amazon.