Are you having difficulty in being content with life? Here's some biblical help.
State of Mind
When I think about contentment, and the question comes to me, "Is the glass half empty or half full," typically, my response is, "I'm just glad I have a glass!" Besides, isn't it both? Whether it's half empty or half full is not an issue for me because, at least I have a glass! Contentment is a choice, and it's not something we naturally gravitate to. Contentment is a state of mind, or putting things into perspective. And contentment can keep us out of a lot of trouble. The opposite of being contented is being in a state of discontentment, and no one wants to live under that tent. Solomon wrote that "A hot-tempered man stirs up strife, but he who is slow to anger quiets contention" (Prov 15:18). Slow, calm, and well-thought out responses can quite contention, just as anger can incite it. During John the Baptist's ministry, "Soldiers also asked him, "And we, what shall we do?" And he said to them, "Do not extort money from anyone by threats or by false accusation, and be content with your wages" (Luke 3:14). Ahh…now we're starting to get somewhere. Being content with what we have is a start. One example is being content with our wages or finances. The Apostle Paul had good reason to feel discontented, being the most severely persecuted of all the apostles. He wrote, "For the sake of Christ, then, I am content with weaknesses, insults, hardships, persecutions, and calamities. For when I am weak, then I am strong" (2 Cor 12:10). Paul was content, even with these hardships, because he knew it was for Christ's name's sake that he suffered.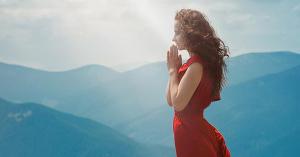 Contentment's a Choice
Contentment is definitely something that we chose, however, as I wrote earlier, it doesn't come naturally. The Apostle Paul told Timothy that "if we have food and clothing, with these we will be content" (1 Tim 6:8). Being contented is pleasing to God. Paul writes that "godliness with contentment is great gain" (1 Tim 6:6), showing it is precious in God's sight, but it's something we have to pursue, so how can we be content in difficult circumstances? First of all, "if we have food and clothing, with these we will be content." Many people in the world are homeless, have little clothing, and scratch out a living every day. For many, there is never enough to eat, so it's a struggle to just get through the day, so when our contentment is dependent upon our circumstances, our contentment can come and go, and be as volatile as the stock market. Life can become a pendulum, swinging from one extreme to the other. By putting things into perspective, If we can see just how much most of us have been blessed with compared to the rest of the world, our perspective will change. It'll be easier to stop associating our circumstances with our true contentment found in Christ. The author of Hebrews nails much of what we know about contentment, writing that we should "Keep your life free from love of money, and be content with what you have, for he has said, "I will never leave you nor forsake you" (Heb 13:5). If we keep our lives free from the love of money, we'll take a huge step toward being contented, however, if we feel we never have enough money, we almost certainly will not be content.
Learning Contentment
Contentment is a choice, but there's a way you can learn how to be content. As I said before, it doesn't come naturally, but Paul learned how to do it, and so can we. Paul endured many a hardship, so he had a lot of experience with suffering, and he wrote, "I know how to be brought low, and I know how to abound. In any and every circumstance, I have learned the secret of facing plenty and hunger, abundance and need" (Phil 4:12). How was Paul able to be content through all this? He said "I have learned in whatever situation I am to be content" (Phil 4:11b). In other words, whatever situation he was in (hunger, cold, hot, thirst, stoning's, imprisonment), he learned how to be content, but how did he learn it? First, he had a lot of opportunities to suffer, but he also knew he was suffering for his faith, and particularly, sharing the faith. Paul knew that he needed Christ, writing, "I can do all things through him who strengthens me" (Phil 4:13). That also means he could do nothing without Christ (John 15:5). He learned that it was through Christ's strengthening him in times of deep despair that enabled Paul to be content. Even in great difficulty, he still had to have the frame of mind to be content, but this was not something he could do on his own. He needed help. And he got it! Paul was not surprised by this suffering. Jesus had already told him he was going to suffer many things for His name's sake (Acts 9:16, 14:22), which is why he said, "as servants of God we commend ourselves in every way: by great endurance, in afflictions, hardships, calamities" (2 Cor 6:4), thus it is "For the sake of Christ, then, I am content with weaknesses, insults, hardships, persecutions, and calamities. For when I am weak, then I am strong" (2 Cor 12:10).
The Unsearchable Riches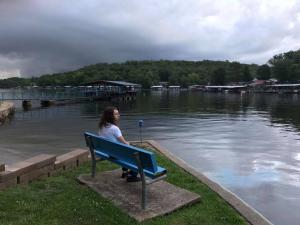 Paul was content with "weaknesses, insults, hardships, persecutions, and calamities," but sometimes we're discontented because we can't find a good parking space or someone's driving too slowly ahead of us. Whatever the case, if we allow circumstances to determine our contentment, we are not recognizing just how much we've been blessed with "the unsearchable riches of Christ" (Eph 3:8b). When we recognize that we have such a precious pearl of great price, we should feel compelled "to bring to light for everyone what is the plan of the mystery hidden for ages in God, who created all things, so that through the church the manifold wisdom of God might now be made known to the rulers and authorities in the heavenly places" (Eph 3:9-10). The main thing is the plain thing, and the plain thing is, we are saved by grace and not by works, but we are also saved for works, and these works are to glorify God (John 15:8; Eph 2:8-10).
Conclusion
A lack of contentment can lead to addictions. The Book of Job says, "Because he knew no contentment in his belly, he will not let anything in which he delights escape him" (John 20:20). Whatever it is that we don't have enough of, there'll be no contentment, because it seems that it always takes just a little bit more. To be content, we first of all must be at peace with God, and there is no peace with God until we've made peace with God through Jesus Christ (Rom 5:1). This means the condemnation has been lifted (Rom 8:1). We can now be content in Christ because we're accepted by God in Christ. If all you have is Christ, then you have all you need. I would say abundantly more than you'll ever need, and that should leave you feeling quite contented.
Article by Jack Wellman
Jack Wellman is Pastor of the Mulvane Brethren Church in Mulvane Kansas. Jack is a writer at Christian Quotes and also the Senior Writer at What Christians Want To Know whose mission is to equip, encourage, and energize Christians and to address questions about the believer's daily walk with God and the Bible. You can follow Jack on Google Plus or check out his book Teaching Children the Gospel available on Amazon.