What do you say to someone that says, "God spoke to me," or how do you know when it really is God speaking to you?
God Speaks
I cannot count the number of times when someone has told me, "God spoke to me and told me to do this," or "Told me to tell you that you should do that," but it has turned out to be wrong. One pastor became so sure that God spoke to him about using a white board in preaching that no one could tell him that they missed his old preaching style. When someone was finally willing to go the pastor on behalf of several other members of the congregation, the pastor was not happy. He was 100% certain that God spoke to him about using the white board, and until he heard from God again, he wasn't going to change his mind, no matter what. If you bring it up again, he just gets angry. So did God really speak to this pastor and tell him to use a white board until further notice? And if it was god, which god? We're in an invisible battle, so we cannot always rely on what we think God told us to do. There's a better way to hear God's voice. He speaks to us most clearly in Scripture and by His Spirit, but what about an "audible voice" as some had said they heard? God is God. He can do as He pleases, but again, we must place this "voice of God" against conduct and Scripture. Whatever God told them to do must not be contrary to Scripture. If it doesn't, then clearly, this is not the voice of God but the voice of a deceiver. God does not contradict what is written in Scripture. That will never happen, no matter what a person may hear!
The Spirit
The church I attend has a saying that I like. It talks about the Inner Word (the Holy Spirit), opening the Outer Word (the Bible), to reveal the Living Word (Jesus Christ). The Spirit is essential to our understanding of Scripture. When we receive the Holy Spirit, we receive the Spirit of a sound mind (2 Tim 1:7). With this mind of Christ (Phil 2:5-8), we can more clearly hear God speaking to us through His Word, and His Word shows us what Christ's marching orders are for the church (e.g. Matt 25:35-36, 28:18-20; Acts 1:8, etc.). We have all we need in Scripture and all we need to understand Scripture (the Spirit), so it is not hard to stay within the parameters of Scriptural commands. When we start to put experience, or what we think God is telling us ahead of Scripture, we can get in trouble. Scripture is always the highest authority, and Scripture is where God speaks most plainly.
The Word
The Word reveals the will of God. Of course, it might not tell a pastor whether he should use a white board or not, but it should tell him that he is to esteem others better than himself (Phil 2:3), and respond with humility when someone has a concern about the church or his teaching (James 4:6). It is not the pastor, the church board, the congregation, or the denomination that determines what is true or what the will of God is. It is Scripture alone, and no man can cay "This is what God tells me," but do things that are contrary to Scripture. You don't have to hear a voice from heaven to know that we are "not be conformed to this world, but be transformed by the renewal of your mind, that by testing you may discern what is the will of God, what is good and acceptable and perfect" (Rom 12:2). Scripture plainly tells us that "this is the will of God, your sanctification: that you abstain from sexual immorality" (1 Thess 4:3). Why would God speak to someone (as one man told me) that he was supposed to divorce his wife to become a missionary, when Scripture tells us that divorce is permissible only due to adultery? It's easy to see how we can get blown off course by our own thoughts and imagination's.
The Son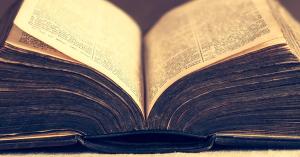 The Bible actually speaks to us through God's Spirit, Who inspired the Holy Scriptures, but of the Prophets and of Jesus Himself, it says, "in these last days he has spoken to us by his Son, whom he appointed the heir of all things, through whom also he created the world" (Heb 1:3), and Jesus does speak to us…directly, in the Gospels and sometimes in the Book of Acts. You don't have to fast and pray and meditate to hear God's voice when you have Jesus' Words of life recorded in the four gospels. There is no mystery to God's will or God's voice, because Jesus is God, but again, God speaks most clearly through Scripture, and abundantly so through Christ!
Conclusion
When God speaks to people, it is highly subjective. It is subject to the human will, emotions, feelings, fatigue, hunger, pain, suffering, grief, and any other number of factors, but God's Word is objective truth. It is always true, even if you've got the flu. It does not depend on human feelings or hearing voices or perceived voices. Put 100% of your trust of God speaking to you, first in Scripture, but also by His Spirit. These two affirm one another and keep us out of the ditches of human or personal experience. When someone tells you God spoke to them, tell them He's spoken to you too…and it starts in Genesis 1:1 and ends in Revelation 22:21. In between those pages, I am more than convinced that God speaks to me. Outsides of those pages, not so much.
Article by Jack Wellman
Jack Wellman is a Pastor and Prison Minister in the State of Kansas. Jack is also a writer at Christian Quotes and Senior Writer at What Christians Want To Know whose mission is to equip, encourage, and energize Christians and to address questions about the believer's daily walk with God and the Bible. You can follow Jack on Google Plus or check out his book Teaching Children the Gospel available on Amazon.