Here are seven Communion scriptures, in the Bible, that apply to the principle behind the Lord's Supper:
1. 1 Corinthians

11:26 "For as often as you eat this bread and drink the cup, you proclaim the Lord's death until he comes."
When the Apostle Paul was instructing the Corinthian church on the meaning and the proper methods for taking Communion or the Lord's Supper, he wrote that this Sacrament has a specific purpose. For one thing, Paul reminds the church about the symbolic meaning of the bread when he writes that Jesus, "when he had given thanks, he broke it, and said, "This is my body which is for you. Do this in remembrance of me" (1st Cor 11:24), therefore we partake of the Lord's Supper to remember what price He paid in pouring out His blood and in the breaking (and death) of His body for our sakes so that every time we partake of this Sacrament, we should remember the cross and that we are to continue to take the bread and wine (or grape juice), until He returns (1st Cor 11:26b).
2. Matthew 26:26-28 "Now as they were eating, Jesus took bread, and after blessing it broke it and gave it to the disciples, and said, "Take, eat; this is my body." And he took a cup, and when he had given thanks he gave it to them, saying, "Drink of it, all of you, for this is my blood of the covenant, which is poured out for many for the forgiveness of sins."
A much broader meaning of the Lord's Supper is given by the One Who instituted the New Covenant; Jesus Christ. He tells the disciples to see the cup of the New Covenant as His own blood, which was poured out for many for the forgiveness of sins. This forgiveness only extends to those who confess them (1st John 1:9) and who were saved by repentance and faith (Mark 1:15), which is what Jesus required in the gospel of the Kingdom of God. The Old Testament teaches that the life is in the blood but they were not allowed to drink it, but in the newer and better covenant, Jesus allows us to receive the blood that brings eternal life; not just temporary, physical life.
3. 1 Corinthians 10:17 "Because there is one bread, we who are many are one body, for we all partake of the one bread."
Clearly the church is referred to as a body, one body, because there are many members who have different functions and God has no respect for one person over another in the body, so the idea that Paul is teaching to the Corinthians is that there is one bread and He is the Bread of Life, Jesus Christ, but there are many members of His body and that there is no least member of that body. Even though many members, we have all received the One, True Bread that is from Heaven (John 6). This bread brings eternal life for all who believe and gives life to the body, both corporately and individually.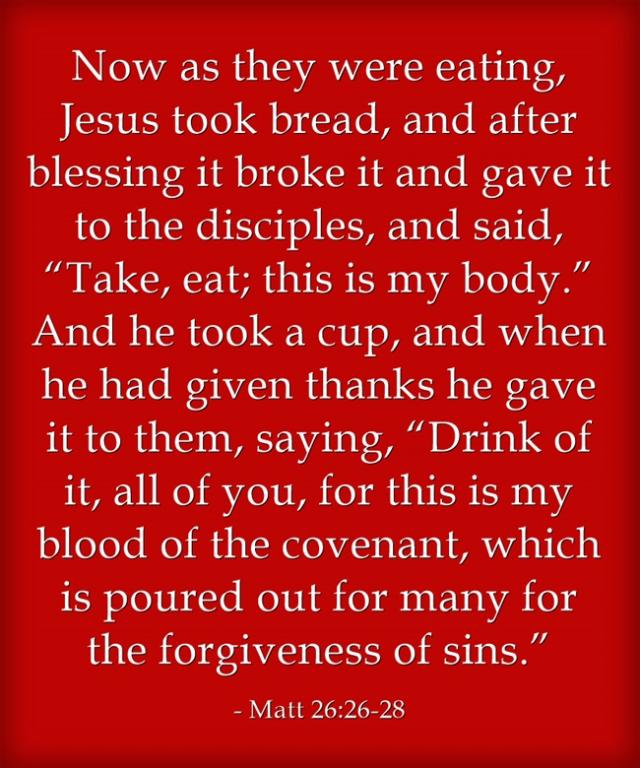 4. John 6:53-54 "So Jesus said to them, "Truly, truly, I say to you, unless you eat the flesh of the Son of Man and drink his blood, you have no life in you. Whoever feeds on my flesh and drinks my blood has eternal life, and I will raise him up on the last day."
Perhaps this was Jesus introducing the coming New Covenant that He would institute and Him separating the sheep from the goats in order to make plain who were His true disciples and who were not. Just after Jesus' hard saying that they must drink His blood and eat His flesh (symbolic meaning), the vast majority of the Jews stopped following Jesus. They just couldn't understand Jesus' connection to the bread or manna in the wilderness, to the "Great I AM" that was standing before them. They had so hardened their hearts that they couldn't even comprehend Jesus' as the perfect fulfillment of the Messiah.
Just prior to this, Jesus had just told them, "You search the Scriptures because you think that in them you have eternal life; and it is they that bear witness about me" (John 5:39) but they refused to see what was right in front of them, so Jesus used a great teaching method; He used hard words to soften hearts because soft words only harden hearts. The Word of God must cut in order to heal (Heb 4:12) so "After this many of his disciples turned back and no longer walked with him" (John 6:66) and were shut out of the coming Kingdom, the New Jerusalem that will someday come out of heaven (Rev 21:1-4).
5. 1 Corinthians 11:24 "And when he had given thanks, he broke it, and said, "This is my body which is for you. Do this in remembrance of me."
When we acknowledge what the elements of the Sacraments are, we keep reminding the members that it was Jesus' broken body that He willingly gave for the ungodly (Rom 5:6), and that His death on the cross reconciled wicked, sinful enemies of God (Rom 5:8, 10), so when we take Communion, we should do this in remembrance of Jesus, specifically on the cross.
6. Matthew 26:29 "I tell you I will not drink again of this fruit of the vine until that day when I drink it new with you in my Father's kingdom."
What an encouraging comment Jesus makes. I love this because He is promising them that the next Lord's Supper or Communion He will have with His disciples (and us) will be when the Father's kingdom is established on earth, which will be for all time (Rev 22). This "fruit of the vine" will once again be poured out as Jesus, the Bridegroom, receives His Bride, the church, saying on that day, "Let us rejoice and exult and give him the glory, for the marriage of the Lamb has come, and his Bride has made herself ready" (Rev 19:7), and so "Blessed are those who are invited to the marriage supper of the Lamb." And he said to me, "These are the true words of God" (Rev 19:9). That's when Jesus and we too shall "drink again of this fruit of the vine."
7. First Corinthians 10:16 "The cup of blessing that we bless, is it not a participation in the blood of Christ? The bread that we break, is it not a participation in the body of Christ?"
Have you noticed that the references to the Lord's Supper or Communion have come from either Jesus or from Paul in 1st Corinthians? Maybe you can understand why because the church at Corinth had turned Communion into a feast of gluttons. Some even got drunk, others ate all the food before others even got there, and others would not share their blessings with the poor, so Paul reminded them that we are all part of the body of Christ. When we partake of the Lord's Supper, we are participating as the body, but when we do not understand the cup, we in are in danger of polluting the meal (1st Cor 11:30), so Paul adds, "In the same way also he took the cup, after supper, saying, "This cup is the new covenant in my blood. Do this, as often as you drink it, in remembrance of me" (1st Cor 11:25). He wanted the focus to be on Christ; do it in His remembrance and not in the meal, or what they had turned it into; a food orgy.
Conclusion
If you are not a Christian and don't understand why the Lord's Supper or Communion is a necessary Sacrament, then you don't know enough about the price that Jesus paid. If you continue to reject Jesus Christ, then you will only taste of the winepress of the wrath of God (Rev 14:19) and not the fruit of the vine in the kingdom. You will taste that wine either after death (Heb 9:27) or at Jesus' return (Rev 20:12-15). Right now, reader, I can only pray for your soul and that is what I will do for everyone who reads these words so that they can be led to eternal life in Jesus Christ, for there is no other way to be saved (Acts 4:12).
Article by Jack Wellman
Jack Wellman is Pastor of the Mulvane Brethren Church in Mulvane Kansas. Jack is also the Senior Writer at What Christians Want To Know whose mission is to equip, encourage, and energize Christians and to address questions about the believer's daily walk with God and the Bible. You can follow Jack on Google Plus or check out his book Teaching Children the Gospel available on Amazon.