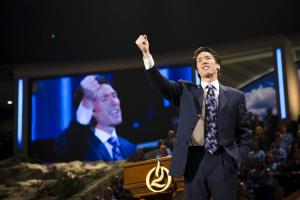 Hurricane Harvey was a "1,000-year storm" that will have an impact on the Houston area for years or even decades. But what does such disaster tell us about God? More important, perhaps, is what it tell us about ourselves and how we understand God.
Megachurch Pastor and Prosperity Gospel Preacher Joel Osteen commits a "Sin of Sodom" which he has neither confessed nor asked for forgiveness. What is Church's role when the waters rise around us?
Sometimes we submit to disruption in our lives; sometimes it overwhelms us with little or no warning. How we handle such moments and how ultimately we emerge from them tells us volumes about our inner selves.
Finding true Joy in a candy bar; missing the big picture; Christian gets really, genuinely scared. This week on your Homebrewed CultureCast.
Stream the Episode Here
Subscribe and listen on iTunes HERE
Subscribe and follow us on Homebrewed Christianity HERE
Become a CultureCast Patron HERE
Join us on Facebook HERE