The Deadpool franchise is rereleasing their most recent film in a PG-13 version dubbed "Once Upon a Deadpool."
In the film, Deadpool captures Fred Savage (who starred as the little boy in "Princess Bride") and tells him a storybook version of the film editing out the portions that made the film rated R.
The film seems like it might be a hit with Latter-day Saint audiences who love "Princess Bride" and PG-13 edits of R-rated movies.
But on that front, the film may have made a misstep with its advertising campaign. The poster for the film bears a strong resemblance to a painting commissioned by the Church of Jesus Christ: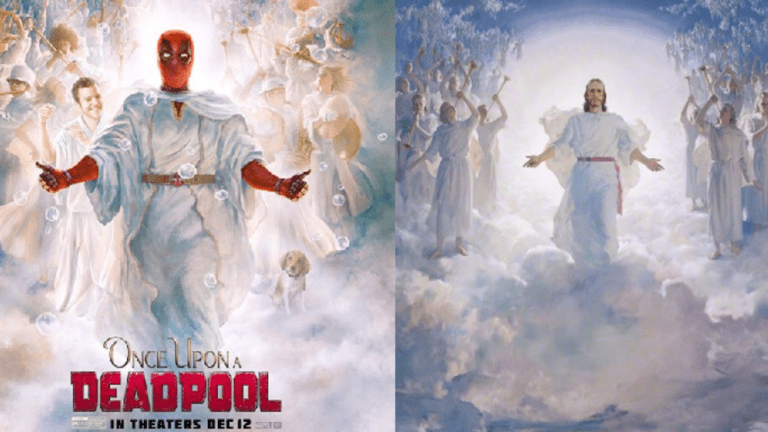 The painting by Harry Anderson is a common one found in the chapels and homes of members of the Church (it hangs in my local chapel.)
Cassidy Carter found replacing Jesus with the profane superhero to be in bad taste and has appealed to the director, Tim Miller, to replace the advertising. The petition now has more than 30,000 signatures.
If you'd like to sign, I included the link above. One of the most common criticisms is that being offended is a choice we make, with many people quoting a 2006 talk by apostle David A. Bednar making that point.
My take on the petition?
I largely agree with the critics on this one. One of the main purposes of this blog is pointing out discrimination against Latter-day Saints, and even I struggle to get too upset over this one.
I mean the movie is a re-release of the film, so the advertising crew got the cute idea to compare it to another more famous second coming. They probably googled "Second Coming Painting" and guess what comes up first?
I honestly doubt there was any more purposeful animus against Latter-day Saints than that. And honestly, with the purposefully offensive character at the center of the film, I can't imagine much press they'd like more than "The Mormons Think We're Being Offensive." This petition plays right into the brand Deadpool tries to cultivate.
I understand how instinctively upsetting it is to see the Savior removed from a painting, and our desire to stand up for Him. I just don't think it's a useful fight.
Now let's be honest, there is a tremendous opening for mocking Latter-day Saints in our culture that doesn't extend to many other groups. But this is simply not an example of it. Movie posters are in the business of drawing attention and they have a long history of boring religious iconography to do it. Images specific to our faith are not normally used simply because it wouldn't resonate with many people. But until we've been put through what the horror film industry has put the Catholic church through, I think we can safely just roll our eyes and move on.
That's my take. Let me know what you think.