Christopher Closeup Podcast – Guest: Daniel Murphy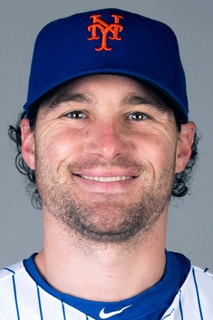 (Photo property of the Mets)
As a boy, Daniel Murphy started playing baseball through the process of elimination. He realized he was too short for basketball, too slow for soccer, and he didn't like to get hit so forget about football.
Baseball, however, was a game for which he had a gift and a passion. After playing for Jacksonville University, Murphy was drafted by the New York Mets in 2006, and made his Major League debut in 2008. His primary memory about his first at-bat in the big leagues? Drinking Pepto Bismol because he was so nervous, he thought he might throw up.
With a .320 batting average at the start of August, 2011 was shaping up to be Murphy's best season to date. Then it happened. Again. A knee injury ended his season early for the second time in two years. At first, Murphy understandably felt depressed about his bad luck. Then, God stepped in.
Though Murphy was raised in a Christian family and attended Sunday school, he admits he didn't give much thought to his faith. The injury changed his perspective. As he explained to me on Christopher Closeup, "There were moments that led to me surrendering to the Lord. After that, I don't want to say everything was easy because it isn't always easy and prosperous. But there was a peace and joy I never experienced before…The Lord had knocked me on my back a number of times, and I had not answered. This time I finally decided to submit and give everything to Him."
Instead of feeling sorry for himself, Murphy spent time in prayer and fellowship with other believers. Reading Scripture also became a part of his routine, allowing seeds that were planted in his childhood to start blossoming. He said, "It's really exciting to get into the Word, and realize, 'Hey, I remember that from Sunday school class.' It didn't mean to me then what it does now, but it's pretty cool to look at it now. So I thank my parents for raising me in a Christian home and being encouraging."
A challenge for any Christian athlete is integrating his faith with his professional life in a way that doesn't come across like God is picking winners in a sporting event. Murphy seems to have the right approach, saying, "As far as the outcome of a game, I think God cares about the glory. Win, lose, whatever it may be – at the end of the game or end of the season, God wants you to give Him all the glory. That to me is the toughest thing – to humble myself."
Devoting his time to worthy causes through the "Mets in the Community" program is one of the ways Murphy tries to stay humble and live out his faith. Though he considers them small gestures, he played Santa Claus for some underprivileged kids last Christmas, and took part in a tribute to military families on the TV series, "Extreme Makeover: Home Edition." Murphy explained, "Being in a position where we're so revered as athletes, I try to ask 'How can I serve? How can I show my teammates and the people of this city that I'm a servant first, and a baseball player second?' I'm not going to say I always approach it with a joyful heart because I'm human. But I try to let the Lord work on my heart and open me up for opportunities to serve…[so] that serving becomes the norm."
With a rehabbed knee, Daniel Murphy is itching to get back on the field and play the game he loves for a team whose support he appreciates. He especially looks forward to playing for manager Terry Collins for the second year in a row: "He knows how to push the buttons that get the best out of each player. He's very much of a player's manager, very approachable. His door is always open. If you want to go in there and talk about anything, he's going to listen and have a conversation with you. He has the trust and heartbeat of our ballclub. As a player, I want to go to battle for that guy."
Trusting in a higher power is also part of Murphy's game plan as the 2012 season begins. He said, "My biggest thing is giving everything to the Lord right now, coming to Him with open hands and trusting that His paths for my life are better than anything I could ever script for myself."
Listen to my full interview with Daniel Murphy: Christopher Closeup Podcast – Guest: Daniel Murphy