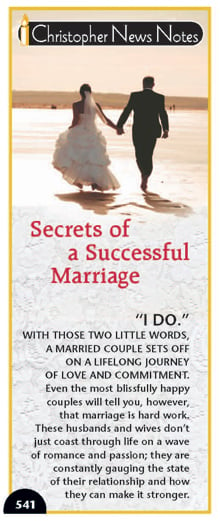 Since it's Valentine's Day, I thought it would be the perfect opportunity to highlight a Christopher News Note called "Secrets of a Successful Marriage."
In case you're not aware, Christopher News Notes are pamphlets on various spiritual or social issues that we've been using to stay in touch with our supporters via direct mail for more than 60 years. Individual copies are sent out free-of-charge, while some churches get them in bulk in return for a donation that helps offset our printing costs. We also send them to some prisons and hospitals where people find them sources of hope and encouragement.
Here's an excerpt from "Secrets of a Successful Marriage:"
"I DO." WITH THOSE TWO LITTLE WORDS, A MARRIED COUPLE SETS OFF ON A LIFELONG JOURNEY OF LOVE AND COMMITMENT.
Even the most blissfully happy couples will tell you, however, that marriage is hard work. These husbands and wives don't just coast through life on a wave of romance and passion; they are constantly gauging the state of their relationship and how they can make it stronger.
After all, very few jobs require people to be as adept at so many things all at once: communication, financial planning, faith building, child-rearing and so much more. It's quite a skill set marriage demands. So how do couples manage the details of married life without losing sight of the love that brought them together in the first place?
It requires a shift in perspective, away from the "everything is temporary" attitude of our culture toward an eternal mindset. Marriage can't be viewed as a contract, something one partner can walk away from if times get bad. Because times will get bad, at least now and then. For any marriage to work, spouses have to step into it with one absolute in mind: no matter what, we stay together. From that place of certainty and security, couples can navigate the rough spots and know that they will come out safely on the other side.
So what's the secret to a truly happy marriage? Therapist Gregory Popcak set out to answer that question in his book "The Exceptional Seven Percent: Nine Secrets of the World's Happiest Couples."
"Every couple's marriage revolves around a theme, that thing to which a couple gives most of their time and emotional energy. For example, most conventional couples build their lives and marriages around either securing their basic needs, maintaining companionship and security, or finding each other's place in the world, investing heavily in careers and social roles," writes Popcak.
"Exceptional couples, on the other hand, while concerned with all of these to some degree, spend most of their energy working together to pursue the development of positive character traits, moral virtue, and spiritual growth—a theme I call a marital imperative," he says. "In other words, exceptional couples consider their marriage to be their best hope for becoming the people they want to be at the end of their lives."
To read the complete News Note, "Secrets of a Successful Marriage," you can request a free copy by writing to mail@christophers.org – or you can read it online.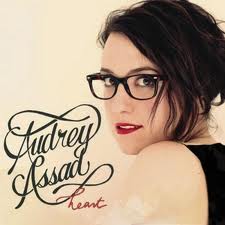 And if you need a last-minute Valentine's gift, you're in luck because the angelically-voiced Audrey Assad's new album, "Heart," is out today. You can check out sample tracks and buy the album on iTunes or Amazon. The album will soothe your soul and establish world peace.