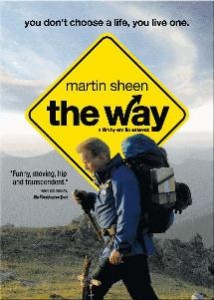 Thanks to everyone who entered our contest to win a DVD copy of the Christopher Award-winning film, "The Way." I just got back to the office after interviewing writer/director/producer Emilio Estevez (check back tomorrow for the podcast), so I had one of my co-workers pick three winners out of a hat. They are:
1. Linda M
2. Kathleen
3. Jacqueline Puentes
I'll be emailing each of you to get your addresses so we can send the DVD your way (no pun intended). If you didn't win here, why not visit Joel and Lisa Schmidt at The Practicing Catholic where they're also running a contest to win the film? It's also available for sale today so, if you can't wait, you can order "The Way" from any of your usual DVD-buying sources. And if you'd like to ask Emilio a question yourself, he'll be on Twitter tonight, Feb. 21, at 8pm ET/5pm PT. Just use his Twitter handle – @EmilioTheWay – and the hash tag #TheWayChat, along with your question.
Thanks again to all of you for participating!