Christopher Closeup Podcast – Guests: Maura Byrne, Part 1 / Emilio Estevez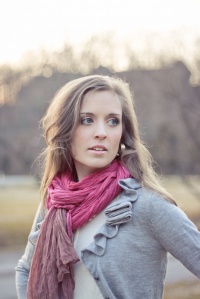 "I don't think I would be alive today if it wasn't for the hope God had to offer that there is so much more to life than the suffering I was going through at the time."
For 26-year-old New Jersey native Maura Byrne, that suffering stemmed from 15 years of physical abuse, an eating disorder and serious self-image issues. Maura revealed to me on Christopher Closeup that her eating disorder began because her life was spinning out of control. The amount of food she chose to eat – or not eat – was one area in which she could exercise some control. It was a situation that almost killed her.
After some counseling, Maura learned to manage her eating disorder. By the time she started attending Seton Hall University, her life was better. She got knocked off track again, however, when she discovered her college boyfriend was addicted to pornography. She explains, "I couldn't look at myself in the mirror. I really and truly believed that his addiction was my fault, and that if I was more beautiful, I would have been good enough for him. It was such a horrible experience that I want to take it and empower women not to compare themselves – to tell them that their worth can't be summed up in what a man or boyfriend thinks of them."
The turning point in Maura's struggles occurred during a summer she spent in Calcutta, India, volunteering with the late Mother Teresa's Missionaries of Charity. Though she was raised by parents who are devout Catholics, she had no conception of the role God's love could play in her life – and how it could reshape her image of herself. India changed that.
Maura says, "One of the missionaries I was serving with told me about God the Father's love. I remember breaking down in tears, and I wanted to get to know this loving God. It happened through time spent in Eucharistic adoration, discovering my dignity as a daughter of God created in His image and likeness."
That experience led Maura to a Catholic counselor who approached her issues from a physical, emotional and spiritual perspective. He gave her a CD featuring speech excerpts from Pope John Paul II.
Maura found herself especially motivated by the words, "Do not be afraid. Do not be satisfied with mediocrity." She says, "Those words taught me to rise above all that was going on in my life and to not be afraid to take those small leaps of faith, knowing that God the Father is right there next to me. JPII's words helped me gain confidence and strive to take my life back, to turn from a victim to a survivor. I still have those words on my wall and I turn to them all the time."
It was during this time that Maura came to see that beauty could be drawn out of her suffering, that the better person she is today is a result of all the troubles she had endured with God's grace. With the knowledge that there are approximately eight million women in the United States affected by eating disorders – and one in 34 women who are victims of abuse – Maura felt called by God to help other young women survive the trials she endured.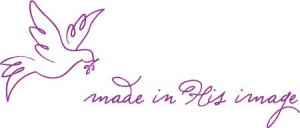 In May 2011, Maura – now living in Nashville, Tennessee – created a blog for a ministry called "Made In His Image." On the blog, she shared parts of her own story and welcomed readers to contact her about their own struggles with eating disorders and abuse. Emails soon started coming in. Though Maura had been praying the rosary for years, her focus over the next few months was to pray for the financial support that would get "Made In His Image" off the ground. A man she didn't know wound up reading her blog and asking how he could help. She didn't tell him the amount of money she needed, but he wrote her a check for the exact amount for which she'd been praying.
Taking this as a sign from God, Maura left her job as a baker and pastry chef in September 2011 to devote all her time to growing "Made In His Image" beyond its online ministry into a physical reality. She says, "There are no Catholic centers in the country for women to go to for eating disorders, so I want to build one because I believe that God is such an important component to healing. I want to provide holistic healing for women – body, mind and spirit. Ultimately, it would be a medical facility. There would be Catholic psychologists, psychiatrists, medical doctors, nurses, dieticians, all available to help women make a full recovery."
Maura now has a Board of Directors and she's hired a Catholic counselor to offer professional advice. She can also direct women who contact her to organizations around the country that can provide them with immediate local help. Next up, Maura is looking to hire someone to help her with fundraising so they can get grants and raise the millions of dollars needed to build the center.
In addition, Maura continues changing the lives of young women through her blog and her personal presence. One reader recently wrote the following in an email to her: "I still remember the day you came and visited me in the hospital and shared part of your story with me. I know that one day I can achieve the kind of recovery that the Lord has blessed you with…Reading your blog helps me remember that there is a kind of beauty in suffering, to sharing your own personal crosses, and to connecting with God and with His children through suffering. In fact, had I never hit the low I hit in my early college years, I probably still wouldn't be going to Mass today. So there are blessings if we look hard enough."
When Maura hits times of darkness now, she knows from past experience that God will provide a brighter future. She says, "When I felt so low I didn't know how I was going to get out of it, I would go to adoration and take part in sacraments like the daily Mass. Through that, I kept striving to hope that God would bring about healing in my life. I wouldn't be here today if it wasn't for Him. I want to encourage other women to do the same – to keep hoping and to keep striving after Christ because He's never going to let you down."
Listen to Part 1 of my interview with Maura: Christopher Closeup Podcast – Guests: Maura Byrne, Part 1 / Emilio Estevez
Visit Maura Byrne's "Made In His Image" blog – and "Like" them on Facebook.