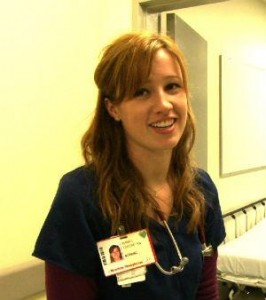 "I think we identify with people who can't help themselves. In some really weird way, I never realized that until Virginia died," said Diana Costine, RN, an emergency room nurse on ABC's summer reality series "NY Med."
The eight-week series takes place at New York Presbyterian Hospital in New York City in its Weill-Cornell and Columbia medical centers. Though Dr. Oz, who works as a surgeon there, was initially used to draw attention to the show because of his media popularity (he's appeared several times), the main draws have been the doctors and nurses whose daily efforts diagnose diseases, heal wounds, and save lives. The featured ER nurses at Weill-Cornell – Diana Costine, Katie Duke, and Marina Dedivanovic – have especially been standouts, revealing themselves to have heart, soul, talent, toughness, and adrenaline to spare.
I've been watching "NY Med" since it started, and been impressed with the real-life stories it tells. If you've ever had a loved one with serious medical issues, you'll relate to the heartaches and victories endured by the patients and their families. Some of my favorite moments, however, came in Episode 6 last week.
The "Virginia" referred to in the quote above is Virginia Dunn, a homeless woman Costine calls a "frequent flyer" because she's been coming to the ER for 20 years with drug and alcohol problems. In this episode, she's brought in drunk from downing two half-pints of vodka and a quart of red wine. The ER staff has been in touch with her family who even sent them pictures of Virginia as a young woman. Dr. Rahul Sharma, the attending ER physician, comments that she was "a striking, beautiful, thriving young lady." Then he wonders, "How does someone get from there to this?" He has no answer.
Dunn is the type of person most of us would probably walk past in the street, doing our best to avoid. Yet Costine and the other attending nurses and physicians treat her with the highest level of dignity, respect, and compassion. I don't know the religious beliefs of the doctors and nurses in question, but this is a concrete example of God's love in action, of people who reflect Jesus' statement, "Whatever you do to the least of these, you do to Me."
It doesn't seem that Virgina Dunn has health insurance, so the hospital won't be making money off her. She would probably be considered a lost cause by most. And from what little we see of her, she's certainly not contributing to society. If we were to judge a human beings' worth simply by those standards, she wouldn't make the cut.
Yet there's something in the hearts of Costine and the others that allows them to see through the fog of how the world sees Virginia Dunn – and instead see her inherent dignity. They seem to like her – and despite her drunken haze, Dunn seems to like them back. Who knows? Maybe they were the few people left in the world who treated her with kindness.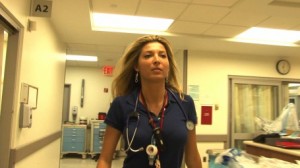 A few weeks after this incident, Dunn is brought in once again by paramedics who found her passed out on 58th Street and First Ave. This time, she's not drunk; she's had a heart attack. Even though the ER team sees heart attack victims all the time, they're shaken because it's someone they know. Costine performs chest compressions to try to revive Dunn. Marina Dedivanovic injects her with medicine to try to revive her. After working on her for quite a while, the doctor finally calls her time of death: 4:36.
Doctors and nurses then start congregating outside the area where Dunn just died, almost like an impromptu memorial service for this patient they've been treating for years. "Everyone came by," Costine recalled. "People from urgent care, from pediatrics. Everyone came by to see her before they took her to the morgue."
This is what prompted Costine to realize that she and her colleagues identify with people who can't help themselves. In a way, she's naming the reason for her professional calling. Sometimes people only think of vocations in terms of religious callings, but nursing and the medical field qualify as well. These are people who see humanity at its most helpless – and who see the results of humanity at its violent worst as well. Into those situations come the nurses who not only tend to their patients' bodies, but care for their spirits as well in the way in which they interact with them. Dealing with that on an emotional level has got to be a challenge.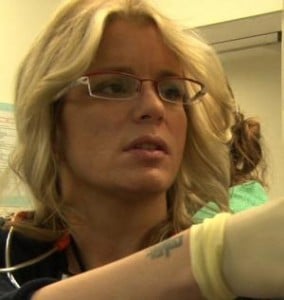 As Katie Duke said after losing another patient, "At the end of the day, no one can be Superman…There's always going to be an emotional battle. Anybody who goes in somewhere and gives it your all, if you come out of there and you lose, you're going to feel a sense of defeat. And if you don't, then maybe this ain't the right field for you."
Even to this layman, that sounds like a wise observation. After all, in order to be an effective nurse, you've got to have a compassionate heart. But in order to not become an emotional wreck at the situations they see in the ER, the nurses need to be somewhat emotionally detached as well. Walking that fine line is a difficult task, but "NY Med's" nurses manage it. Though we don't see them shed tears for Dunn, they look shell-shocked by the whole incident, indicating the emotional turmoil going on inside. They can't let it get to them, though, because there are more patients to care for.
That job requirement to keep carrying on in high stress situations comes with a personal cost as well. The nurses have said that it's sometimes difficult to develop personal relationships because people simply don't understand what they go through every day. It changes them.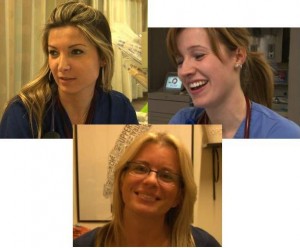 A lot of reality TV stars get famous for their outrageous misbehavior and over-the-top antics. On the opposite end of the spectrum, we now have Diana Costine, Katie Duke, and Marina Dedivanovic showing what actual "reality" looks like. Young-but-mature, they navigate a tough job in New York City with talent, patience, humor, heart, and some of the best bedside manner you've ever seen – even when a surly patient who didn't get the Cheerios he wanted for breakfast started yelling and throwing things. (I give Costine credit for not decking the guy.)
What it comes down to is that these nurses are a prime example of the type of humility and service to which we're all called, regardless of our chosen careers or life situations. They're the types of nurses you'd want around when you're at your most vulnerable – and maybe by highlighting them on TV, they'll inspire young people to get in touch with the better angels of their natures and pursue careers in nursing.
Though they may not be "Superman," as Duke said above, in my opinion they're the heroes of reality TV this summer.
The final episodes of "NY Med" will air on Tuesday Aug. 21 and Wednesday Aug. 22 at 10:00pm Eastern on ABC. The show features adult situations and themes along with close-ups of internal organs during surgery. Be forewarned in case any of that makes you squeamish.