What do Jesus, a country song about divorce and a research study about gratitude have in common? More than you might think.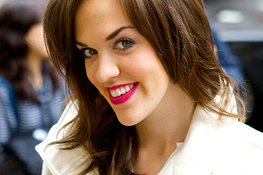 The study came to my attention yesterday when I read Ashley Crouch's reflection on the benefits of gratitude over at the "Verily" magazine blog. Ashley stated that "a report from the Harvard Medical Association found that gratitude helps us refocus on what we have instead of what we lack. Those who count their blessings have less likelihood for depression, anxiety, or envy, while possessing stronger social connections, greater relationship satisfaction, and a real leg up in the workplace."
Then, since she is the Relationships Editor for "Verily," Ashley highlighted some facts about how that applies to couples. She wrote:
World-renowned psychologist Dr. John Gottman studied thousands of couples and found that those who practiced a 5:1 ratio of positive compliments and behaviors to negative ones reported the highest satisfaction. Couples who regularly take time to consider those qualities that they appreciate about their significant other put stock in what Gottman calls the "emotional savings account," that helps them be more resilient during times of stress.

Conflict will happen in any relationship, but major research on emotional psychology discovered that it can be easier to offer criticism when both parties rest secure in their affection and goodwill towards one another. By contrast, Gottman found that couples headed towards divorce or in a strained relationship exhibit a ratio of just under 1:1.
Now this is where the country song comes in: specifically, a tune from the 90s called "Love Goes Without Saying" by singer-songwriter Suzy Bogguss. As with many country songs, the title is actually a clever turn of phrase in relation to the story it tells.
Part of the lyrics are sung from the point of view of a husband who works hard to support his wife. But he never actually tells her he loves her. He assumes his love goes without saying. From the wife's perspective, however, that assumption is way off base. Since she's never heard her husband say the words "I love you," her love for him has disappeared. In other words, her love has gone because he never said anything.
Specifically, the first verse says:
He knows each time he holds her,
It's love but he's never told her.
He thinks that she knows,
He thinks that it goes without saying.
That's not the way she planned it,
She needs to have a man
That can call it by name
Or it's only a game that they're playing.
Unless she knows, the distance grows
Because love goes without saying.
Even though these are just song lyrics, there's no doubt that this kind of relationship problem exists and, based on the study Ashley cited, is a major problem for couples today. It's also a problem that's relatively easy to fix once you acknowledge it. All it requires is sincere words that have more power than you think.
It's also an idea we can apply to our spiritual lives during Advent. As we prepare to celebrate God's gift of Jesus, His only Son – a gift which conveys how much He loves us – we have the opportunity to show God how much we love Him by doing things which move us closer to Him: daily prayer and Scripture reading, for example. Or extra visits to church for quiet reflection, Mass or Eucharistic adoration.
We generally think of Lent as the time to take on extra tasks out of love for God, but Advent can be just as spiritually fruitful. It may even be more vital because the hustle and bustle of the holiday season can leave us frazzled, distracted and spiritually bereft. A conscious effort on our part to remember the coming Christ-child can keep us grounded in the true meaning of the season.
God's love for us will never go away, regardless of whether we engage in a relationship with Him or not. He's good that way, much more patient and understanding than we are. But to reiterate a point in the aforementioned gratitude study, "[couples] who practiced a 5:1 ratio of positive compliments and behaviors to negative ones reported the highest satisfaction."
If your relationship with God is feeling lackluster lately, take the opportunity to return His love on a more regular basis. Offer words of praise, not just petition. And take time out to just "be" with each other. You may come to experience God's love in a new, more satisfying way.