If you could get a hold of Santa's 'naughty or nice' list which reveals the misdeeds of everyone who's ever done you wrong, wouldn't it be great to get revenge against them? In principle, that's the question asked by the new Hallmark Channel Christmas movie "Naughty or Nice."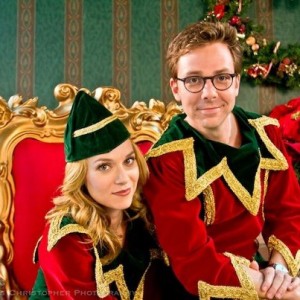 Perpetually aggrieved Krissy Kringle (part of the reason she's aggrieved is her name) who lives on Candy Cane Lane (another source of aggrievement) is fired from her job as an ad executive even though she was expecting to get a promotion. When she gets home, she's even more frustrated that the post office has delivered a pile of letters to Santa to her house because of her name and address. Despite her name, however, Krissy isn't related to the North Pole Kringles.
One letter and package pique her interest. It's a book which says "Naughty or Nice" on one side – and "Nice or Naughty" on the other. The letter accompanying the book is from a young girl saying she is sending it back to Santa because he accidentally left it at her house.
Krissy soon discovers that when she speaks somebody's name to the book, it magically opens and reveals how they've been naughty. She starts using the book as a way to expose people's wrongdoing and enact justice…or revenge. The two can seem to be the same thing at times.
Eventually, Krissy takes things too far and finds out that there can be two sides to every story – and that people she had judged as cold-hearted or traitorous have nice sides to them as well as naughty.
"Naughty or Nice" has several things going for it, the first of which is the lead performance by Hilarie Burton as Krissy. She embodies just the right amount of comedic snark to keep her character angry and funny, yet likable.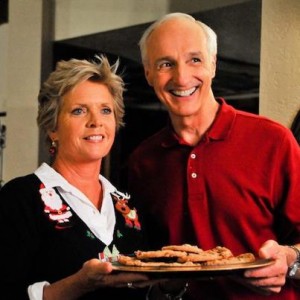 For us classic TV fans, it's also great seeing Michael Gross and Meredith Baxter (aka Steven and Elyse Keaton from "Family Ties") playing Krissy's parents, Walter and Carol. The two actors still have a comfortable couple's chemistry between them.
Another one of the movie's perks is the revenge theme I referenced at the beginning of this review. After all, who hasn't been wronged by people at various points in their lives? It's a natural human emotion to want to get back at them. We may tell ourselves it's about justice, but there's a fine line between justice and revenge that human beings don't always walk too well.
Of course, revenge also goes against that whole "love your enemies, pray for those who persecute you" thing Jesus talks about. The movie offers a good reminder that the people in our lives who sometimes do rotten things can also do kindhearted things. And if we're honest with ourselves, sometimes we're the ones who are rotten.
I also found it a plus that the romantic aspect of "Naughty or Nice" was secondary. Sure, the question of whether Krissy will get together with her boyfriend of six years (Matt Dallas) or her new co-worker Marco (Gabriel Tigerman) is there, but the story is more about Krissy's journey as a person. There are enough Hallmark movies all about couples getting together, so this different focus was a nice change of pace.
My one criticism about the film has to do with the discovery of character's "nice" sides. Though Krissy takes her mission to get back at people too far at times, there's little doubt that some of them deserve to suffer consequences for their actions – in particular, Krissy's neighbor. In order to redeem that character though, the story makes her "nice" side a little too saintly. I realize a story about Santa's naughty or nice list isn't supposed to be realistic, but this character turn felt too convenient and pat.
Overall though, "Naughty or Nice" brings a welcome dose of snark and sweetness to the Hallmark Channel's "Countdown to Christmas" this holiday season.
("Naughty or Nice" – written by Rickie Castaneda and directed by David Mackay – airs Thursday Nov. 29 at 8pm E/7pm C; Saturday Dec. 1 at Noon E/11am C; Wednesday Dec. 5 at 8pm E/7pm C; Thursday Dec. 20 at Midnight E/11 C; Tuesday Dec. 25 at 10pm E/9pm C)