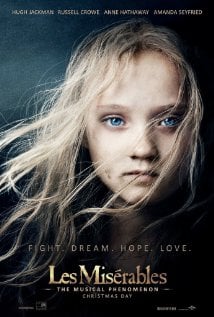 The new film adaptation of the hit Broadway musical "Les Miserables" is so powerful, the Apocalypse has been postponed so people can see it when it opens on December 25.
The Christmas debut is appropriate since it's the most profoundly Christian story for mainstream audiences that's been produced in years. Far from being a niche movie just designed for religious viewers, this is a big budget drama whose universal values will appeal to anyone yearning for riveting storytelling, engaging acting, and songs that will leave you singing for days, even years, on end. And in light of the recent killings at Sandy Hook Elementary School, one element of the story might seem particularly resonant, relevant and comforting.
The movie begins in 1815 France with a bruised, beaten and almost-unrecognizable Hugh Jackman as Jean Valjean, a prisoner who is finally being released on parole after 20 years of slave labor for the crime of stealing a loaf of bread for his sister's starving family. Police Inspector Javert (Russell Crowe) believes he'll see Valjean arrested again because criminals don't change their ways.
Unable to find work due to his background as a convict, Valjean becomes like a feral animal, filled with rage and resentment. Unexpectedly, he is welcomed into the home of a Christ-like bishop (Colm Wilkinson) who sees the abuse he's been enduring. He feeds Valjean, prays with him, and gives him a bed in which to sleep. Valjean repays this kindness by stealing the bishop's silverware.
When the police catch him, they ask the bishop to press charges. That leads to one of the most touching examples of mercy in any artform, be it film, TV, theater or literature. The bishop tells the police that he had given Valjean the silver as a gift, then adds that he meant to give him two expensive silver candlesticks as well. The police have no choice but to let Valjean go.
Both Wilkinson, as the epitome of Christian virtue, and Jackman, as the recipient of kindness for the first time in decades, play this scene beautifully. Jackman reacts to this unwarranted grace like it's a shock to his system. He genuinely doesn't know what to make of it.
But the bishop tenderly sings to him, "And remember this, my brother, / See in this some high plan. / You must use this precious silver / To become an honest man. / By the witness of the martyrs, / By the passion and the blood, / God has raised you out of darkness: / I have bought your soul for God."
Even if you've seen this scene in the play, the fact that film allows for closeups of the actor's faces adds a new level of depth to the situation. (And fans of the original theatrical production will find an added layer of depth in the show's original Valjean – Wilkinson – playing the bishop here.)
The better angels of Valjean's nature finally rise to the surface because someone else made the effort to draw them out. He takes advantage of this second chance, adopts a new identity and tries to live an honorable life. Of course, this also makes him a fugitive from justice who Javert will continually pursue.
As the story proceeds, we meet Fantine (Anne Hathaway), a young woman who is fired from her job after 19th century France's version of "mean girls" expose her secret of having a 10-year-old daughter out of wedlock. Forced to become a prostitute to make money, the demeaning nature of this life takes a tragic toll on Fantine.
Her only comfort as she dies comes from Valjean. When he discovers he owned the factory from which she was fired, he is guilt-stricken and agrees to raise her daughter, Cosette, as his own. Whereas the bishop introduced Valjean to mercy, Cosette brings love into his life for the first time. It is these two virtues—mercy and love—that lay at the heart of the story.
The ensuing years aren't easy because Valjean still needs to live in the shadows. And with talk in Paris about revolution due to severe societal inequality, Valjean is tested in a new way that threatens his moral code, commitment to God and very life.
Though all the performances are excellent, the film rests on Jackman's and Hathaway's shoulders. In Jackman's case, it's the strength of character he displays as Valjean – both in action-driven moments like a sword fight with Javert, and in tender moments like his promise to Fantine on her deathbed – that make him shine.
Hathaway's performance, on the other hand, conveys its strength through her character's vulnerability. She is a broken woman whose despair and feelings of abandonment by God are heartbreaking, especially when performing Fantine's signature song, "I Dreamed a Dream:" "I had a dream my life would be / So different from this hell I'm living / So different now from what it seemed / Now life has killed the dream I dreamed."
This is also one of the scenes in which director Tom Hooper's decision to record the actor's singing live on the set instead of in a recording studio pays off in a spectacular way. Hathaway is so 'in the moment' here, it's hard to believe the song would have packed the same emotional punch had it been performed at a different time and out of context.
Russell Crowe as Javert surprised me. The character is basically the villain of the story, yet Crowe plays him in a way that I found myself feeling a little pity for him. Like Valjean, he's a devoted Christian. But he's never evolved beyond an Old Testament-like rigid adherence to the letter of the law. Put simply, he doesn't understand mercy.
When it's offered to him near the end of the story, he's discombobulated, much like Valjean was in the beginning. But whereas Valjean accepted his second chance and adjusted his worldview, Javert struggles mightily with this concept that would compromise his lifelong belief system.
In a sense, Valjean and Javert are like Peter and Judas in the Bible. Peter is humble enough to accept forgiveness and forge a new path in life after betraying Jesus. Judas, on the other hand, despairs after his betrayal. His pride stands in the way of him accepting mercy.
The film includes notable performances from two lesser-known actors as well. First, Samantha Barks as Eponine, a role she plays in the theatrical production. Though she's a criminal like her parents, she sees how empty that life is and yearns for something better. She sees the possibility of that dream being fulfilled when she falls in love with Marius, who himself is in love with Cosette. Barks, whose naturally kind eyes add to Eponine's melancholy-but-hopeful demeanor, sings from the heart (while crying in the rain, no less), making her a standout.
T
he young Cosette, played by 10-year-old Isabelle Allen, is also quite a discovery. An actress whose only experience up until recently was co-starring in a school play at the Moira House Girls School in England, makes a huge impression as Valjean's adopted daughter. She doesn't project a forced cuteness and innocence like some young actors. Instead, she conveys a genuine charm, making it easy to believe how quickly Valjean comes to love her as his daughter.
Set design, makeup, costume and casting deserve praise for recreating the stark contrast between the haves and have-nots in 19th century France. The poor truly look miserable, especially when surrounded by the more fortunate who can barely tolerate them. It's a vivid reminder of what a people and society looks like that abandons its responsibilities to "the least of these."
My only minor critiques of the film are that the second half, which deals with the attempted revolution, seems to drag a little – and I found some of the fight scenes at the barricade a little hard to follow. But the brilliant musical score and lyrics by Claude-Michel Schonberg, Alain Boublil, Jean-Marc Natel and Herbert Kretzmer are so powerful that they always keep whatever's going on in the story engaging.
That's especially true with the film's signature lyric, "To love another person is to see the face of God." Sung during the movie's most powerful scene, it becomes even more meaningful in light of the loss of lives endured by 27 families in Newtown, Connecticut last week. Without revealing too much to those unfamiliar with the story, it should be a source of hope to anyone who has endured the loss of a loved one.
At the risk of sounding like Jerry Maguire, we live in a cynical world. Yet "Les Miserables" is a story for our times about personally choosing holiness when the world around us does the opposite. Its characters find their strength through love, sacrifice and self-denial. Along the way, they discover redemption, unwarranted grace, and even the communion of saints.
In essence, "Les Miserables" is a perfect film for the Christmas season. It will likely stay with you long after Christmas is over.
RELATED ARTICLE: Hugh Jackman, Anne Hathaway and the Stars of "Les Miserables" on Love, God and Modern-Day Slavery