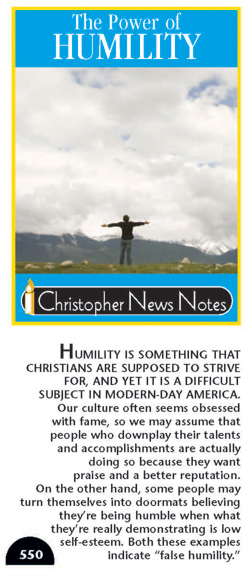 The following is an excerpt from the Christopher News Note "The Power of Humility."
Humility is something that Christians are supposed to strive for, and yet it is a difficult subject in modern-day America. Our culture often seems obsessed with fame, so we may assume that people who downplay their talents and accomplishments are actually doing so because they want praise and a better reputation.
On the other hand, some people may turn themselves into doormats believing they're being humble when what they're really demonstrating is low self-esteem. Both these examples indicate "false humility". When we see true humility, we admire it. It calls to something deep within us. Let's take a look at the real meaning of humility, how it changes lives, and how it helps us grow closer to God.
Seeing ourselves as God sees us
People who are humble know the truth about themselves. They understand their strengths without bragging. They understand their weaknesses without making excuses. They keep God at the center of their lives by seeing themselves through His eyes.
Humble people strive for excellence and value their accomplishments, while always remembering that those talents were given by God in the first place. If they are praised, then it is only right to be satisfied at using talents well, while also giving glory to God.
Acknowledging our shortcomings and failures is a vital part of humility. It is impossible to move forward without a clear assessment of what needs improvement. Asking God for help begins with knowing that help is needed in the first place.
Above all, humility is grounded in complete confidence that God loves us whether we succeed or fail. Our worth is not in being perfect. Perfection is, after all, impossible. Our worth is in having been created in God's image, as His child.
The result is freedom. Freedom from bias in our own favor results in a kind of self forgetfulness. The humble person is able to celebrate others' accomplishments and mourn others' shortcomings as honestly as his own.
In this way, he truly fulfills Christ's command: "You shall love the Lord your God with all your heart, and with all your soul, and with all your mind. This is the great and first commandment. And a second is like it, You shall love your neighbor as yourself." (Matthew 22:37-39)
If you'd like to read "The Power of Humility" in its entirety, you can request a pdf version of the pamphlet or a hard copy by emailing radio@christophers.org