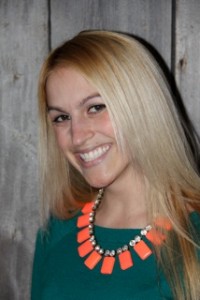 The darkest experience of former Sandy Hook Elementary School teacher Kaitlin Roig's life has motivated her to start a project that will add a little light to the world by teaching children about generosity and compassion.
Many people were introduced to Kaitlin on Dec. 14, 2012 when ABC's Diane Sawyer interviewed her following the Sandy Hook school shootings in Newtown, Connecticut, which left 20 children and six teachers dead.
When the first-grade teacher heard gunshots, she immediately moved her 14 students into a bathroom and blockaded the door with a small storage unit. Kaitlin then asked the six and seven-year-olds to either pray or think "happy thoughts" to keep themselves calm. She also told them that she loved them so they would at least have that to hold on to if the worst happened.
Thankfully, Kaitlin and her students survived that horrific day. In the aftermath of the ugliness they had experienced, they were overwhelmed by the beauty they encountered through acts of kindness: specifically, donations of gifts that came in from around the country and around the world.
During an interview with me on Christopher Closeup, Kaitlin recalled, "My students, as well as all the students of the school, had everything from Happy Meal parties to teddy bears to new pencils and books. You name it, it was sent to our school! After being back [in school] a week and then continuing to get and get and get, I sat down one day with the kids and I opened a large box that was filled with toys for recess. I said, 'Does anyone know why someone did this for us?' They started raising their hands and said things to the effect of, they wanted to help us, they wanted to be nice. And I said, 'You're all absolutely right. And in life, when somebody makes you feel that way and does something nice for you, you have to turn around and do something nice for someone else. Because that's the way the world is meant to work."
That's when Kaitlin decided that her class would find another class in the United States to whom they could send a gift. "We're going to send something to them to make them feel the way we feel right now," she explained.
The excited reaction she got from the kids prompted the teacher to think, "This is much bigger than my class! Because they are our youngest citizens, this is an experience that every K through 5 child should have."
And so, "Classes4Classes" was born. The idea is that kids in classes from Kindergarten to grade five, will do research to find a class that they want to help or simply give a gift to. "Then, through the website Classes4Classes.org," said Kaitlin, "they are able to use a teacher database where they can put in their class's information as well as the receiving class's information. They write up why it's so important that the other class gets what they're getting, and then donors are able to access the site and fund that for those children so that they can learn that very crucial lesson of giving to someone else."
The initiative's full launch will come in September 2013, and be open to "every public school teacher, k – 5, in the United States," with the eventual hope of growing beyond that. "Classes4Classes" has already had 15 teachers taking part in the soft launch.
One of those projects was taken on by Mrs. Thavenius' 4th grade class at Pine Grove Elementary School in Avon, Connecticut. They decided to help Mrs. Eckert's 6th grade class at Promise Academy in New York City.
On the "Classes4Classes" website, Mrs. Thavenius reported, "I told my 4th graders we would be sponsoring a 6th grade classroom in New York City. Students in Mrs. Eckert's 6th grade class mailed hand-written letters, containing 'wish list' requests, to the students in my 4th grade class. Each one of my students independently read a letter and then we came together to discuss the greatest need. Some students in Mrs. Eckert's class asked for new chairs, desks, and school supplies. But the overwhelming request was for new books. And what better gift than to encourage students to read more! It was unanimous. We voted to raise money to build a new classroom library for Mrs. Eckert's 6th grade class!"
Mrs. Thavenius' class has already raised over $1,000 of their $1,725 goal.
Kaitlin's plan is for the "Classes4Classes" website to be a hub of activity where teachers can upload their students writings or pictures, where there will be a "Pay It Forward" corner where kids can keep track of their efforts to help someone else, and much more.
The importance of giving to others isn't new in Kaitlin's life. She said, "My parents instilled in me from a young age that when you have, you have to give. And when you have a lot, you have to give a lot. My parents still show that through [donating] a percentage of whatever they have. It's really important to live your life that way [because] that's the way you understand other people's needs. It really does make the world a better place."
Beyond that, Classes4Classes is also a method of healing for Kaitlin who continues to deal with the events of that life-changing December day. She said, "It's one foot in front of the other, one step at a time. I'm one hundred percent focusing on the positive. You have to. There were 26 lives lost. You have to honor them."
(To listen to my full interview with Kaitlin Roig, click on the podcast link:)
Christopher Closeup podcast – Guests: 1) Kaitlin Roig, 2) Gabrielle Douglas and Natalie Hawkins