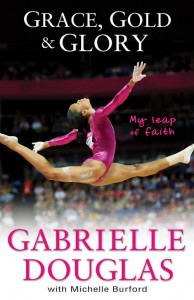 One of the most impressive things about Olympic gymnast Gabrielle Douglas' memoir "Grace, Gold & Glory" is that even though it's her life story, she doesn't make it all about herself. The teen readily acknowledges that if it weren't for the support offered and sacrifices made by her mother, brother, and sisters, she would never have won two gold medals at the 2012 London Olympics.
During an interview with me on Christopher Closeup about that book and her latest one for younger readers entitled "Raising the Bar," Gabrielle admitted, "[My family] gave up their dreams so I could accomplish mine, so I'm very thankful for them."
Her family's road was never easy. As recounted in "Grace, Gold & Glory," Gabrielle's mother, Natalie Hawkins, almost bled to death after giving birth to the future Olympian. Soonafter, Gabrielle was diagnosed with a rare blood disorder called Branched Chain Ketoaciduria which prevents people from processing a certain kind of protein. Though Natalie fed her daughter constantly, she would vomit up the food and constantly be losing weight. Gabrielle was a few months old, but she weighed only four or five pounds.
With no money for medical care, Natalie prayed. A lot. Gabrielle writes, "Mom prayed for me every single day as she quoted (and requoted) a powerful Scripture, Isaiah 53:5: 'But He was wounded for our transgressions, He was bruised for our iniquities; the chastisement of our peace was upon Him, and by His stripes we are healed.' As it turns out, God answered Mom's prayers and came through with a miracle: By the time I was six months old, the disease had gone away."
As Gabrielle got older, she developed a passion for gymnastics. It became evident to her family that it wasn't just a passion; it was a genuine talent. And so, sacrifices were made.
Gabrielle's sister Arielle, who the family originally saw as their future world-class gymnast, willingly set aside her own goals so her sister could thrive in the sport. And Natalie worked extra hours to pay for her daughter's gymnastics training.
Natalie's sense of selflessness was passed down to her by her own parents. She joined Gabrielle for our interview and told me, "My mom and dad are people who love to reach out. We'll be going somewhere and be in the car and [my dad] will want to pull off on the side of the road and help someone. I say, 'But we have somewhere to go, Dad!' And he's like, 'No, baby, no. We're gonna help them.' My mom is the same way, so that's where I really learned it. And I always strive to teach my kids that the world is greater than just you, it's about what you can do to help someone else."
Another key ingredient in Gabrielle's success is the same Christian faith her mother relied on during times of trouble. Gabrielle explained, "My mom has always taught me and my siblings the Word, and I don't know what I would do without my faith and strong beliefs. It's always helped me through struggles and even my gymnastics journey to London. When I got hurt, I would just meditate day and night, 'By His stripes I am healed.' And when I was having struggles in the gym, if I kept falling multiple times, I kept quoting, 'I can do all things through Christ who strengthens me.'…I was recently watching my gymnastics competition [on video] and I saw my lips moving. That's me praying, something I do regularly every competition and every time I'm about to go out there and compete."
The biggest leap of faith in Gabrielle's life may have been the choice to move from Virginia to Iowa so she could train with Liang Chow, the coach who helped lead gymnast Shawn Johnson to gold and silver Olympic medals in 2008. The mother, brother and sisters that she was so close to wouldn't be able to move with her, so this would be a whole new experience. Natalie wasn't thrilled with the idea, but she believed in her daughter's dreams and ultimately approved.
Gabrielle would wind up living with a "host family" – Travis and Missy Parton, and their four children – that neither she or her mother had ever met. Missy's mother had recently died so she was feeling the loss of that love in her life. She decided that the best way to fill that void with new love was by welcoming someone who needed help into their home.
Missy sent a letter to Chow to let him know that her family would be open to hosting one of his gymnasts who needed a home away from home. Chow passed that letter on to Natalie who could sense Missy's heart in the words she wrote. Though letting go of her daughter was still a sacrifice, Natalie felt much better knowing that she'd be with a solid Christian family like the Partons.
At first, Gabrielle was so shy around the Partons that she would call Natalie and ask her to ask Missy to buy her something. Missy's natural warmth soon won out, though. Gabrielle told me, "It took me a little long to come out of my shell. But now, I tell them everything…and we're very close! [Missy is] my second mom and that's my second family, so I love them!"
Being coached by Liang Chow also brought Gabrielle her desired results. She said, "Chow definitely brought out the best in me. He pushed me every single day. I remember I was on vault and I kept falling, so I stayed overtime. He came to me and said, 'I have to push you now because if I don't, and if you don't make it, you're not gonna like me because you would have wanted me to push you more.' And ever since that moment, I trusted him. I had to push myself because he was giving one hundred percent so I knew that I couldn't give seventy, I couldn't give ninety—all I could give was one hundred percent back."
Though there were still some bumps in the road (including a bout with discouragement that almost led her to give up gymnastics completely), Gabrielle's one hundred percent effort paid off at the 2012 London Olympics where she won a team gold medal with her Fierce Five teammates – Kyla Ross, Jordyn Wieber, Aly Raisman, and McKayla Maroney. Then she became the first African-American to win gold in the individual all-around competition.
Gabrielle writes, "On a rainy Thursday afternoon in London, my God had made it all possible. And of course, I couldn't have done it without my family, my coaches, and my host family being right there by my side the entire time…As I stood before thousands, and millions more watched from every corner of the globe, a series of memories reeled through my head:…The hundreds of double shifts Mom had worked to cover my fees. The countless hours I'd spent in training. The difficult two-year separation from my family. That day, seven months earlier when I almost gave up on my goal. In an instant, all the sacrifices, the injuries, and the homesickness felt worth it. On August 2, 2012, my leap of faith became God's gracious gift to me….And for as long as I am alive, I will always remember that moment. I give God all the glory, and that's a win-win situation. The glory goes up to Him, and the blessings fall down on me."
(To listen to the full interview with Gabrielle Douglas and Natalie Hawkins, click on the podcast link):
Christopher Closeup podcast – Guests: 1) Kaitlin Roig, 2) Gabrielle Douglas and Natalie Hawkins
To read about the podcast interview with former Sandy Hook school teacher Kaitlin Roig and her new initiative to teach kids generosity and compassion, click here.