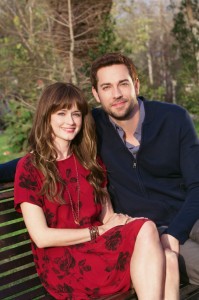 There may be some people in your life that you wish you could forget, but Gus Gillenwater (Zachary Levi) in Hallmark Hall of Fame's "Remember Sunday" (airing Sunday April 21 on ABC at 9/8C) has the opposite problem. As the result of a brain aneurysm he suffered in 2009, his long-term memories remain intact, but going to sleep makes him forget everything that happened the previous day. In essence, he's experiencing Bill Murray's "Groundhog Day" in reverse (an observation also made by Zachary Levi in an interview).
Unlike Murray's character in that film, Gus doesn't need to learn a moral lesson about how to treat people. He's already the Hallmark standard guy who's kind, funny and charming. What he yearns for, though, is a normal life with genuine relationships that don't start from scratch every morning.
That desire gets ratcheted up a notch when Gus meets Molly (Alexis Bledel), a financially-strapped waitress with a sunny disposition. Their instant connection prompts Gus to record a voice reminder for himself to come back to the diner at which Molly works.
Those reminders are what Gus lives by. He carries a voice recorder everywhere he goes so he can make notes about the things he's supposed to remember from day-to-day. He then uploads his recordings to his computer which transcribes what he said so he can revisit his life experiences. In addition, his apartment is plastered with post-it note reminders, along with a file his sister put together for him to read every day which explains what happened to him.
Much of "Remember Sunday" involves Gus and Molly falling in love, with the undercurrent that he's afraid to tell her about his medical condition. He secretly records their conversations so he can remember what happens from date to date.
Eventually, the truth is revealed and then the story turns to the challenges involved in making it work, especially for Molly who is faced with the possibility of marrying someone who will forget her after he goes to sleep every night. Trying to look at the bright side, she considers that she'd have a husband who falls in love with her anew every day of her life.
Despite the serious undertones, the film also conveys plenty of smiles as well. Though it's not as comedic as the similarly-themed "50 First Dates" with Adam Sandler and Drew Barrymore, the script does find humor in Gus' situation.
The film also benefits from the connection of its stars. Alexis Bledel brings the quirky optimism and angst she possessed as Rory Gilmore on "Gilmore Girls" to her role as the perpetually-striving-to-get-her-life-in-order Molly. And Zachary Levi still embodies the nerd-charm and humor he displayed so well as the titular hero of the NBC action/comedy series "Chuck." Perhaps as a nod to the show's fans, there's a scene in which Gus and Molly reveal their passion for "Star Wars" pez dispensers. And as a former astrophysicist, Gus references Orion at one point. "Chuck" fans will understand the reference, whether or not it's intentional.
Like many Hallmark Hall of Fame films, "Remember Sunday" manages to tell an old-fashioned love story using current Hollywood stars in order to attract a young audience. This one is both amusing and bittersweet, while also conveying an important message about making a lasting commitment in a relationship that's grounded in loving the other person more than yourself. That's a pretty good message for young and old alike.
(Hallmark Hall of Fame's "Remember Sunday" airs on ABC Sunday April 21 at 9E/8C.)