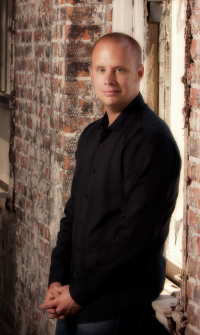 "We made ourselves available in the corners and the crevices and the dark places in the middle of the night."
That's how Matthew Barnett and 600 volunteers celebrated his 19th anniversary as the pastor of Bethel Temple in Los Angeles' Skid Row – and his work as founder of the Dream Center, which reaches more than 50,000 people each week through hundreds of ministries for the needy, lost and forgotten.
Though Matthew initially considered throwing a party for his anniversary, he soon felt God calling him to revisit all the places in the community that he'd spent his career serving. That's when he devised a plan to perform 24 straight hours of service for the homeless, drug addicts, prostitutes and anyone else who needed material help, a human touch and God's grace.
During a recent interview on "Christopher Closeup" about his book "God's Dream for You: Finding Lasting Change in Jesus," Matthew noted that many of those they encountered were "shocked to see church people" during hours when they typically weren't out.
Part of the night was spent reaching out to prostitutes, some of whom had been visibly beaten. Matthew and another volunteer gave them each a rose and some lip gloss, which included a phone number where they could find help to move beyond their current situations.
Far from being a "victimless crime," as it's often described, prostitution is a debilitating life for the girls involved in it. Matthew said, "We have a shelter for these girls, who are victims of trafficking. And we receive teenage girls, 14 or 15 years of age, at 5:00 in the morning. When we offered them these roses, the girls would literally cry and say, 'You have a free gift for me?' [For them], somebody showing up with love in the middle of a very cold, dark place was very special. And then, after we gave them lip gloss with the phone number of how they can be rescued, we got phone calls throughout the night saying, 'The next free moment I get, I want to come to your place to get help.' And you can definitely see that some kid ran away from home, ended up on the streets of L.A. thinking that maybe their dreams would come true. Unfortunately, they found a nightmare and are working off the accommodations that they've been given for free. There are all different ways that slavery presents itself in our community, and we saw it that night."
It Started with a Murder Outside the Door
Matthew's ministry began 19 years ago with an incident that would have led most people to run in the other direction. On his first day as pastor at Bethel, a teenaged boy was shot and murdered outside the church door. Though he wasn't sure he could handle this type of environment, Matthew got to work doing what needed to be done.
He said, "What kept me going, I believe, was ministering to the family [of the boy that was killed]. We paid for the funeral, and we walked into their house and said, 'We're gonna make sure that we're there for you.' It was one of the most meaningful experiences in my life. After that day, there was no way I could ever quit."
That commitment eventually led Matthew to take in someone suffering from drug addiction. Then he took in a homeless family. As the dream of helping others grew, Matthew noticed the now-vacant and shut down Queen of Angels Hospital in Echo Park, which had been run by the Franciscan Sisters of the Sacred Heart.
Though major entertainment companies wanted to buy the facility, the Archdiocese wound up selling it to Matthew's church at a discount because he promised to make it a place of spiritual healing.
Now named the Dream Center, the facility's website describes it as "a place to offer God's love to the homeless and addicted, to victims of sex trafficking and domestic violence, to emancipated foster youth and to those who hunger for food and hope." They house 750 people in the building every day and minister to many more, teaching them not just to survive, but to start dreaming about and creating a better future.
A Consistent and Christ-like Love
Matthew explains that he modeled the Dream Center's approach of offering material and spiritual support after Jesus's approach: "One thing that I love about Jesus is He allows people to belong in order to believe. He didn't say, 'When you believe, then we'll let you belong.' He allowed people to belong first in order that they may believe. And that's one of the great things that compassion does. It opens up the door where people begin to understand that we're gonna love them unconditionally, whether they receive the message of Christ and His compelling love for them, or if they don't. But it gets hard not to believe when people have loved you so long and been so consistent in your life."
Many of the people Matthew has encountered (and who he writes about in the book) have pasts that would shock most of us. There was one 14-year-old, for instance, whose mother got him hooked on crystal meth. Though that teen managed to turn his life around, not all do. Not being able to save everyone took a toll on Matthew for a while, and left him wondering why a good God allows such horrific things to happen.
Time and experience have given him a new perspective, though. He said, "I began to find that you can't let your heart be destroyed by the ones that fall on the wayside. You have to build upon something, and that's the success of the ones who do make it…60 percent of my staff are graduates of our Drug and Alcohol Rehab program. In our church, we've got ex-pimps, ex-murderers. And that's just the pastoral staff …When I started to see what God can do with these people, then I began to realize that some of the finest people I've ever met are some of the most broken people I've ever met."
Stop Being Holier Than Thou
Far from being just a social worker, Matthew makes sure that he and his staff stay grounded in the Christian foundation of their work by making time for prayer. He notes that for years, there were two groups of people in the church: those more focused on prayer and those more focused on outreach. Each group thought they were holier than the other.
Matthew had to explain to them that they're both important: "It's like two wings of an airplane—evangelism, reaching people that are lost and serving others is one wing—and prayer is the other. You can't do one without the other. So we've set aside this old chapel now where people can come 24 hours a day. That old, beautiful Catholic hospital that was sold to us, it had a beautiful chapel that we didn't change. All we did was resurface it a little bit, when it was torn up."
At times, maintaining the chapel was a controversial decision. Matthew explained, "For years, people said, 'We need that space.' And the Lord just spoke to my heart—'there can be one building on this place that's dedicated 100% to prayer.' And people wanted that room, they fought for it. But I'm saying, 'No. That has got to be a place of prayer.' Everyone that goes out on an outreach needs to stop by the chapel for at least five to ten minutes."
Changing the Culture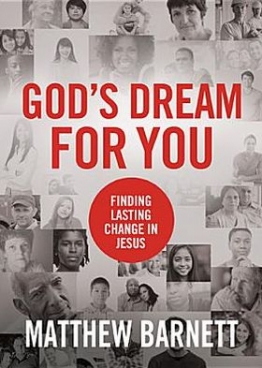 In "God's Dream For You," Matthew acknowledges that we're living in a culture that keeps trying to push God out of our public lives, and that mocks God and believers. His solution, however, is not to complain about it, but to get out and do something.
He said, "We have to spend most of our time outside the four walls of the building. We saw crime drop 73% in our neighborhood in a three year period, but I believe that's because [the church and volunteers are] changing the atmosphere of the community. By being out there for so long, we're consistent—picking up trash, painting graffiti. There are certain things that you [have to] earn through consistency: outlasting the liquor stores, outlasting the pushers who go to prison. The Church will still be there. So the way we fight a culture that's trying to tear everything godly apart is we engage it rather than run from it."
(To listen to my full interview with Matthew Barnett, click on the podcast link:)
Christopher Closeup podcast – Guest: Matthew Barnett