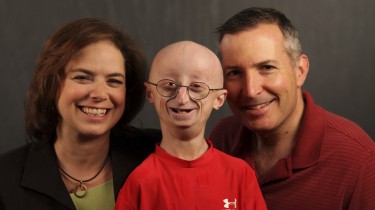 Sam Berns was supposed to be dead by age 13 because he was born with the disease progeria, which causes rapid aging. No drugs have been developed to halt or cure progeria being only 250 children in the entire world have it.
But Sam's mother, Leslie Gordon, is a doctor – and mothers don't accept fatal diagnoses for their children without putting up a fight.
Leslie got together a group of scientists to research progeria, and wound up finding the genetic mutation that causes it. As a result, a drug was developed and put into trials. So far, it's been successful at slowing the disease's progression. It's not a cure, but it is a step forward. And it allowed Sam Berns to reach his 17th birthday yesterday, Oct. 23.
HBO recently
aired a documentary
about Sam, but here's a three minute segment from ABC News that offers a quick summation of his powerful story.