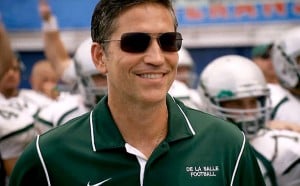 If you're a fan of sports movies and "Person of Interest" star Jim Caviezel, then you'll be a happy camper this summer when his new feature film "When the Game Stands Tall" is released on August 22.
Inspired by a true story, the film tells the story of Concord, California's De La Salle High School football team who went on an unprecedented 12-year winning streak under the guidance of coach Bob Ladouceur, played by Caviezel. Ironically, the heart of the story isn't so much about the winning streak, but about how the coach and team dealt with their inevitable fall from perfection.
As Coach Ladouceur tells his team in the trailer, "We got lost and caught up in the hype, the glory and the relentless pressure. That's not who we are. We need to stand back up and find our way again."
The film also stars Laura Dern and an almost-unrecognizable Michael Chiklis. Check out the trailer below.