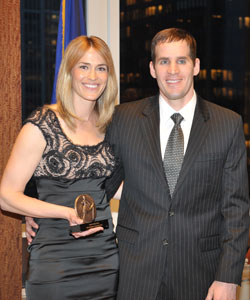 In 2011, we recognized Captain Scott Smiley (seen here with his wife Tiffany) with a Christopher Leadership Award. Why?
On April 6, 2005, while Captain Smiley was on patrol with his platoon in Iraq, a suicide bomber exploded a car bomb that sent shrapnel and debris into Smiley''s eyes and brain, permanently destroying his vision. Initially, he was consumed by hatred for the suicide bomber and even doubted God''s existence. When he was finally able to forgive the bomber in his heart and accept his new situation, the young Army officer took many positive steps forward, including the pursuit of a Master's degree in business administration.
As someone who ha'd always been inspired by St. Paul''s statement, ""I can do all things through Christ who strengthens me,"" Smiley, with assistance from Tiffany and a tutor, accomplished his goal. Perseverance and determination also led him to climb Washington''s Mt. Rainier, become the Army''s first-ever blind active duty officer, and write a memoir called "Hope Unseen." He is now an Assistant Professor of Military Science at Gonzaga University in Spokane, Washington.
When asked if his injury has taken his trust in God to new levels, Captain Smiley explained, ""That belief in God has strengthened not only my resolve and my ability to do more, but it''s given me the motivation to wake up every day with a smile on my face, to love my wife, to love my two boys, to just live every day to its fullest.""
The other day, Captain Smiley and his wife Tiffany appeared on Katie Couric's talk show to offer encouragement to nine-year-old Ben Pierce and his parents. As reported by "People" magazine, "Born at just 23 weeks and weighing 1 lb. 6 oz., Pierce's odds of survival were small. Against the odds, he thrived, and had laser surgery in the neonatal intensive care unit to save his retinas from detaching. But now, as he experiences a growth spurt, his eyesight continues to deteriorate and he is using magnifiers to read – one of his favorite pastimes."
Ben has now created a "wish list" of things he wants to see before he becomes legally blind. In the clip below, Captain Smiley and Tiffany offer words of advice – and Katie Couric provides a few surprises that bring a smile to Ben's face.