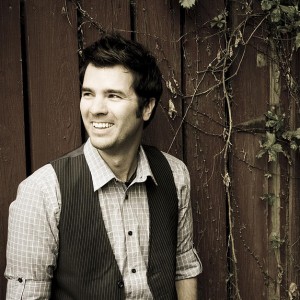 "No more fun."
That's what singer-songwriter PJ Anderson thought it meant to give his life to God when he was in high school. A priest was giving him some spiritual direction and encouraged him to pray more and integrate God into his daily life.
PJ interpreted that to mean, "I've got to give up basketball and all the things that make me happy, and be on my knees 24/7."
But that was then and this is now and PJ's thoughts on the matter have evolved quite a bit. During an interview on "Christopher Closeup," he reflected, "That was a naive, immature way to look at it. As I've grown up in years and in my faith, I've realized that [God] truly does know what's best for us and He wants us to surrender to Him…It's in that surrender that I found He's guiding me and allowing His hope to enter into my life."
What Have You Done For Me Lately
PJ's pursuit of a music career is a response to that idea of surrendering to God. He worked as a youth minister in Chicago for several years while performing music on the side. But doors started closing and he had "a feeling of being betrayed and wondering why God allowed this to happen to me."
That period of feeling deserted by God led PJ to move to Nashville to pursue a full time music career – and it also taught him to move through dark times in a positive way. He said, "There are times when you don't hear anything back from God and you're like, 'What's going on? I'm praying and I'm trying to do things for You, but I don't know what You're doing for me.' That's when the red flag needs to go up. It's not about what God's doing for us; it's about what we continue to give every day and how we allow Him to work through us. And He is. God is working through us and giving us that grace…It took God hitting me over the head to realize that the doors were closing in youth ministry. He wanted me to do something different, and that was writing music for Him and traveling the country being like a traveling youth minister" who plays music for young people.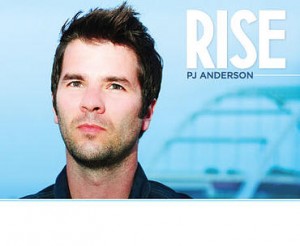 The Call to Serve and to Love
PJ's recently-released fourth album is called "Rise" and its songs highlight the theme of "rising up to God's call to serve as He serves and to love as He loves all His children." Another theme is the power of God's grace to give us hope. It's present in the fantastically countrified reimagining of the classic hymn "Amazing Grace" – entitled "Your Grace is Amazing" – and also in the softer and thoughtful "Grace is Hope," which was inspired by a memorable experience at a retreat.
PJ recalled, "I was there this Saturday morning and there were three high school girls in a row [giving] witness talks. And they were [about] three attempted suicides. Two were because of bullying at school, one was due to an abusive home. It really broke my heart to hear this. Suicide is not something I ever had dealt with. Luckily for them, it really sparked something in their faith and allowed them to grow closer to God. But it made me realize how many people are out there that feel like there's no hope and the only answer is to take their own life because [they think] that will make things better and make everything go away. That wrecked me, just thinking that. It became a mission of mine to spread that hope of Jesus because, in Him, we do have hope."
Why We're a Beautiful Mess
Another song, "Beautiful Mess," was partially inspired by Pope Francis's call to young people at Rio's World Youth Day to "make a mess" and shake things up in their parishes. But the song also arose from PJ's looking at the painting of Michelangelo's Creation of Adam, which he keeps in his music room.
He explained, "In that painting, we're all so focused on God giving life with His right hand to Adam, but we forget to look at what God is doing with His left hand. If you look, He's reaching around a woman and He's touching a baby. That woman represents Mary, and through Mary we are promised the savior, Jesus. And in that moment that God is creating us, He knows we're going to turn from Him. He knows that we're going to make a mess of the world. But He still loves us so much that He gives us life with His right hand and promises eternal life with His left. So although we make this mess, we are beautiful because God created us – and He can get us through that mess. There's no mess that we can make that's too great for Him and His grace to save us."
In order to allow God's grace into our lives, we need quiet time to hear God in the silence. With that in mind, PJ wrote the song "Calm My Heart." It's message isn't just for other people to slow down and make room for God in their lives, but for himself as well.
He said, "I could stay up all hours of the night just flipping through my phone looking at Facebook and Twitter. Not that there's anything wrong with those things, but [sometimes] it's taking away from my time to thank God or to pray..A lot of us wear this badge of busyness as a badge of accomplishment. It's not an accomplishment to be busy; it's what you're doing in that time. That's the accomplishment. Spending time with family and doing whatever's worthy. So that's where "Calm My Heart" came from – allowing God in and coming to that realization that there's nothing greater than His peace and His love."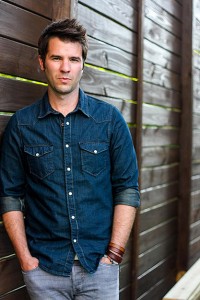 Fun Times Ahead
That peace and love have taught PJ that the opposite is true when it comes to the idea mentioned at the start of this article: that following God means "no more fun." If you take a look at his Twitter account, you'll find pictures of PJ with his wife, his kids, and his fans – and they look like they're having lots of fun. Beyond that, PJ looks genuinely happy because he's following the vocation to which God has called him.
He concludes, "I'm an extreme extrovert. I get a lot of energy from being around other people and talking – and also through prayer and through sharing my music. I do all kinds of things at concerts or parishes or youth retreats or just nights of adoration. No matter what it is, I really focus on not just singing songs but praying them and helping others enter into prayer. A large part of what I do is working with high school kids. To see them giving their lives to God and trying to make a difference and trying to stand up for life and what's right is what gives me inspiration."
(To listen to my full interview with PJ Anderson, click on the podcast link):

(All photos property of PJ Anderson)