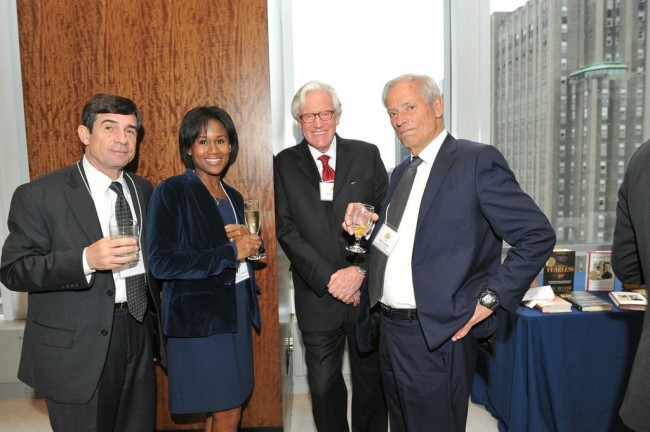 (From l to r) Kevin Tedesco (Publicist, "60 Minutes"), Producer Magalie Laguerre-Wilkinson (Winner, "60 Minutes: Joy in the Congo"), NBC News correspondent Bob Dotson (Presenter of the Books for Adults category), Correspondent Bob Simon (Winner, "60 Minutes: Joy in the Congo") Photo credit: Paul Schneck
Today we send our condolences to the colleagues, friends and family of "60 Minutes" correspondent and CBS News veteran Bob Simon, who was killed while riding in the back seat of a livery cab last night when the car was in a devastating accident.
Two short years ago, Bob Simon was a winner at the 64th annual Christopher Awards ceremony for his work as a correspondent on the segment "Joy in the Congo." It told the story of Armand Diangienda, an unemployed pilot in Africa's Congo, who decided to create an orchestra because he thought classical music could bring beauty to the bleak, war-torn lives of his countrymen. The only problem? He had no music experience, no musicians, and no instruments. But he didn't let that stop him. Diangienda learned to play music himself and recruited several members of his church. Word of his mission spread far and wide, attracting donated instruments and new recruits. Two German opera singers even arrived to teach French-speaking Africans how to sing Italian arias. Today, Diangienda's dream has become the Kimbanguist Symphony Orchestra. It consists of 200 volunteer musicians and singers, making them the only all-black orchestra in the world—and a testament to the power of determination and hard work.
Bob Simon spent much of his career covering wars, and he was even imprisoned and tortured by the Iraqi Army while covering the Persian Gulf War in 1991. No doubt a story like "Joy in the Congo" was a balm for the soul of a newsman who had seen and experienced many horrors in life.
A picture of Bob Simon at the awards is above (He's at the far right in the photo). May he rest in peace.
For a fuller biography of his award-winning career, visit the CBS News website. Deacon Greg Kandra, a CBS News vet himself, offers a personal remembrance of Bob Simon on his Deacon's Bench blog. CBS tweeted a link to a report Simon did about the exodus of Christians from the Holy Land.
And here is the "Joy in the Congo segment.