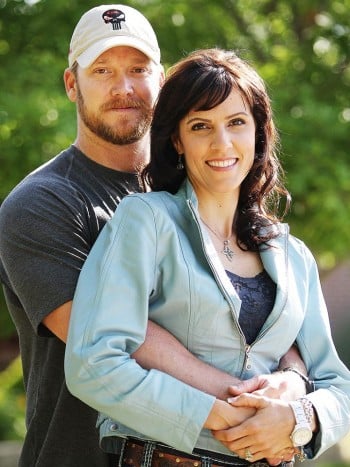 "I've learned that when God promises beauty through the ashes, He means it."
So says Taya Kyle, who learned that lesson the hard way.
Taya is the widow of Navy SEAL and Iraq War veteran Chris Kyle. Best known as the "American Sniper" because of his best-selling book and the movie about him starring Bradley Cooper, Chris and his friend Chad Littlefield were murdered on February 2, 2013, by a veteran they were trying to help.
Despite the sadness and bitterness that linger from her loss, Taya's belief in God's goodness remains strong as she focuses on being the best mom possible to her son and daughter, while also preserving Chris's legacy by helping other military families.
During a recent interview on "Christopher Closeup" about her memoir "American Wife: Love, War, Faith, and Renewal," Taya recalled that before meeting Chris, she had dated a number of different men, none of whom made a particularly good impression. She remembers praying, "I don't care what he does for a living, what he looks like, or how old he is. God, just please send me someone nice."
When she said "nice," she didn't mean it in a superficial way: "I meant to the core – good, solid, warm-hearted. The night I met Chris, he was so different than anyone else. He had this kind soul that was idealistic…He took me off guard with his authenticity and humility and the way he looked at me."
Over the course of 10 years, Chris and Taya's marriage endured its ups and downs, but they were determined to make it work. They defied the statistic that 90 percent of marriages of Navy SEALS end in divorce. They managed to make the difficult adjustments all military families make when one spouse returns from a war zone. Taya even survived the stress of worrying whether her husband would be killed while serving his country overseas – only to have it happen after he was back home.
Surprisingly, Taya never felt anger towards God. She said, "I've had anger at the murderer, but I've never been angry with God. And I think that God prepared me for Chris's death in some ways, because I've seen other people lose their spouses. I've known for a long time that life isn't fair. So I wasn't angry with God that I lost my husband. I was devastated, I was broken. I still am, in many ways. But I feel like God gives free will to everyone, and people who want to choose evil, they have that same free will. So the guy who murdered Chris and Chad…he made that choice. What God says is that, 'Free will is there, things will happen, but I'll be by your side, and I will bring beauty through it.' That doesn't mean that God wanted [the bad thing to happen], but He'll change lives through it, anyway. He'll take the bad, and He'll change it to good for somebody."
Taya experienced some of that beauty in the way her community of friends rallied around her in the aftermath of the murder. It happened in big ways, such as when her friend Melanie Luttrell helped organize Chris's funeral.
It also happened in smaller ways: "My one friend, she and her husband got a babysitter for their three kids so they could be at my house, washing dishes for people and staying until 11:30 at night. She and another girlfriend did my kids' laundry—stuff that I wouldn't even have thought about in that moment, and those are things that are seared into my mind."
Because she has an independent streak, Taya acknowledges that she wouldn't have asked for help, even though she desperately needed it. She says, "I think that that's so true for a lot of first responder families and military families. If you ask them, 'Is there anything I can do for you?', they almost always will not ask for that help. [So] if you see them and you want to help, just come over with your lawn mower and say, 'Hey, I'm just gonna mow your lawn real quick.' Or 'I decided to make you this dinner that you can freeze for a night when you don't feel like cooking because your husband's a police officer and is gone a lot."
Taya has taken that idea of helping others to a new level through her efforts with the Chris Kyle Frog Foundation (the frog being the symbol of the SEALS), which was founded by her husband. As it states on their website, "The pressures that come naturally with carrying out service to our country can lead to a negative ripple effect among family units, which flows into the communities within which they serve, work and live. The aim of the Chris Kyle Frog Foundation is to provide meaningful, interactive experiences to service members, first responders and their families, aimed at enriching their family relationships."
Again, these are shoes in which Taya herself has walked. She said, "[Chris and my relationship] was hard sometimes and beautiful sometimes and crazy. We lived so many different things that I can walk away saying, 'I truly loved that man with everything that I had – and I knew him at his worst and at his best.'"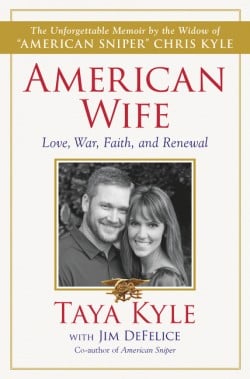 When Taya describes her last day with Chris in "American Wife," she describes it as "a day of great, if simple, joy." Those simple joys are gifts that she never takes for granted.
She concludes, "Chris and I were really good at [appreciating the simple things] because of our life experiences and war. I don't remember many nights in the last six months to a year of his life where we didn't put the kids to bed, get in bed and say to each other, 'We are so blessed.' And it didn't mean that we did anything amazing. It certainly wasn't financial because we didn't have that under control at all! It wasn't that our house wasn't in disrepair. It was. But the fact is we knew that just being together was such a gift because it's something we hadn't always had. Being able to tuck our kids in bed together and pray with them together and then cuddle up together—that was a gift. It's something that our friends didn't all have anymore because they had lost their spouse. Those simple pleasures were something that we didn't overlook, and I certainly don't overlook them now."
(To listen to my full interview with Taya Kyle, click on the podcast link):