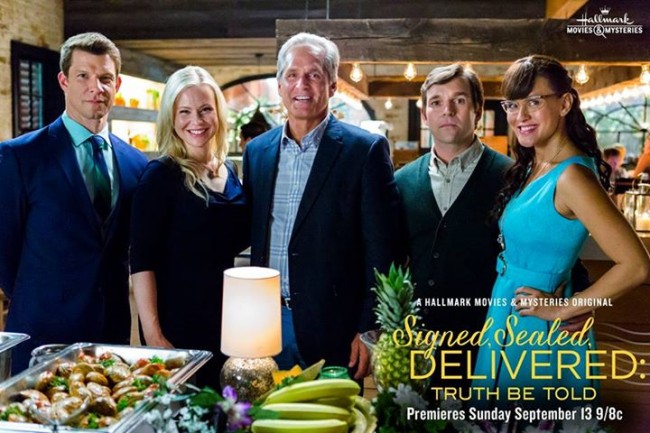 We live in an age in which we think we know the whole truth about someone's character and life after seeing one story about them on the news or reading one statement they made on social media. It allows us to slap a label on them so we can put them in an easily definable box and not give them much further thought.
Yet our perception of the "whole truth" is rarely as "whole" as we believe it is, be it in regard to public figures or even members of our own families whom we think we know the best.
That's certainly the case in the latest entry in Hallmark Movies and Mysteries "Signed, Sealed, Delivered" franchise, entitled "Truth Be Told" (premiering Sunday Sept. 13 at 9/8C). In fact, the revelations faced by lead Postable Oliver O'Toole (Eric Mabius) shake the character's sense of self to his core.
"Truth Be Told" opens a few days after the last installment, "From Paris with Love," ended. Everyone's favorite postal detectives from the Dead Letter Office, Norman (Geoff Gustafson) and Rita (Crystal Lowe), finally kissed, while Oliver moved on from his runaway wife, Holly, to explore a new romance with Shane (Kristin Booth). But romance takes a backseat to dealing with fractured family ties in this story, while also putting Oliver and Norman on a path to greater maturity.
(MILD SPOILERS AHEAD)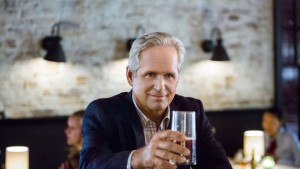 Gregory Harrison guest stars as Oliver's dad, Joe O'Toole, but their reunion is not a happy one. "You are not welcome in my life," the son tells the father, revealing that even a boy scout like Oliver can hold onto resentment long term. Oliver believes he is justified in his bitterness because Joe prevented him from hearing from his mother after the couple divorced. They haven't spoken in about 15 years, even though Joe repeatedly tried to reconnect with his son.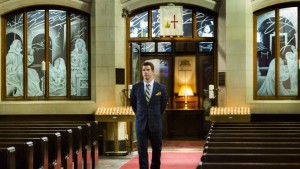 A major life event finally prompts Joe to personally visit Oliver, whose perception of his past will be completely undermined by new revelations. I'd go so far as to say the story provides an M. Night Shyamalan-sized twist (minus the dead people) that forces Oliver to struggle with his identity in ways that he (and viewers, likely) never expected. The usually-optimistic Oliver is driven to his knees to pray for help about how to make sense of his life.
Harrison does a magnificent job as the elder O'Toole, conveying patience and love for his son even when he's being rejected. Mabius, however, shoulders the bulk of emotional moments in this story with his mastery of restrained sadness and turmoil.
And for those who, after the last movie, thought it strange that Oliver would want to marry Holly in the first place, the script also shares some personality traits of Oliver's mother, which make it clearer why he was attracted to such a free spirit (assuming you buy the premise of the old song "I Want a Girl Just Like the Girl That Married Dear Old Dad").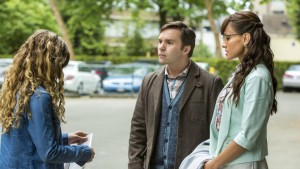 Norman, on the other hand, is dealing with his own uncertainty of how to move forward with Rita. As a child who grew up in the foster care system, he never had a father as a role model to teach him how to treat a woman, so he doubts his own abilities to become a good boyfriend – and even husband and father, some day. The Postables latest dead letter puts him on a path to find out, though.
They piece together the remains of a letter to a teenage girl named Phoebe (Megan Charpentier), the daughter of a female U.S. service member who went missing near the Afghan-Pakistan border. While these soldiers are generally celebrated as heroes, Phoebe's mom disappeared under mysterious circumstances, which led to questions of whether she deserted to give aid to members of the Taliban. As a result, Phoebe is often bullied and taunted by her classmates who think they know the whole truth about the situation.
When Norman comes into Phoebe's life, she finally meets someone who understands what it's like to be bullied, albeit for different reasons. His paternal instincts kick in, revealing that he's got a better handle on being a good father than he previously realized.
This storyline also deals with our perception of the truth regarding stories we see in the news, and the effect on children when their parents are publicly pummeled by readers/viewers who think they know everything. This isn't about excusing bad behavior, but rather approaching the people involved with more compassion and humility.
On a character note, "Truth Be Told" gave me a new view of actor William B. Davis, who plays Phoebe's grandfather but is better known as "The X Files" Cigarette Smoking Man. It was the first time I've ever seen him not acting sinister, and he pulls his role off beautifully.
As usual, this "Signed, Sealed, Delivered" movie was written by Martha Williamson, who includes timeless truths in her dialogue. At one point, for instance, Joe tells a conflicted Oliver, 'Who you are is the sum of all the choices you make in this life. It's about being taught to be honest and fair and excellent and kind – [then] deciding that you want to be those things."
And when Shane is giving Oliver advice on his relationship with his father, she says, "Love is hard work, Oliver. It's always trying to find that balance between too much and too little, too high and too low. We never get it perfect. That doesn't mean we stop trying. It seems to me that your father never stopped trying. It was you who left him, but he never left you."
That last sentiment, especially, could also be seen as a metaphor for many people's relationships with God as Father. We may leave him, but He never leaves us.
In conclusion, "Signed, Sealed, Delivered: Truth Be Told" is another solid entry in the franchise. Though everyone plays an important role, this is really Oliver's and Norman's story of personal development that will allow them to move forward as the men they really want to be – and teach them that there's often more to "the truth" than meets the eye.
In a way, the lessons they learn in this story are reflected in Pope Francis's recent statement, "Always walk hand-in-hand with someone who loves you." By the end of the movie, the Postables are better able to do just that.
("Signed, Sealed, Delivered: Truth Be Told" premieres on Hallmark Movies and Mysteries on Sunday Sept. 13 at 9/8C. Check the Channel Locator to see where it's on in your area.)