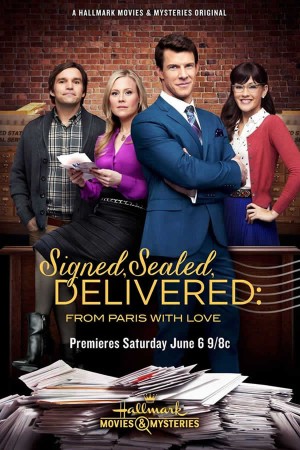 (Moderate spoilers ahead)
On an old episode of "Cheers" in which Sam and Diane consult a relationship counselor before getting married, he tells them to call off the wedding because they're too different. They respond with the old truism that opposites attract. The counselor, played by John Cleese, responds that the only thing opposites attract is divorce – at least people who are as "opposite" as Sam and Diane.
I was reminded of that scene while watching the screener of Hallmark Movies and Mysteries latest "Signed, Sealed, Delivered" movie, "From Paris with Love." (The Christmas movie recently won a Christopher Award.)
The show is about four postal detectives in Colorado's Dead Letter Office who go above and beyond to reunite lost mail with its intended recipients. The U.S. Post Office should do some kind of tie-in campaign with the series because there's no venue in popular culture where they come off looking better than in the examples of "Postables" Oliver O'Toole (Eric Mabius), Shane McInerney (Kristin Booth), Rita Haywith (Crystal Lowe), and Norman Dorman (Geoff Gustafson). Norman even likens himself and his colleagues to The Avengers – and he's not far off if you overlook the lack of costumes and superpowers.
The Return of the Runaway Wife
Though people who have never seen the series can thoroughly enjoy this latest entry, longtime fans will intuit that the title means they'll finally get to see Oliver's wife, Holly (Poppy Montgomery).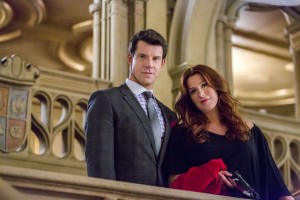 Oliver has been heartbroken since the first episode because Holly ran off to Paris without so much as a good-bye or explanation. Because he epitomizes the word "gentleman" and believes marriage is sacred, he has stayed faithful to her over the course of two years, despite feeling romantic tension with his his female colleague, Shane. This is a plot thread that viewers knew would be tied up eventually. Well, eventually arrives on Saturday June 6 at 9/8C, and provides a lot more details about the history of Oliver and Holly's relationship.
Montgomery brings a likable flakiness to her role as the free-spirited Holly, and it makes sense that a buttoned-up guy like Oliver was attracted to her in the first place, especially considering the life-and-death circumstances under which they met. At the same time, they struck me as one of those couples who never should have gotten married in the first place because they're differences were just too extreme and they wanted different things out of life. Oliver seems to understand what's required to make a marriage work, but I'm not sure that was the case with Holly.
Can Oliver forgive Holly in order to save their marriage? Does Holly even want the marriage to be saved? And how will Shane react if the two of them do get back together?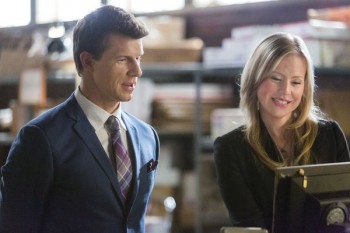 In a sign that the show's creator and writer Martha Williamson always has some Scriptural lesson in mind when telling these stories, there's a great piece of dialogue from Shane in which she expresses her attitude toward meeting life's obstacles: "If there's one thing that [Oliver's] taught me, it's that things happen all the time that at first may seem all wrong. But when we have faith that something greater might be at work, those things just end up working together for good."
The Holy Grail of First Class Mail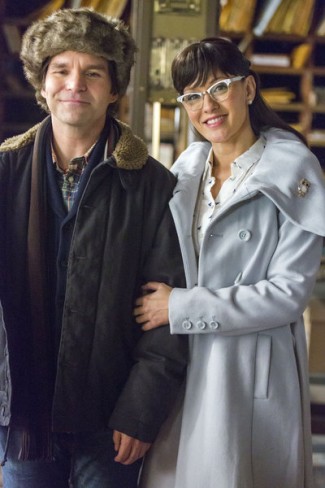 No "Signed, Sealed, Delivered" movie would be complete without the charming and comical interactions of Norman and Rita, who secretly love each other but are too afraid to say so. Their relationship is reminiscent of couples in classic screwball comedies, while also being grounded in genuine moments of pathos and emotion.
Now that Rita serves as the post office's Miss Special Delivery – which Shane calls "the Holy Grail of First Class Mail" – she keeps attracting the attention of local TV weatherman and Rico Suave-like lothario, Ramon. This leads to some comic moments that include Rita dancing in a way that's almost as wacky as Elaine's infamous dance moves on "Seinfeld."
But the attention that Ramon lavishes on Rita also makes Norman jealous. As usual, he's too shy and self-doubting to say anything about it. At one point, Norman tells Oliver that Rita is out of his league. Oliver responds, "Love can only survive on swagger and charisma for so long. Rita needs a man of true substance."
The combination of Williamson's words with the chemistry, talent and easy camaraderie between all the actors make this series – and this particular movie – shine. In the last half-hour in particular, Lowe and Gustafson – and, separately, Mabius and Booth – do outstanding work in scenes that provide an emotional payoff for the characters and for viewers.
"Signed, Sealed, Delivered" started out as a weekly one-hour series on the Hallmark Channel before becoming a series of two-hour movies on its sister station, Hallmark Movies and Mysteries. At first I was disappointed that the adventures of the Postables wouldn't be a weekly affair. But between the Christopher Award-winning Christmas movie and now "From Paris with Love," I can see the decision was a good one. It gives the characters and stories much more room to breathe and be told in an unrushed manner.
"Signed, Sealed, Delivered: From Paris with Love" is definitely worth your time if you're looking for entertainment, romance, comedy, and even some nuggets of wisdom. It premieres Saturday June 6 at 9/8C.
(Photos courtesy Hallmark Movies and Mysteries.)
UPDATE: John Kennedy at Beliefnet recommends "From Paris with Love" too.
RELATED:
– Faith, Chivalry & Timely Messages: A Look at Hallmark Channel's "Signed, Sealed, Delivered"
– "Dark of Night" Explores Dark Topics on Hallmark Channel's "Signed, Sealed, Delivered"
– If You're Looking for a Christmas Movie That Doesn't Neglect Jesus, This One's For You